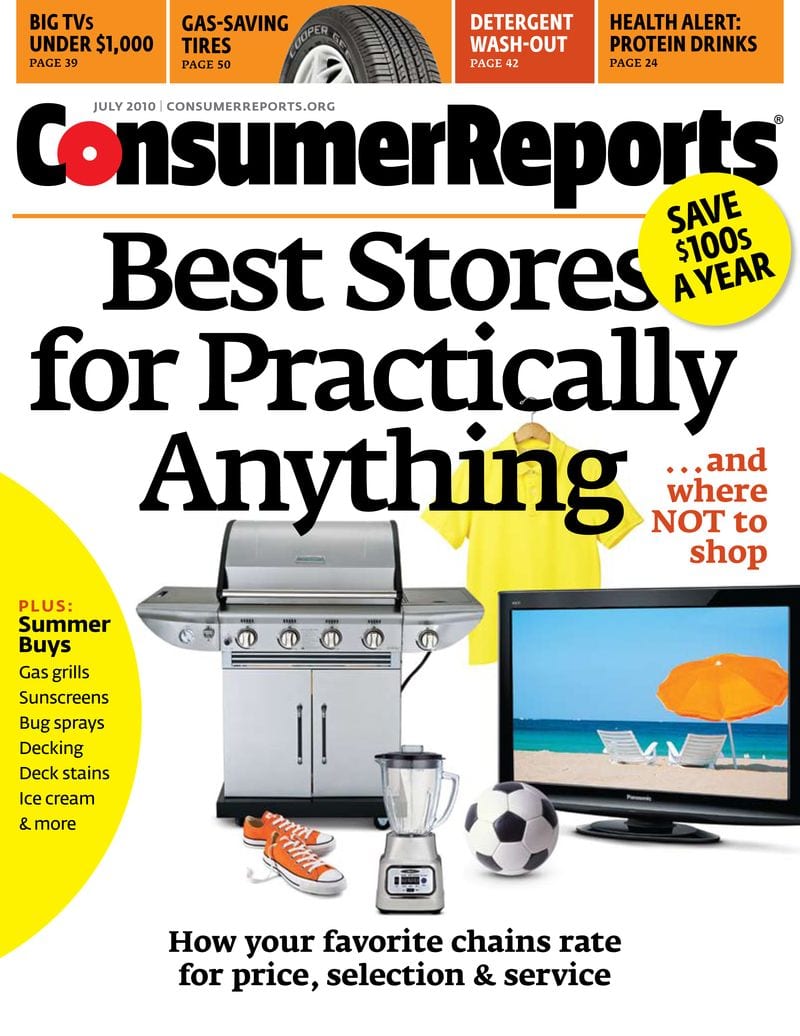 YONKERS, NY—More than 30,000 shoppers found Costco to be top notch among 11 of America's most popular chain stores, according a recently published survey by Consumer Reports.
Fifty percent of readers who shopped at Costco rated the value as Excellent; for all the stores in Consumer Reports survey as a whole, that figure was 30 percent. Walmart and Kmart scored notably lower than the other chains, but Costco stood tall. In addition to citing the warehouse club's rock-bottom prices, survey respondents praised its bang for the buck: It was the only store judged much better than average for value.
"In our surveys over the years, Costco has earned high marks as a source of a surprisingly large selection of goods, including mattresses, electronics, small appliances, groceries, and books. In recent years, the chain's Kirkland Signature products have often performed well in our tests," said Tod Marks, sr. project editor, Consumer Reports.
Overall Consumer Reports readers weren't always thrilled with the quality of the merchandise at many stores. Only Dillard's and Costco earned better-than-average all-around scores. In general, the highest marks went to electronic entertainment products and personal-care items and the lowest to men's and women's apparel and home-décor items.
Walmart was the sole chain to receive below-average quality scores in more than half of the product categories. Only about 10 percent of Walmart shoppers thought the store's children's clothing was excellent, for example. By contrast, 46 percent of Dillard's shoppers thought the kids' apparel was top-notch. No matter how good the merchandise, problems can sour a shopping experience.
For all the talk about Walmart's low prices, shoppers said the prices at 10 other retailers, including JCPenney, Sears, Dillard's, and Meijer, were at least as good. And bigger wasn't necessarily better when it came to the overall shopping experience. Almost three quarters of respondents who shopped at Walmart found at least one problem to complain about, and half had two or more complaints about the store or its staff. Among our other findings:
Four chains earned outstanding scores for merchandise quality: Costco (watches and jewelry, personal-care items, hardware, home décor, kitchenware, electronic entertainment such as music and DVDs, and sporting goods and toys), Dillard's (men's, women's, and children's clothing; personal-care items; home décor; and kitchenware), Macy's (home décor and personal-care items), and Sears (hardware).
Target's "cheap chic" goods didn't wow everyone. Despite its high-profile partnerships with fashionistas Cynthia Vincent, Eugenia Kim, and Zac Posen, survey respondents judged the quality of Target's women's clothing and watches and jewelry below average, and the store's kitchenware, home décor, and men's and children's apparel average.
In addition to a lack of sales help, the most prevalent problems were that desired items were out of stock and that checkouts were jammed. In fact, 29 percent of shoppers Consumer Reports surveyed complained about long lines. The problems were much worse than average at Kmart, Walmart, and Meijer, a Midwestern chain of superstores.
Other Service Gripes:
Consumer Reports also asked readers about checkout gridlock, missing merchandise, spotty sales help, and cluttered stores. Fifty-eight percent of shoppers reported at least one problem; one-third had two or more. Walmart, Meijer, and Kmart shoppers encountered the most problems. Dillard's and Sears shoppers reported the fewest. Some specifics:
Slow checkouts. Twenty-nine percent of shoppers complained about a lack of open checkouts or about lines creating bottlenecks. Lines were worst at Walmart (cited by 46 percent of readers who had shopped there), but they were almost as bad at Costco, Sam's Club, and Meijer. Only 4 percent of customers complained of long lines at Dillard's.
Shoddy service. Relatively few shoppers sought help, but 24 percent of those who did speak with a clerk said they had a tough time finding one, and 15 percent of those who spoke with a clerk said that the employee wasn't well informed. Walmart and Kmart had the least knowledgeable staffers, according to readers.
Empty shelves. Readers who shopped at Meijer complained the most about out-of-stock merchandise: 25 percent of respondents said the chain lacked an item they wanted. Walmart, Kmart, and Target also had trouble keeping regular merchandise in stock. Meijer and Kmart tended to disappoint shoppers looking for sale items.
Difficult layout. Thirteen percent of shoppers complained about cluttered displays or narrow aisles, but a disproportionate percentage of Walmart and Kohl's shoppers said that those problems hampered movement. Walmart, which operates many sprawling supercenters, was also cited as having stores that were too big to navigate easily.
Hidden price tags. At most chains, price tags were in plain sight, but at least 12 percent of respondents complained about missing or hard-to-find tags at Kmart, Walmart, and Meijer.
Lengthy returns. Few respondents had trouble returning or exchanging merchandise. The biggest difference among stores was how long it took to complete the process. Walmart shoppers were particularly peeved; 20 percent of the returns took more time than expected.
For more information on which stores are the best to shop, the complete ratings chart of popular chains, and helpful advice on the best places to buy clothes, electronics, appliances and other goods, check out Consumer Reports "America's Top Stores" report starting June 1st at www.consumerreports.org or pick up a copy of the July issue wherever magazines are sold.