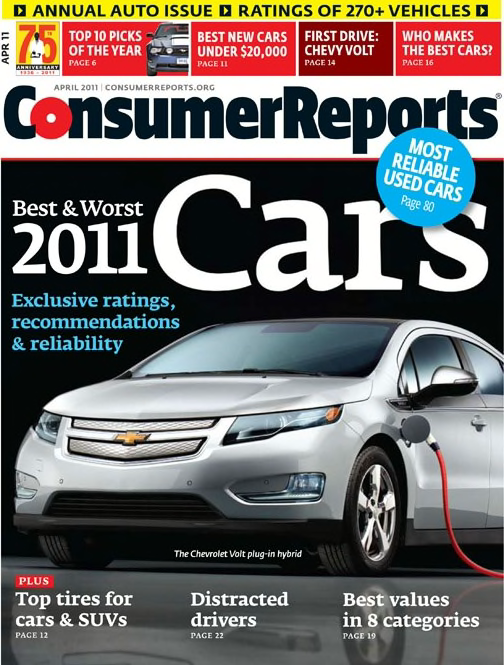 YONKERS, NY — With the average new car losing 47 percent of its value in the first three years of ownership, buying a used car can be the best way for consumers to get the most vehicle for their money, according to Consumer Reports' Annual Auto issue.
Consumer Reports found eleven 2008 models with about the same or even fewer problems than similar 2010 models in the same class. Among the most trouble-free 2008 models were the Toyota FJ Cruiser and Yaris with 11 and 12 problems per 100 vehicles, respectively. The average 2010 car had 13 problems per 100. While the FJ Cruiser and Yaris did not score well in Consumer Reports road tests, some of the other most reliable 2008 models, such as the Honda CR-V and Fit did, making them better overall choices.
Overall, Japanese cars are the most trouble-free, with Honda and Toyota far ahead compared with older vehicles made by other major manufacturers—especially 2006 (five-year old) and earlier models.
"Knowing a brand's reputation for reliability can aid the used-car shopper, but it's not foolproof. You're buying just one model from that brand. So it's important to check out the specific model's reliability ratings and learn about other factors like performance and safety," David Champion, Sr. Director, Consumer Reports Auto Test Center.
Some models have an alarming problem rate even when they're still fairly new. More than one in four owners of the 2009 four-cylinder Toyota Tacoma pickup reported a problem with the radio in the 12 months covered by the survey. For now, it's being replaced free under Toyota's basic warranty, which expires after three years or 36,000 miles.
The survey also found that five-year-old models can be good bets for used-car buyers, although problem rates, on average, are worse than rates of three- or four-year-old cars. While three-quarters of the three-year-old vehicles in Consumer Reports' Survey were problem free, so were two-thirds of the five-year-olds. The most problem-free five-year-old model was the 2006 Toyota Highlander V6, which had 19 problems per 100 vehicles.
Consumer Reports survey also found that cars older than five years are not so trouble-free. Only half of the nine- and 10-year-old vehicles had gone 12 months without a reported problem.
Buying used is an affordable way to get key safety and comfort features at a far better price. To help consumers navigate the vast options in used cars, Consumer Reports has compiled a Best of the Best list to guide consumers to the 2001 to 2010 models that scored well in road tests when new and have been consistently reliable. This list, with other good choices is organized into nine categories and also by cost:
Best Used Small Car: Honda Fit
Best Used Family Car: Toyota Prius
Best Used Upscale Car: Lexus ES
Best Used Luxury Car: Acura RL
Best Used Sport & Sporty Car: Mazda MX-5 Miata
Best Used Minivan: Toyota Sienna
Best Used Small SUV: Honda CR-V
Best Used Midsized & Large SUV: Toyota Highlander
Best Used Pickup Truck: Honda Ridgeline
The issue also identifies models that have had multiple years of below-average reliability in the Worst of the Worst list. The Used Cars to Avoid list highlights specific models and the years that they had below-average reliability.
The full report list of most and least reliable used cars is in the Consumer Reports Annual Auto Issue on newsstands March 8 or online at www.consumerreports.org.
With more than 7 million print and online subscribers, Consumer Reports is one of the most trusted sources for information and advice on consumer products and services. It conducts the most comprehensive auto-test program of any U.S. publication or Web site; the magazine's auto experts have decades of experience in driving, testing, and reporting on cars. To become a subscriber, consumers can call 1-800-234-1645. Information and articles from the magazine can be accessed online at www.consumerreports.org.