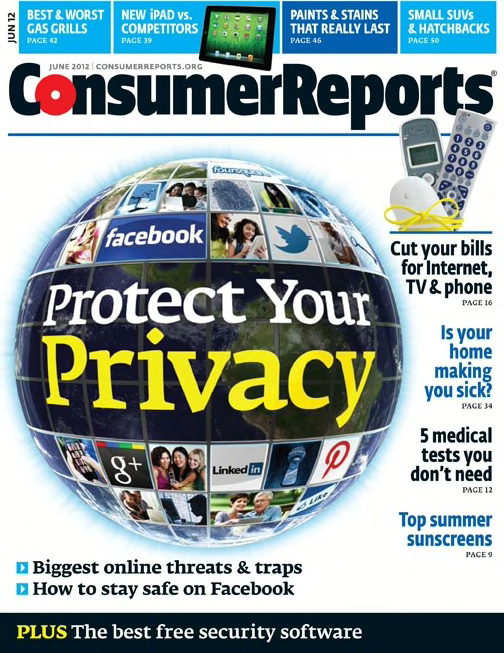 YONKERS, NY – There are few TV, phone, and Internet providers that manage to please subscribers on all counts, and those that do don't typically serve a lot of consumers. Verizon FiOS, which is available in portions of 12 mostly Eastern states, Washington, D.C., southern California and Texas, was cited as highly rated among providers offering all three services, based on the latest subscriber survey on telecom providers from the Consumer Reports National Research Center. However, WOW, a regional telecom provider serving four Midwestern states, was also top-rated.
The full report on Internet, phone, and TV service appears in the June issue of Consumer Reports and online at www.consumerreports.org.
Based on the survey, Verizon FiOS scored higher than the major cable companies for TV picture, sound, and channel selection and received Consumer Reports' highest mark for Internet speed. However, FiOS had more complaints than most about bills for triple play and subscribers must rent a receiver for every TV, which all cable companies may not require.
In the areas of four Midwestern states where WOW is available, the provider is worth serious consideration, earning high marks across the board for its bundled telecom service. Customers' responses about its Internet, TV, and phone services also put it among the top providers in Consumer Reports' ratings for each of the three services.
"With the very best providers so limited in availability, the leading options for many consumers will be either the cable provider where they live or satellite-TV service, paired with Internet and likely phone service from other providers," said Paul Reynolds, Electronics Editor for Consumer Reports. "The best choice for you may depend in part on your particular cable company, since cable varied widely in satisfaction, depending on the provider."
Next-best alternatives to WOW and Verizon FiOS included the cable companies Bright House Networks, along with Cox and Cablevision/Optimum; as well as AT&T's U-verse service.
FIVE STEPS TO GREAT SERVICE AND BIG SAVINGS
Consumer Reports has outlined five strategies consumers can use to get the best service and money-saving offers from their telecom provider.
Get ready to bargain. While seven out of 10 readers with a triple play package didn't try to bargain on their telecom bills, 90 percent of those that did got some accommodation. Price reductions led the list of concessions, with around 40 percent of bargainers reporting savingsof up to $50 a month. Hagglers' experiences also suggest that it can pay to let the provider know consumers are ready to drop some or all of its services.

Push back when rates rise. If a provider's rates soar after a deal ends, push back. Consumer Reports recommends consumers use competition among the providers in their area, if available, as an advantage. However, be prepared for resistance from TV providers. Companies are increasingly keeping track of what promotions each customer has been given and may offer smaller discounts when asked for another break. According to Phillip Dampier, of the website StopTheCap.com, the key word is 'cancel.' Schedule a disconnection date a week or two in the future for a better chance to be added to the telecom company's disconnect list, which may result in the consumer being offered aggressive deals as a last-ditch effort from the telecom providers.

Don't overbuy on Internet. According to the Federal Communications Commission (FCC), eight out of 10 consumers don't know what speed they are getting from their Internet service providers. Light usage homes are typically characterized by one or two users at a time, with email activity and small file uploads. Light users may only need Internet speeds of up to 3Mbps (megabits per second). Moderate usage is characterized by three simultaneous users at times that are known to stream video (sometimes in HD) and use Internet services such as iTunes and Vudu. Moderate users are advised to have Internet speeds between 6 and 12 Mbps. Consumer Reports recommends that heavy users have an Internet speed of at least 15 Mbps to meet the needs of high data demands and up to four users online at once- some even on tablets or smart phones. Consumer Reports also found that speeds don't always live up to company claims and advises consumers to visit broadband.gov/qualitytest to independently gauge their Internet speeds.

Look to phone for savings. More than half of Consumer Reports subscribers use Internet-based phone service—which includes phone service from cable companies—instead of a traditional landline. Ooma, Vonage and MagicJack are all VoIP (Voice over Internet protocol) services with their own unique pricing benefits. All Internet-based phone service comes at the cost of risking the loss of service—including emergency 911 calls—if power or broadband service fails, but one can get a backup battery for cable phone service, which is not the case for Ooma, Vonage and MagicJack. That might make a cell phone the only option in an emergency, provided it works at home.

Downsize the TV service. Only about nine percent of Consumer Reports readers didn't receive TV programming from a cable, satellite or phone-company provider. With the recession and online TV prominence, many cable and satellite TV providers have been pushed to offer economy TV services costing as low as $25-$35 for local channels and a bevy of basic channels. These packages might suffice, especially for those that combine a basic TV package with other online TV and streaming options. Additional tips that could save consumers anywhere from $6 to $20 a month include dropping the DVR and going back to free TV from an antenna, which receives over-the-air signals from ABC, CBS, NBC and PBS, among others, all digital and mostly HD.
About Consumer Reports
Consumer Reports is the world's largest independent product-testing organization. Using its more than 50 labs, auto test center, and survey research center, the nonprofit rates thousands of products and services annually. Founded in 1936, Consumer Reports has over 8 million subscribers to its magazine, website and other publications. Its advocacy division, Consumers Union, works for health reform, food and product safety, financial reform, and other consumer issues in Washington, D.C., the states, and in the marketplace.