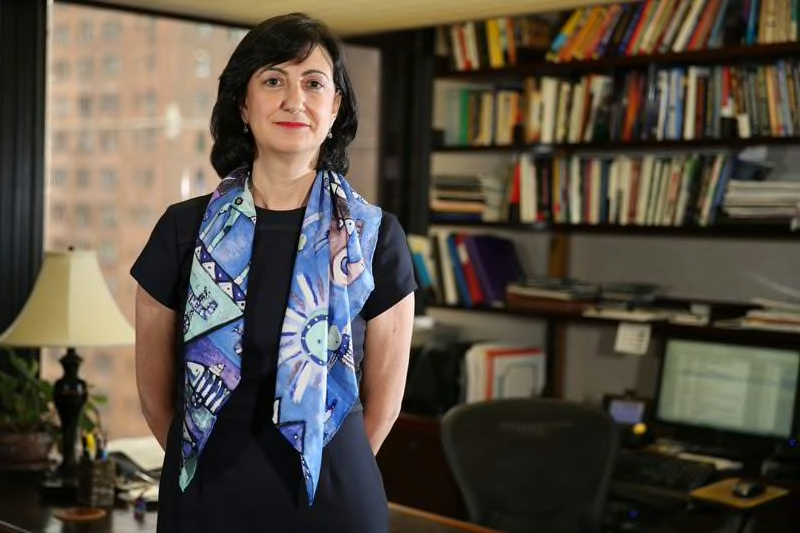 YONKERS, NY (July 15, 2014) - Consumer Reports, the largest and most trusted consumer organization in the world, today introduced Marta Lourdes Tellado as its next President and Chief Executive Officer. Ms. Tellado, currently vice president for global communications and an officer of the board at the Ford Foundation in New York, succeeds James Guest, who has led Consumer Reports since 2001.
Ms. Tellado, whose career began in the consumer movement and who has 25 years of experience as a frontlines advocate and leader for social justice, will become the organization's seventh president in September.
"Marta is a transformational leader. She has a talent for innovation, a lifelong commitment to social justice and a distinguished portfolio of accomplishments in mission-driven organizations," said Walter Bristol, chair of the Consumer Reports board of directors. "She is a strategic thinker with a deep understanding of how to build social movements in today's digital age. We are both fortunate and absolutely thrilled to have her as our next President and CEO."
"Marta is the perfect choice to build and lead a consumer movement in this country," added Diane Archer, incoming Chair of the Board. "She shares our commitment to lifting people's voices not only as consumers but as citizens, and she will create an environment of disruptive and dynamic growth for this great organization. We could not be more excited to welcome Marta to Consumer Reports."
Ms. Tellado will assume leadership of Consumer Reports from Mr. Guest, who led Consumer Reports' evolution from a monthly consumer magazine to a multi-media testing, advocacy and consumer information resource with a variety of digital and print platforms.
"Over the past 13 years, Jim has built our consumer base to more than eight million individuals, raised annual revenues to more than $260 million, and increased our impact on product and food safety, financial security, health care and other consumer issues. Marta will continue to raise Consumer Reports' profile in a changing media world and to work with our board and staff to engage new audiences and empower consumers," said Mr. Bristol.
"It is an exciting time to take the reins at such a highly regarded and trusted organization," Ms. Tellado said. "Consumer Reports is valued by everyday consumers, the public interest community and by policy makers, and it's primed for growth and ripe with opportunity amidst a quickly evolving media landscape. The organization is well positioned to articulate a compelling vision of a more just society in which consumers play a central role. I am proud and humbled to lead this charge at Consumer Reports."
Born in Cuba and raised in New Jersey, Ms. Tellado began her career in public policy, advocacy and social justice working alongside Ralph Nader and Joan Claybrook at Public Citizen. Over her career, she has served as Executive Director of the Domestic Policy Group at the Aspen Institute; as Director for National Issues and Outreach for Senator Bill Bradley; as Vice President of the Partnership for Public Service, where she launched the Best Places to Work in the Federal Government and the Service to America awards. She holds an M.A. and Ph.D in political science from Yale University.
As vice president at the Ford Foundation over the last nine years, Ms. Tellado has led strategic communications and advocacy on a range of social justice issues in the United States and around the world, including such issues as economic fairness, free and fair access to an open Internet, and civil rights.
Ms. Tellado serves as board member of the Council on Foundations, Fairleigh Dickinson University, Ballet Hispanico, The Lark Theatre, the Washington Center for Internships and Academic Seminars, and Philanthropy New York Public Policy Advisory Committee. Previously, she served on the boards of Hispanics in Philanthropy and the Advertising Council Advisory Board on Public Issues.
ABOUT CONSUMER REPORTS
Consumer Reports is the world's largest and most trusted product-testing and consumer advocacy organization. The organization rates thousands of products and services at its 50 labs, auto test center and survey research center. Founded in 1936, Consumer Reports is a non-profit organization with annual revenues of more than $260 million. Consumer Reports employs almost 600 staff, with more than eight million subscribers to its flagship magazine, website and other publications. In addition, Consumer Reports has achieved substantial gains for consumers through its advocacy on health reform, food and product safety, financial reform, and other consumer issues at the federal, state and local level. The organization has advanced important policies to cut hospital-acquired infections, prohibit predatory lending practices and combat dangerous toxins in foods. Consumer Reports accepts no advertising, payment or other support from the companies whose products it rates.