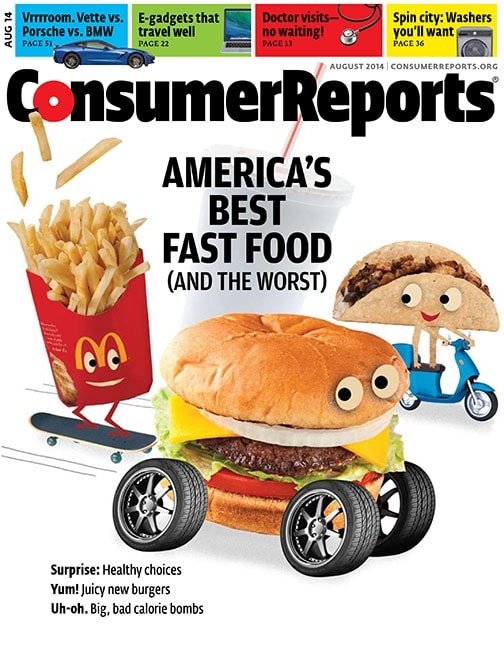 YONKERS, NY ― The burgers that made McDonald's famous have been deemed the worst-tasting of all the major U.S burger chains by Consumer Reports' readers. And when it comes to the most satisfying fast-food dining experience, biggest isn't always best ― KFC and Sbarro earned some of the lowest scores in the survey.
The results of Consumer Reports fast-food survey, which are featured in the August 2014 issue and at www.consumerreports.org, are based on responses from 32,405 subscribers about more than 96, 200 dining experiences at 65 hamburger, Asian, pizza, sandwich, chicken, and Mexican fast-food and fast-casual chains.
"More and more, food quality ― not just low price ― is emerging as a deciding-factor for many Americans when choosing where to spend their dining dollars," said Tod Marks, senior projects editor for Consumer Reports. "Strong regional players and slightly more upscale fast-casual chains like Chipotle are giving the heavy-hitters in the fast-food business a wake-up call. And our survey clearly shows the big guys need to respond."
Chicken from Chick-fil-A, was deemed among the most delicious; the chain also received the highest satisfaction score in a category that includes KFC, Boston Market, Popeyes Louisiana Kitchen, and others. This national chain also stood out for cleanliness of the dining area and polite and speedy service.
Consumer Reports' fast-food Ratings include many superb dining options. National chains such as Five Guys Burgers and Fries, Smashburger, and Fuddruckers, received high scores for the tastiness of their burgers.
The study further shows that cheap food isn't necessarily a bargain. Only around one of five respondents thought their meal offered excellent value. Del Taco, Little Caesars, and Papa Murphy's Take 'N' Bake Pizza were at the top of the list at delivering bang for the buck, while Burger King, Church's, KFC, Panda Express, and Sbarro landed at the bottom.
Despite many restaurants' best efforts to include healthier items such as soup, salads, and grilled-rather-than fried items on their menus, Consumer Reports' survey revealed that most fast-food diners aren't concerned about dieting when they eat out. Only 20 percent of respondents said they consider the availability of healthful menu options when choosing a restaurant; just 19 percent said they ordered a
healthful fare during their most recent restaurant visit. Nearly all of Subway's and Jason's Deli's diners said those restaurants offered plenty of healthy menu options while far fewer Little Caesars and White Castle diners felt the same.
The full report from Consumer Reports fast-food survey is featured in the August 2014 issue of the magazine and is available at www.consumerreports.org.