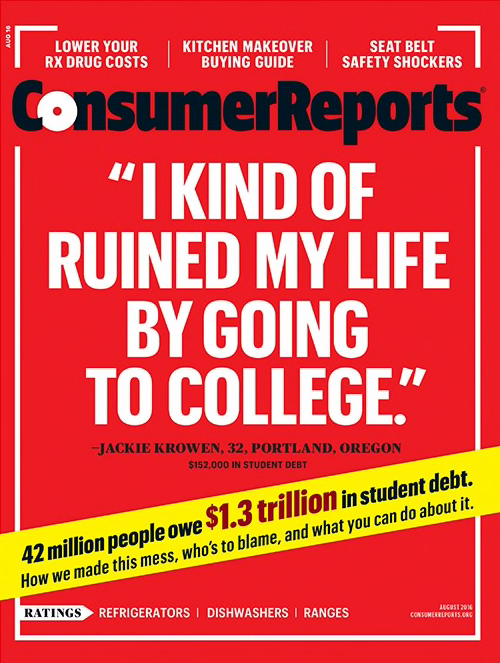 YONKERS, NY — As pharma and insurance company behemoths lock horns in a battle over profits, Consumer Reports finds consumers are reeling from the rampant rise in drug prices. Nearly one-third of Americans polled by Consumer Reports said they had experienced a drug price hike in the past year, shelling out a total of $2 billion more for a drug they routinely take.
"Americans are being bled dry by corporate profiteering that is completely legal. And their pocketbook pain is reverberating through virtually every facet of their lives from retirement plans to family time to the essentials of daily living, such as buying groceries," said Lisa Gill, deputy editor, Consumer Reports Best Buy Drugs.
In its investigation, Consumer Reports unveils findings from its nationally representative poll of consumers, in addition to a survey of doctors on how they handle the issue of medication affordability. The investigation centers on the forces of profit that work counter to consumer interests to allow most drug costs to go unchecked without regulation or limits.
The report is published in the August issue of Consumer Reports and available free online at ConsumerReports.org/drugprices. It includes a discussion of what the government can do to control drug prices, along with tips for consumers to help them find the best prices at the pharmacy.
"Consumers told us they had to make sometimes scary tradeoffs between their medications and necessities like groceries or other medical care. Very high deductible plans also forced many consumers to shop around for the lowest prices and not use their insurance," Gill said. "Consumers aren't used to questioning prices for pharmaceutical drugs—nor are they used to shopping around and haggling - but they could save themselves a lot of money if they do."
According to Consumer Reports' nationally representative poll, consumers who were hit with higher drug prices in the last 12 months were more likely to economize in possibly dangerous ways with their health. Consumers told us they took the following steps to save money on their medications (The results below compare all respondents who currently take an Rx drug with those who experienced a price increase):
Did not comply with RX to save money (33% of all respondents who currently take an Rx drug /47% of those who experienced a price increase in their Rx drug)

Put off a doctor's visit because of cost (18%/28%)

Declined a medical test or procedure because of cost (14%/23%)

Switched insurance plans for better coverage (14%/20%)

Did not fill a prescription because of cost (17%/30%)

Took an expired medication (12%/19%)

Did not take a scheduled dosage or a prescribed medication, not at their physician's or pharmacist's direction, to save money (10%/17%)
In the past year, consumers took the following steps in order to pay for their prescription medications (results below compare all respondents who currently take an Rx drug with those who experienced a price increase):
Spent less on entertainment and dining out (24% of those who currently take a prescription drug/38% of those who experienced a price increase)

Got an insurance policy that covered their medications (20%/24%)

Spent less on groceries (17%/31%)

Used their credit card more often (15%/25%)

Spent less on family (14%/25%)

Postponed paying other bills (11%/19%)

Postponed retirement to maintain their health insurance coverage (6%/10%)

Took a second job (4%/7%)
Yet in spite of the financial burden associated with drug costs, only one quarter of those polled said they had a conversation with their practitioner about the cost of their treatment. Of those consumers who did have a conversation, 64% said they initiated it. In CR's survey of internal medicine doctors, the same finding was evident. In a typical week, doctors said they discuss drug costs with just 2.6 out of every 10 patients. Meanwhile, eight out of 10 doctors said they were concerned about their patients' ability to afford their treatments.

"The ability to afford a medication can have a huge effect on patient compliance," said CR's Chief Medical Adviser, Marvin M. Lipman, M.D. "If there are no less costly alternatives, the doctor should go to bat with the insurance company or the drug's manufacturer on behalf of the patient. Considering that doctors prescribed an estimated 4.4 billion drugs last year, not talking to a patient about cost could be an expensive oversight.
In its investigation into the forces of profit, Consumer Reports Best Buy Drugs identifies five key reasons behind the rampant rise in drug prices. Here's a look at those findings:

1: Drug companies can charge whatever they want
For commercial and Medicare plans, there is no government body —including the FTC, FDA, and the Centers for Medicare & Medicaid Services—that has rules or laws that dictate or restrict the price a pharmaceutical company can set for a drug. And in most cases, there's nothing that restricts how much a company can raise that price. Major pharmaceutical firms raked in an additional $25.6 billion in 2015 simply by raising prices on their brand name drugs, according to IMS Health, a group that tracks drug sales and marketing. The firm estimates that figure to grow to $155 billion over the next five years.

2: Insurance companies are also charging you more
Insurance companies exist to protect people from unexpected high healthcare costs. But more and more people are experiencing higher deductibles; increasing monthly premiums; bigger co-pays from drugs put on more expensive "tiers"; or by other drugs being paid for with "co-insurance," where a consumer pays a percentage of the medication's price (instead of a flat co-pay).

Ten years ago, less than 10 percent of employees with health insurance were enrolled in a plan with a high deductible of $1,000 or more. Today, almost half of Americans have those plans, according to figures from the Kaiser Family Foundation.

3: Old drugs are reformulated as costly new drugs
Reinventing old medications, a tactic known as "evergreening," can amount to greater profits because the government grants a new patent every time a drug company creates a "new" pill. The tweak could involve combining two older drugs into one pill or developing an extended release version. A new patent is worth up to 20 years of total exclusivity. A prominent example of evergreening that affects a broad population of consumers is the diabetes drug insulin, which is almost 100 years old with no generic available in the U.S.

4: Generic drug shortages can trigger massive price increases
The ballooning price hike for the generic hydroxychloroquine, used to treat arthritis, exemplifies how a shortage can impact prices. For Marlene Condon, a nature writer from Virginia profiled in Consumer Reports' investigation, the drug that was once available for $32 for a three- month supply skyrocketed in price to $500. Using discount drug coupons, Condon has managed to buy the drug for less than $300, but she still struggles to afford her medication. Consumer Reports explains that Condon's experience is not an isolated event. Overall, prices of generics increased by almost 9 percent between November 2013 and November 2014, according to Elsevier.

5: Specialty drugs are costing all of us
The rise of super-expensive, so- called "specialty" drugs is a new threat. Examples include the hepatitis C medications Solvadi ($84,000) and Harvoni (up to $95,000), which are driving up overall costs for the healthcare system. Currently, a report by the Congressional Research Service shows very expensive drugs that account for less than 1 percent of prescriptions in the U.S., but represent about one-third of total drug spending by consumers, employers and government, and will likely comprise a bigger proportion of overall spending. Also worrisome: More than half of the 56 medications approved by the FDA in 2015 were specialty drugs. One thing that's clear: Consumers' costs will rise. Medicare Part D prescription plans require patients to pay one-third or more of the costs of specialty drugs. Experts worry that consumers will likely see higher insurance premiums and deductibles.
Although much of drug pricing is out of consumers' hands, consider these tips to find the best deals at the pharmacy:
Talk to your doctor about the cost of the drug she is prescribing. Ask about generics, which can cost up to 90 percent less. If your insurance drops or reduces coverage of a drug, your doctor can help by appealing to your insurance company for an exception.

Shop around and negotiate. CR's secret shoppers have found that retail prices can vary widely, even within the same zip code.

Check online (with caution). If you pay out of pocket, check GoodRx. See CR's advice about using low- cost online pharmacies at ConsumerReports.org/drugprices.

Choose a plan that covers the medications you need. Compare plans during your open-enrollment period because coverage may change year to year.
SURVEY METHODOLOGY

Consumer Poll
The Consumer Reports National Research Center conducted a telephone survey using two nationally representative probability samples: landline telephone households and cell phones. 2,139 interviews were completed among adults 18+ who currently take prescription drugs. Interviewing took place over March 10-27, 2016. The sampling error is +/-2.2 percentage points at a 95% confidence level.

Doctor Survey
Online surveys were conducted over April 8-18, 2016, among 600 members of three physician specialty panels (Internal medicine: 200; Gastroenterology: 200; Oncology: 200). The sampling error for each group of physician respondents is +/-7.1 percentage points at a 95% confidence level.
__________
About Consumer Reports
Consumer Reports is the world's largest and most trusted nonprofit, consumer organization working to improve the lives of consumers by driving marketplace change. Founded in 1936, Consumer Reports has achieved substantial gains for consumers on health reform, food and product safety, financial reform, and other issues. The organization has advanced important policies to cut hospital-acquired infections, prohibit predatory lending practices and combat dangerous toxins in food. Consumer Reports tests and rates thousands of products and services in its 50-plus labs, state-of-the-art auto test center and consumer research center. Consumers Union, a division of Consumer Reports, works for pro-consumer laws and regulations in Washington, D.C., the states, and in the marketplace. With more than eight million subscribers to its flagship magazine, website and other publications, Consumer Reports accepts no advertising, payment or other support from the companies whose products it evaluates.