When you shop through retailer links on our site, we may earn affiliate commissions. 100% of the fees we collect are used to support our nonprofit mission.
Learn more.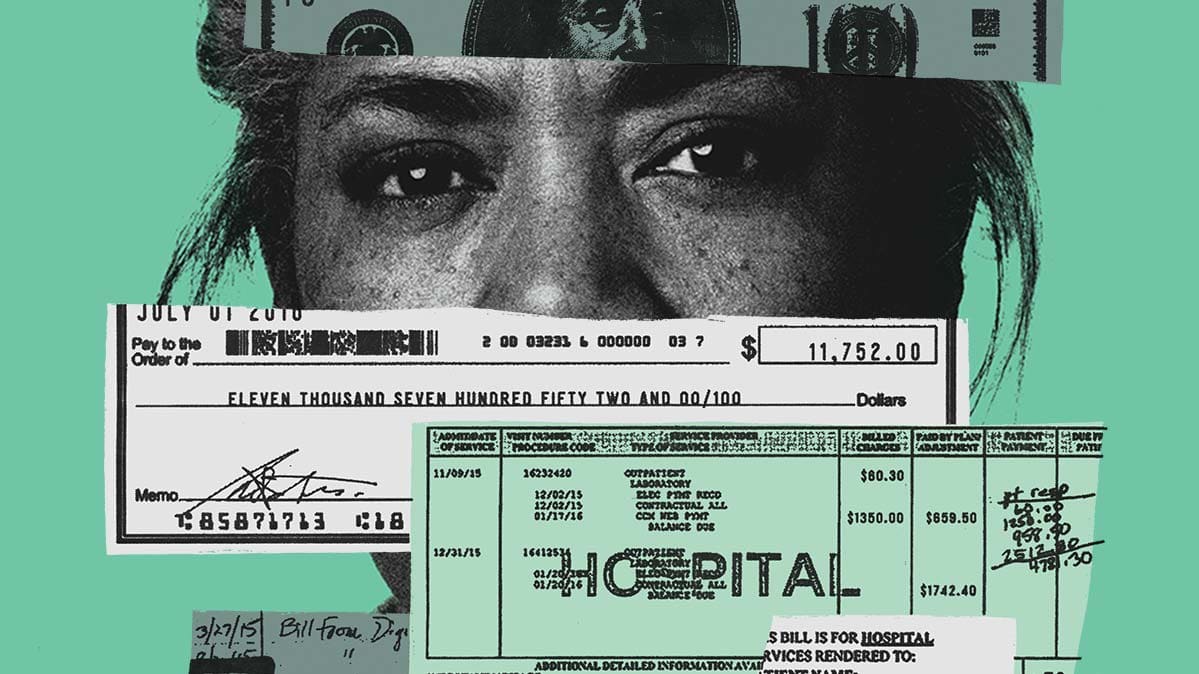 Photo-Illustration: Michael Houtz
In May 2015, Chris Brown, a 32-year-old web developer living in Los Angeles, sought medical help for depression. He was hospitalized for four weeks. The charges for his stay and treatment at one point came to $33,415. It should have been affordable because of Chris' health insurance coverage. But the hospital billing department sent a portion of the claim to the wrong division of the insurer. When the hospital didn't get reimbursed, bills ranging from $140 to more than $11,000 started arriving at Chris' home.
That simple clerical error set off a two-year medical billing ordeal for Chris, who moved to Modesto, Calif., after his hospitalization to live with his parents. His mother, Sharyn, 65, worked in medical insurance billing before retiring. So she thought she understood the system, but even she was stymied. "I knew enough to know he wasn't getting the reimbursement he was owed," she told Consumer Reports.
Over the next months, Chris and his mom placed scores of calls and sent as many emails to the hospital and the insurer. Sharyn kept a folder of notes that grew to be inches thick. "Every time I called it was like starting over, having to re-explain everything to a new customer-service rep, and none of them seemed to have clear information on their end."
Meanwhile, the hospital sent Chris' account to a collection agency, though it was eventually removed from collections after the bill was disputed. Dignity Health Northridge Hospital Medical Center, where Chris was treated, declined to comment on the case for this article, citing patient confidentiality.
In spring 2017, an exasperated Sharyn finally reached a customer-service rep in the resolution department at the insurer, Blue Shield of California, who promised to help get the issue sorted out. The rep told Sharyn to write a "special consideration" letter explaining the details of the case—something she had not previously been instructed to do. The rep also found a supervisor in the hospital billing department to look into Chris' situation. In August that year, more than two years after treatment, the hospital acknowledged the billing error and mailed Chris, who had been making payments, a $943 refund. Sharyn says the balance is now zero. "We were very fortunate we got someone to help us," Chris says.
A Broken Billing Process
If the Browns' saga sounds familiar, that's because it's being replayed around the country, as millions of Americans struggle with medical billing problems—everything from inaccurate charges to surprise fees to wrongly denied claims. No one seems to be tracking national data on healthcare billing issues, but problems are exceedingly common. In a recent nationally representative Consumer Reports survey of 1,000 insured adults who incurred a major medical bill in the past two years, two out of three said they had at least one billing issue, such as higher-than-expected charges, unclear statements, and bills arriving months late.
And because the medical bills themselves are so confusing—filled with specialized terms and lacking clarity about whether you or your insurer is responsible for payment—millions of Americans give up trying to fight them. According to the CR survey, more than one-third of respondents said they paid bills they weren't sure they owed—20 percent of that group paid more than $1,000. Among the reasons they gave for doing this: The bill was too confusing, they were uncertain their efforts would make a difference, and they were concerned that not paying would hurt their credit record.
"The medical billing system is so inefficient and complicated, people don't even know how to make a dispute," says Martin Gaynor, professor of economics and health policy at Carnegie Mellon University. "They just throw up their hands."
Of course, few Americans can afford to pay medical bills they may not owe—let alone ones they do—and the dysfunctional system is wrecking people's finances. Nearly two out of 10 in the CR survey said their credit score was affected by an unpaid medical bill. Nearly 3 out of 10 people in the survey said they had unpaid bills sent to collections. Of those, 61 percent said they could not afford to pay, 24 percent didn't realize they owed, and 21 percent lost track of the bill.
The High Costs of Billing
The challenges of a complicated and confusing medical billing system can be especially hard on those with serious health issues, because they can face a barrage of bills from hospitals, doctors, and labs. But healthcare providers are affected as well. In a recent JAMA study, researchers from Duke University School of Medicine and Harvard Business School examined data from one academic medical center to assess how much money and time were spent on billing and insurance activities. They found that bill processing for a single visit to a primary care doctor took 13 minutes, a $20 cost in labor and overhead expenses, or more than $99,000 per physician annually. Billing for the ER and other specialties was more time-consuming and costly.
"Administrative expenses, which are largely billing-related, account for 20 percent to 25 percent of U.S. healthcare expenditures," says David Cutler, a Harvard economics professor and healthcare policy expert. Those hospital administrative costs as a percentage of hospital spending are twice the level of Canada and far higher than in some other nations, multiple studies show.
Given widespread inefficiencies, it's easy to see how the medical billing process is a major driver of U.S. healthcare spending. One key reason for the high level of spending is the frequency of errors, which requires rebilling and more work. Comprehensive error rate testing from the Centers for Medicare and Medicaid Services last year found that Medicare fee-for-service providers had a 9.5 percent improper billing rate, which led to $36.2 billion in overpayments. The 10 most recent audits of hospitals by the Department of Health and Human Services Office of the Inspector General found that all had billing error rates from 7 percent to 48 percent.
Why So Complicated?
By now you may be thinking, why can't we have an efficient, sensible medical billing system? After all, technology has simplified many other financial transactions, such as banking, investing, and paying for ride shares.
To start with, the American healthcare system is a patchwork of plans, government and private, each with its own rules, deductibles, reimbursement levels, and nuances. The prices people pay for care also vary widely because insurers and providers set their own contracts.
So to determine the correct amount you will owe for a procedure isn't as simple as telling the desk clerk you have, say, United Healthcare Choice Plus. Two people in plans with that same name can be charged different rates by the same doctor or facility, depending on their plan's network or employer or deductible status and negotiated rates, says Missy Conley, director of consumer claims at Medliminal, a firm that reviews insurance claims accuracy for employers, employees, and others.
Also, among these many provider and insurer plans, there's no single standard for electronic record systems, which means they're often incompatible with each other. More than 10 years ago, a study co-authored by Harvard's Cutler found that on average about three claims were denied per physician, per week and needed to be rebilled. "The administrative burden has only climbed, as insurance policies have become more complex, while the technology has not kept up," Cutler says.
Few Incentives for Change
The current medical coding system also presents problems and can result in billing inaccuracies. Each diagnosis or procedure you receive must be given a corresponding alphanumeric code to qualify for reimbursement by insurers. There are more than 150,000 codes in all.
A wrong code can equal a rejected claim. Conversely, the more codes a provider can justify, the higher the reimbursement. That fact has improved the prospects for medical coders, whose U.S. ranks now number 175,000, up from 75,000 in 2009, according to AAPC, a coding trade group.
The administrative strain has led to an overall boom for the medical billing industry. The beneficiaries include in-house billing divisions and independent billing firms, and software companies, among others. A recent study by Grand View Research, a market research firm based in San Francisco, estimates that the U.S. outsourcing billing industry pulled in $2.9 billion in revenues in 2016 and is expected to reach $7.7 billion by 2025.
Despite these inefficiencies, insurers and providers have little incentive to change the system. After all, these expenses are simply passed on to consumers through higher premiums and out-of-pocket costs. In 2017, the average annual premium for employer-sponsored coverage for a family of four reached $18,764, up 55 percent since 2007, according to the Kaiser Family Foundation. And families in high-deductible plans had to pay on average $4,448 before coverage kicked in.
It's true that consumers face a deeply broken billing system, but there are ways to minimize the potential for errors—and get problems addressed when they happen. See our advice in "6 Ways to Cure Confusing Medical Billing" and "Where We Stand: A Patient's Financial Bill of Rights."
Editor's Note: This article also appeared in the September 2018 issue of Consumer Reports magazine.