When you shop through retailer links on our site, we may earn affiliate commissions. 100% of the fees we collect are used to support our nonprofit mission.
Learn more.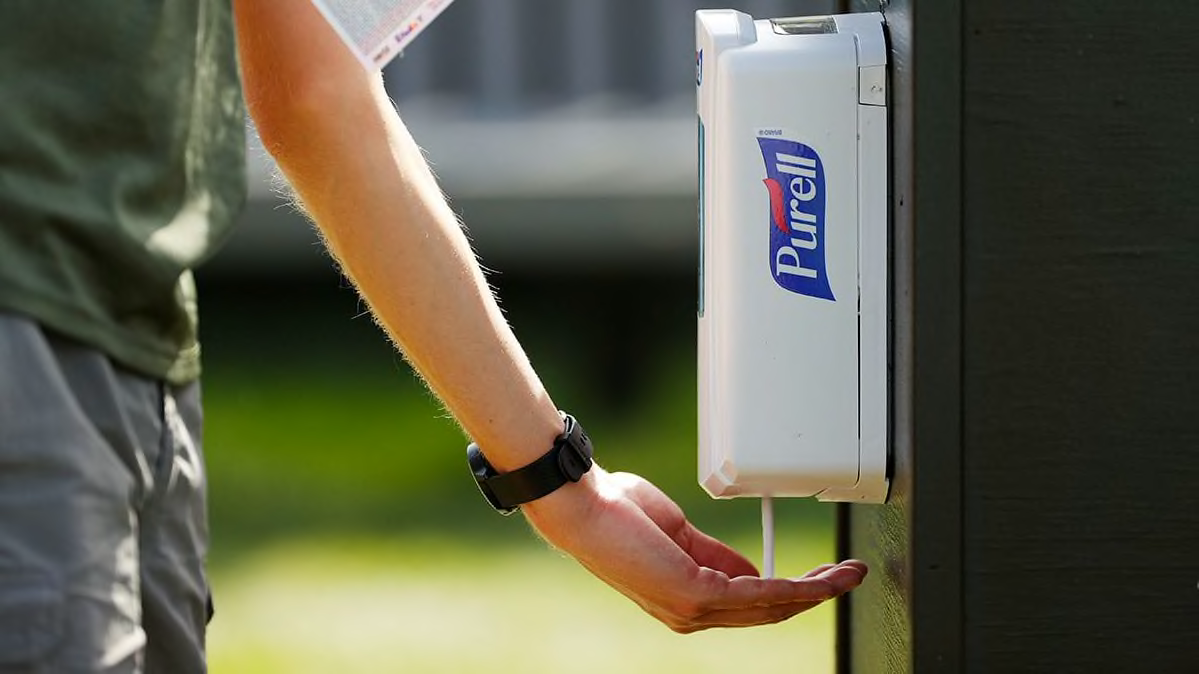 Related: On June 19, 2020, the Food and Drug Administration warned consumers not to use hand sanitizers made by Eskbiochem because of the presence of methanol, a substance that can be toxic when absorbed through the skin or ingested.
A federal judge this week sharply criticized the Food and Drug Administration for waiting 15 years to take enforcement action against the manufacturer of Purell for falsely advertising that its hand sanitizer can prevent diseases such as Ebola and the flu.
The FDA in January formally warned Gojo Industries, which makes Purell, about its product claims. Those claims are unproven, the FDA says. And such claims could put consumers at risk by giving them a false sense of security about how effective a hand sanitizer can be.
But the FDA only took that action in response to evidence uncovered by a smaller competitor, Innovative BioDefense, which the agency had sued in 2018 for making the same sort of claims as Gojo. Consumer Reports previously covered the issue.
During the trial, which concluded in March, Innovative BioDefense claimed the FDA unfairly singled out the company and its Zylast products, when other hand sanitizer manufacturers make similar claims about their products being able to prevent disease.
Innovative BioDefense's attorney even forced an FDA official who testified in December to concede that Gojo made the same kind of claims about Purell in marketing materials that Innovative BioDefense is accused of.
Health authorities agree that hand sanitizers can be an effective backup to washing your hands to kill viruses, including the novel coronavirus. But under FDA regulations, hand sanitizer companies cannot claim that their products prevent any specific disease without having gone through the agency's formal drug-approval process.
On Monday, the judge in the case, David O. Carter, agreed with the FDA that Innovative BioDefense violated federal law when it made disease-specific claims about its hand sanitizer.
Carter also ordered Innovative BioDefense to stop making hand sanitizer until it addresses the regulator's concerns.
But in his 32-page order, the judge blasted the FDA for a "total lack of enforcement" against bigger companies in the hand sanitizer market that "are arguably causing more harm to consumers."
"The disparity in enforcement creates a perception of favoritism that, while not impacting this Court's decision about the particular Defendant before this Court, may erode public confidence in the agency," Carter wrote.
An FDA spokesperson and attorneys for Innovative BioDefense didn't immediately have comments when reached Tuesday by CR. A spokesperson for Gojo said, "As Gojo was not involved in this litigation, it would not be appropriate for us to comment."
Carter's criticism of the FDA's hand sanitizer enforcement comes as Americans are buying increasing amounts of the product to help combat the ongoing pandemic. The agency last week warned about hand sanitizers being made by alcohol distilleries to fill a marketplace void caused by the crisis that could be confused for water or other beverages.
"Now more than ever, people should be able to trust that a product they're using to prevent infection actually does what it claims," says William Wallace, manager of home and safety policy at Consumer Reports. "That's why it's critical for federal and state authorities to crack down on false or misleading marketing—especially for products like hand sanitizer that people are using to protect themselves during the pandemic."
Gojo's Yearslong Lobbying Campaign
The judge's order laid out a timeline of events involving Gojo, documenting how the company had aggressively lobbied the FDA to take enforcement action against Innovative BioDefense. Gojo contacted the FDA about Innovative BioDefense's hand sanitizer as early as November 2013, arguing that the company's disease-specific claims were illegal.
The agency initially decided against taking enforcement action at that time. But Gojo continued to push the FDA to target Zylast for enforcement action.
Carter cites a number of examples of Gojo's effort. In February 2015, for example, Gojo's counsel left the FDA a voicemail threatening to take complaints about Innovative BioDefense "higher up in the agency." In April, Gojo's lawyer wrote to the agency, urging it to launch a criminal investigation into Innovative BioDefense, Carter says. The following month, the Gojo attorney wrote to the FDA calling for "vigorous regulatory action" against the company's smaller competitor.
Eventually, the FDA filed its suit, alleging that Innovative BioDefense made statements in marketing materials, including descriptions on the company's website and in ads, that Zylast was effective against pathogens including Ebola, norovirus, and methicillin-resistant Staphylococcus aureus (or MRSA).
'Troubling' Enforcement Disparities
Gojo, though, had a long history of its own making similar disease-specific claims.
In April 2015, in fact, Innovative BioDefense notified the FDA that other companies were making similar claims. But until the recent trial, the agency had "failed to act against any other hand sanitizer company for making pathogen-specific statements," Carter said.
An FDA employee admitted during the trial that the agency was aware that hand sanitizer manufacturers routinely make pathogen-specific claims in their marketing materials. At a Dec. 18 hearing, for example, an attorney for Innovative BioDefense pulled up a recent blog post from the Gojo website about Purell that mentions it can combat MRSA, according to a court transcript.
The attorney asked the FDA employee whether the language violated agency rules, because it appeared on a webpage that linked to Gojo product. The employee said it did. The FDA even conceded that it had known about Gojo making violative claims for years.
"Despite being aware of pathogen-specific statements by Gojo since 2005, the FDA failed to take any action against Gojo until during this trial, when it finally issued Gojo a Warning Letter in January 2020," Carter wrote.
The Gojo claims cited by the FDA in the warning letter were strikingly similar to those made by Innovative BioDefense: that Purell hand sanitizer can prevent the spread of the pathogens that cause the flu, Ebola, MRSA, and norovirus, and that it can even reduce absenteeism among students.
Carter acknowledged that the FDA holds "considerable discretion" in making decisions on whether and how to use its enforcement resources.
"However, as this Court has already made clear, the circumstances surrounding the lack of enforcement against Gojo Industries is troubling," he wrote, "and the Court is of the opinion that the disparities in enforcement should be addressed expeditiously."
He noted that once a warning letter had been issued to Gojo, a class-action consumer protection suit was filed against the company regarding the pathogen-specific claims it'd previously made.
"Whether or not such a lawsuit is meritorious, it is clear that FDA enforcement actions are an important part of public health and safety," Carter said. "Thus, it is imperative that such enforcement is done in a consistent manner."
CR's Wallace agreed with Carter's sentiment, though he adds that the FDA needs additional funding to be able to perform its duties.
"Part of this is about being fair and unbiased, but another part is about agency resources," he says. "Congress must make sure the FDA has the funding it needs to take strong action across the board, and not back down from any fight necessary to keep consumers safe."