When you shop through retailer links on our site, we may earn affiliate commissions. 100% of the fees we collect are used to support our nonprofit mission.
Learn more.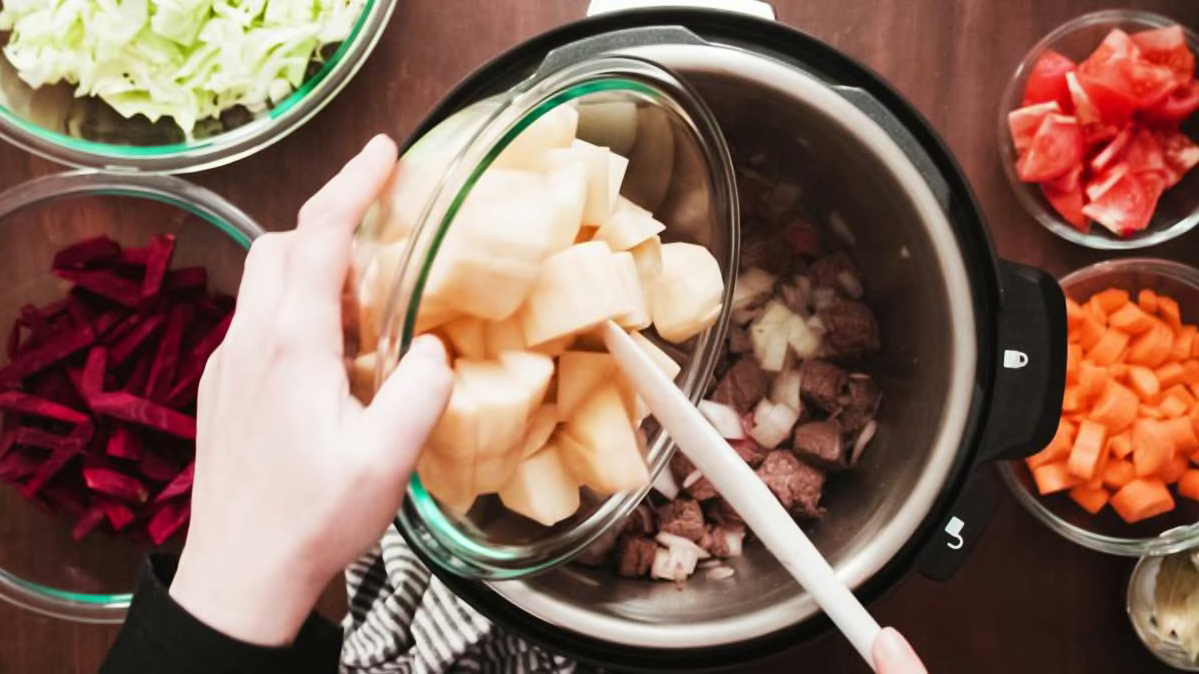 what it can do
Roast / Stew / Bake / Slow-Cook / Sauté / Pressure-Cook / Air-Fry / Steam / Reheat / Sous Vide
What to cook
Stew / Steamed Vegetables / Soup / Yogurt / Risotto / Ribs / Oatmeal / Cheesecake / Chili / Eggs / Grains
Every week, it seems, a new multitasking gadget hits the market with promises to make your culinary life easier or at least more interesting. And broadly speaking, home cooks are eating it up. In the U.S., consumers spent more than $700 million on multi-cookers in the past year, according to market research firm NPD Group.
It's easy to see why home cooks are getting onboard: One-pot meals or stews that would typically take half a day to cook can be ready to serve in half the time when using a multi-cooker. There's no need to stand over a stove watching your food cook or make sure you're home when the slow cooker's done. Plus, a multi-cooker won't heat up the entire kitchen like your oven can.
This versatile wunderkind also has functions to pressure-cook, steam, sauté, and slow-cook. Some newer models can also air-fry, dehydrate, and sous vide.
To put these appliances to the test, our lab technicians pressure-cook pork ribs and beef chili, cook white rice, steam a hard-vegetable medley of broccoli and carrots, slow-cook chili and beef stew, and sauté sliced onions. The results vary significantly.
"Cooking time is the trickiest variable in our tests," says Ginny Lui, CR's lead tester for multi-cookers. "Some models can slow cook stew in 5 hours while others need up to 10 hours. It requires some trial and error to figure out how much time each one needs."
Tips for Doing It Right
Here are some preparation tips to help get you started on the right foot.
Don't overfill the pot with liquid. Excess liquid can sputter out of the vent valve, especially when pressure-cooking, so never go beyond the max-fill line.
And leave room for expansion. Keep in mind that grains, beans, and other dried foods absorb liquid and bloat as they cook, so don't fill the pot beyond the halfway point.
Brown your foods first. The pressure cooker uses moist heat, so brown or sear meat and vegetables before pressure-cooking to add depth of flavor. You can use the sauté function to do this.
Always add some liquid. In order to build pressure, the appliance needs a minimum amount of liquid in the pot. Check your manual for the correct amount—it can be anywhere from ¼ cup to 1½ cups. Just don't overdo it. The sealed lid prevents liquids from evaporating like they do in conventional cooking, which can result in a watered-down dish.
Hold the dairy. Milk and other creamy dairy products can scald or curdle under pressure, so add them after the pressure-cooking process is done.
De-funk the lid. The silicone seal on the lid can retain food odors. Banish lingering smells with a 3-minute vinegar soak before washing. Or keep the scent of curry away from your cheesecake altogether by purchasing a second ring, reserved just for sweets.
Account for total time. You have to factor in an extra 10 to 15 minutes for the appliance to come to pressure, and then again to release. This can add half an hour to your cook time and, if you don't plan on it, can significantly delay dinner.
CR's Top-Ranked Multi-Cookers
You'll find 11 models in our multi-cooker ratings. Here's a look at three that killed it in our tests, producing tender beef stew and fluffy steamed rice. They appear in alphabetical order, not in order of CR rank.
Cooking With Countertop Appliances
Countertop appliances have come a long way over the years. On the "Consumer 101" TV show, Consumer Reports expert Sara Morrow shows host Jack Rico how it's possible to cook an entire meal without using your oven or range.