When you shop through retailer links on our site, we may earn affiliate commissions. 100% of the fees we collect are used to support our nonprofit mission.
Learn more.
The hugely popular Instant Pot has been referred to as "a souped-up Crock-Pot." So perhaps it was only a matter of time before Crock-Pot would soup up an appliance to compete with the Instant Pot.
Enter the Crock-Pot Express Crock Multi-Cooker SCCPPC600-V1, $70.
Like the Instant Pot Duo60 7-in-1, $100, this Crock-Pot is a multi-cooker that can pressure cook, slow cook, make rice and yogurt, steam, sauté, and keep food warm.
Both of these multi-cookers are faster and easier than preparing meals on a stovetop and offer hands-off cooking that frees you to do other things.
Here's what we found in our Instant Pot vs. Crock-Pot Express Crock face-off.
The Specs
These multi-cookers, both backed by a one-year warranty, are similar in many ways. They:
• Measure roughly 12 inches wide and 13 inches tall, eating up about the same amount of counter space.
• Use up to 950 watts.
• Have a 6-quart, dishwasher-safe removable inner pot. The Instant Pot's has an uncoated cooking surface. The Crock-Pot's has a nonstick coating.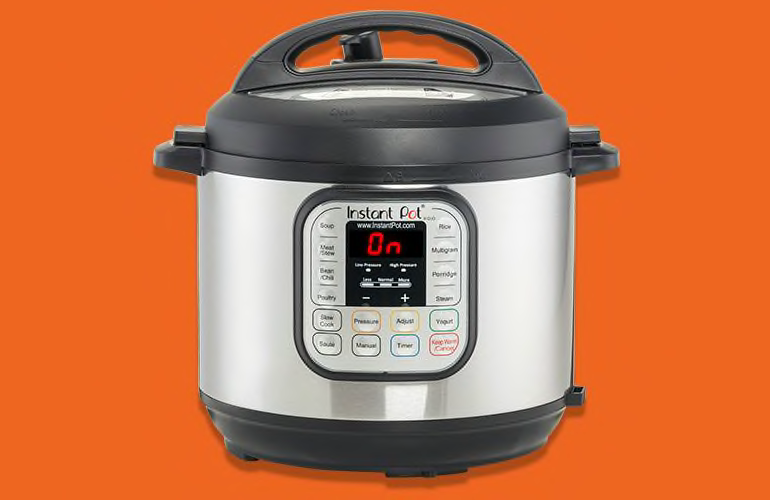 Instant Pot vs. Crock-Pot Performance
Here's what we found when we reviewed the cooking modes these appliances have in common.
Pressure cooker: On pressure-cook mode, both appliances turned out tender baby back ribs in about 54 minutes—much faster than the 2 hours the ribs took in the oven. "If you want ribs to have a crispy crust, you'll need to finish off the ribs after pressure-cooking with a coating of barbecue sauce and bake them in an oven for about 15 minutes," says Bernie Deitrick, the CR test engineer who conducted our multi-cooker tests.
Slow cooker: The Instant Pot and Crock-Pot Express Crock both served up pulled pork that was tender and delicious after a day's cooking. In earlier tests, the Instant Pot took a bit longer than pork cooked in a traditional Crock-Pot slow cooker. (Check our "Instant Pot vs. Big Green Egg: Ultimate Pulled Pork Face-Off.")
Rice cooker: Both cookers did a fine job cooking 2 cups of brown rice in roughly 45 minutes.
Steamer: Our broccoli-and-carrot medleys turned out a bit mushy. "That's because these cookers use a pressure-steam process, and the lid is locked during cooking, making it difficult to check for your preferred tenderness," Deitrick says.
Sautéing: Neither multi-cooker has the power to sear well, so our sauté test—preparing Kung Pao chicken—didn't show much browning compared with chicken cooked on a stovetop. Still, the results were tasty. The Crock-Pot's nonstick cooking surface made cleanup easier than the Instant Pot's uncoated stainless steel.
Yogurt: Here's where we saw a difference in the two cookers. Using the recipes recommended for each machine, we found that the Instant Pot made slightly thicker yogurt than the Crock-Pot in our tests.
Warming: You can cook pasta, for example, on your rangetop, then transfer the food to the multi-cooker and use its warming mode to keep the dish warm for dinner or a party. Both the Instant Pot and the Crock-Pot Express Crock stayed in the safe hot-food range during our test's 4-hour time period.
The Crock-Pot's keep-warm mode runs for up to 4 hours, though it's easy enough to restart when the time is up. The Instant Pot's warming function is claimed to allow you to keep food warm for up to 24 hours, though our food-safety experts say that after 4 hours of warming, food can begin to lose its flavor.
Which Model to Choose
Deitrick notes that there are differences in the controls and the default settings, but these multi-cookers performed similarly in our tests.
If you want to save $30, prefer easier cleanup from a nonstick inner pot, and don't mind a thinner yogurt, the Crock-Pot Express Crock Multi-Cooker SCCPPC600-V1 might be the better choice.
There is one consideration that falls outside our testing: The massive Instant Pot community of users, including online and cookbook authors who share countless recipes that were developed specifically for the Instant Pot. "These recipes can offer new users a lot of confidence," Deitrick says.