When the weather's hot, cranking up an even hotter oven isn't very appealing. A pressure cooker may be the solution. It's fast, easy to use, doesn't heat up the kitchen, and turns out tender short ribs, pulled chicken, corn on the cob, and we're just getting started. Consumer Reports tested five stovetop and electric pressure cookers that cost $20 to $200. Here's what we found.
Websites such as Hip Pressure Cooking are one indication that pressure cookers are gaining a new audience and making a comeback, which is why we tested them. No fancy-schmancy gadget, the pressure cooker is a metal pot with a tight-fitting lid that seals. When liquids inside the pot heat up, steam is trapped, creating pressure. This results in higher cooking temperatures and faster cooking.
Years ago, pressure cookers used to rattle and sometimes explode. For electric pressure cookers, the rattling's gone, and you won't have to scrape stew off the wall since all of the cookers have safety mechanisms that keep the pressure from getting dangerously high. The best part? Just toss your ingredients in the pot, seal the lid, and let the pressure do the work.
How We Tested
We tested how quickly each pressure cooker came up to pressure under different conditions, and how long it took to cook chicken and rice, brown rice, and dry black beans. We compared the times to stovetop cooking. Pressure cooking is faster; the time difference depends on what you're cooking and how.
Stovetop Pressure Cookers
These were faster than the electric models we tested, but this partly depends on your range, and you may have to keep an eye on the pressure cooker. They may also be noisier if they constantly vent steam while cooking—if the heat is too high, the steam is released through the pressure regulating valve. Cleanup isn't much different than the electric pressure cookers, although those all had nonstick coated pans.

Fissler VitaQuick, $200
The only model to score excellent overall, the Fissler pressure cooker (pictured above) was fastest of all five tested. The tested model holds 6 quarts. It has a gentle setting for delicate foods such as fish, and a speed setting for meats and stews. It's made of stainless steel, works with induction and regular ranges, and has a limited lifetime warranty.
Philippe Richard 6-Quart Aluminum TTUI9554, $20
Scoring very good overall, the Philippe Richard pressure cooker was slower than the Fissler, except on a gas range. That's because the bottom isn't perfectly flat, so it didn't make good contact with the cooking surfaces of electric smoothtop and coil ranges, and it doesn't work with induction. But it was faster than any of the electric models and is only $20. It comes with a limited lifetime warranty.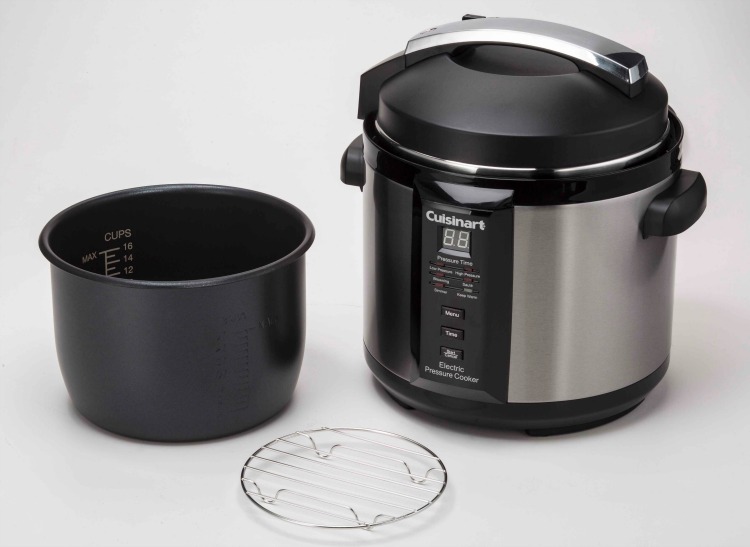 Electric Pressure Cookers
They're slower than the stovetop models, sometimes taking almost three times longer to reach pressure in our tests. But they're easier to operate and once you get a sense of the time needed for your recipes, they should require less attention than stovetop models. Electric pressure cookers are almost silent for most of the cooking, and are only noisy when pressure is released at the end of the cooking. When the pressure releases, the contents of the pot can spray onto the lid and exterior, making cleanup a little harder since the electric part of the cookers can't be submerged in water.

Fagor Premium 6 Quart Pressure & Rice Cooker, $100
Overall it was very good and slightly faster than the Cuisinart in all our tests. It offers more settings than the others, and switches to keep-warm mode for up to 12 hours, when cooking is complete. The pot is removable and claimed to be dishwasher safe. The limited warranty is for one year.
Cuisinart CPC-600, $100
The Cuisinart pressure cooker scored very good overall, and was just behind the Fagor in time. Its exterior is made of stainless steel, and it holds 6 quarts and comes with a limited three-year warranty. It offers multiple settings, automatic keep-warm, and the removable pot is dishwasher safe.
Power Pressure CookerXL, $97
The slowest of all tested, in every test, this pressure cooker often took almost twice as as long as the Fagor to reach pressure. It holds 6 quarts and has a limited warranty period of 60 days. There are multiple settings, automatic keep warm, and a removable pot that's dishwasher safe.
Whichever pressure cooker you choose, you'll find plenty of recipes online on such websites as Food52, Epicurious, and the Food Network. Email questions to kjaneway@consumer.org.
Shopping links are provided by eBay Commerce Network and Amazon, which makes it easy to find the right product from a variety of online retailers. Clicking any of the links will take you to the retailer's website to shop for this product. Please note that Consumer Reports collects fees from both eBay Commerce Network and Amazon for referring users. We use 100% of these fees to fund our testing programs.