When you shop through retailer links on our site, we may earn affiliate commissions. 100% of the fees we collect are used to support our nonprofit mission.
Learn more.
It's time to reconsider the pressure cooker. Sales are up more than 25 percent in the past 12 months, according to the market research firm NPD Group. And websites devoted to pressure cooking are another indication that these cookers are gaining a new audience, which is why Consumer Reports bought several models to test.
"One of the main draws is faster meal preparation," says Bernie Deitrick, who conducted our pressure cooker tests. "But the end result is another good reason to use a pressure cooker."
No fancy-schmancy gadget, a pressure cooker is a metal pot with a tight-fitting lid that seals. When liquids inside the pot heat up, steam is trapped, creating pressure. This results in higher cooking temperatures and faster cooking.
Earlier versions had a reputation for exploding (these cookers create intense internal pressure). Today's models have safety mechanisms that make it less likely you'll ever have to scrape stew off the ceiling. But as always, follow the manufacturer's instructions.
More on Countertop Appliances
Lab Tested for Your Home
We bought five 6-quart pressure cookers, both stovetop and electric, from popular brands such as Cuisinart, Fagor, and Fissler, along with an inexpensive cooker from Philippe Richard. Products boasting the As-Seen-on-TV label are widely available, so we also tested the Power Pressure Cooker XL.
Testers headed to our kitchen lab, cooking staples such as brown rice, black beans, and chicken thighs. The food consistently turned out tender and delicious, and was ready considerable faster than when prepared by more conventional methods. Dried beans that might require at least 2 hours on the stovetop or 12 in a slow cooker (after a 12-hour soak) were ready in an hour.
Stovetop Pressure Cookers
These are better at browning and generally faster than the electric cookers that CR tested, but they require a bit more attention. They might also be noisier if they constantly vent steam while cooking—if the heat is too high, the steam is released through the pressure-regulating valve.

Fissler VitaQuick, $200
The only model to earn an Excellent overall score, the Fissler pressure cooker (shown at top) was fastest of all those we tested. It has a gentle setting for delicate foods, such as fish, and a speed setting for meats and stews. It's made of stainless steel, works with all types of ranges, and has a limited lifetime warranty.
Philippe Richard 6-Quart Aluminum TTUI9554, $30
Scoring a Very Good overall, this inexpensive aluminum cooker isn't as quick, in part because the bottom isn't perfectly flat, so it doesn't make complete contact with electric smoothtop and coil-top surfaces. This cooker does pick up speed, however, on a gas range. Note that it doesn't work with induction. It comes with a limited lifetime warranty.
Electric Pressure Cookers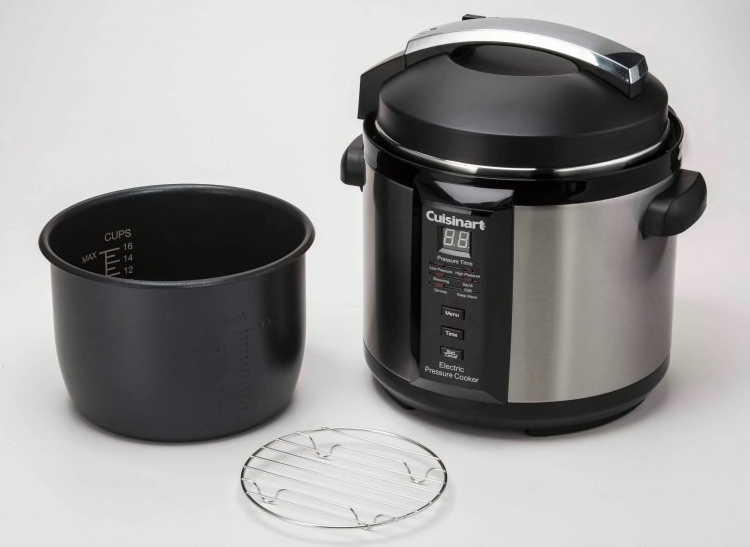 Electric pressure cookers are slower than the stovetop models, sometimes taking almost three times longer to reach pressure in our tests. But they're easier to operate, and once you get a sense of the time needed for your recipes, they should require less attention than stovetop models. Another advantage? The electric pressure cookers we tested also offer other cooking options, such as steaming or making rice.
Electric pressure cookers are nearly silent for most of the cooking and are noisy only when pressure is released at the end of cooking. When the pressure releases, the contents of the pot can spray onto the lid and exterior, making cleanup a little harder because the electric part of the cookers can't be submerged in water.

Fagor Premium 6 Quart Pressure & Rice Cooker 670041930, $100
Overall it scores Very Good, and it's slightly faster than the Cuisinart in all of our tests. The exterior is stainless, and the removable pot has a nonstick coating. This cooker offers more settings than most, including ones for rice, risotto, steaming, and sauteing. You can program it for up to 6 hours in advance, and the cooker switches to keep-warm mode for up to 12 hours. The limited warranty lasts one year.
Cuisinart CPC-600, $100
This Cuisinart earned a Very Good overall score and is just behind the Fagor in time. It comes with all the basic settings—browning, simmering, and sautéing—and an automatic keep-warm feature. Like the other electric cookers in this group, it has a dishwasher-safe removable pot with a nonstick interior. The exterior is stainless, and the limited three-year warranty is a plus.
Power Pressure Cooker XL, $97
The slowest in every test, this pressure cooker took 50 percent longer than the Fagor to reach pressure. Cooking options include slow cooking, making rice, and browning. There's an automatic keep-warm mode and a 4-hour delay setting, but the shockingly short warranty of 60 days suggests this cooker might not stand the test of time.