Go Ahead, Have That Morning Snack
Research shows it can boost your health and satisfy your hunger. Here are some tasty and nutritious options. 
When you shop through retailer links on our site, we may earn affiliate commissions. 100% of the fees we collect are used to support our nonprofit mission. Learn more. We're a nation of snackers. There's nothing new about that. But it appears that the timing of our snacking has shifted slightly during the pandemic.
Adults who say they have an early morning snack rose from 17 percent in 2019 to 23 percent in 2021, according to nationally representative surveys involving more than 2,500 adults from The Hartman Group, a market research firm. Snacking to get through a mid-afternoon slump was down from 38 percent to 33 percent, and while the percentage of breakfast eaters remained unchanged, fewer people said they're eating lunch or dinner, too.   
It's not exactly clear why morning eating may be inching up. It makes sense to think that it's related to many people working at least partly at home. But it could be a pattern that will continue. What and whether to eat in the morning has long been a matter of debate, particularly as diet trends such as intermittent fasting have grown in popularity. But research increasingly suggests that front-loading calories is a habit worth considering.
"Eating more earlier in the day can be beneficial because you're moving more throughout the day and burning more energy," says Lisa Young, RD, PhD, an adjunct professor at New York University. 
It also works with—rather than against—our body's biological clocks, or circadian rhythms. In the morning, our internal clocks increase insulin sensitivity and decrease the sleep hormone melatonin. In the evening, insulin sensitivity goes down as melatonin increases, preparing our body for rest and cell repair. These natural patterns make it easier for the body to process food, especially carbohydrates, in the daytime than in the evening. And that helps maintain healthy blood sugar levels and has other metabolic benefits that studies suggest are linked to a reduced risk of heart disease, type 2 diabetes, obesity, and some types of cancer.
The goal is to shift more of the calories you consume to earlier in the day, but not all of them. If bigger morning meals lead you to skip rather than scale back on lunch or dinner, that could affect your energy levels. And simply increasing what you eat in the morning without adjusting your diet later in the day can backfire because it could lead to weight gain.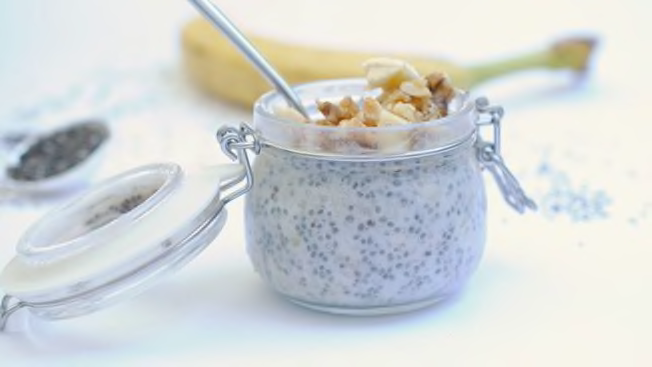 Banana Bread Chia Pudding
2 ripe bananas, cut into chunks
1½ cups oat milk (or another plant milk or cow's milk)
2 teaspoons maple syrup
⅛ teaspoon cinnamon 
¼ cup chia seeds 
2 tablespoons chopped walnuts
Directions
1. Place the bananas, milk, maple syrup, and cinnamon in a blender. Blend well, about 30 seconds.
2. Add chia seeds and pulse two or three times until they're dispersed evenly. Pour the mixture into two or four sealed containers or jars, depending on the portion you would like. Refrigerate overnight or for at least 4 hours. When ready to serve, top with walnuts and additional banana slices, if desired.
Makes 2 to 4 servings.
Nutrition information per serving (based on two servings):  275 calories, 13 g fat, 0 g saturated fat, 36 g carbs, 10 g fiber, 16 g sugars (4 g added), 8 g protein, 121 mg sodium.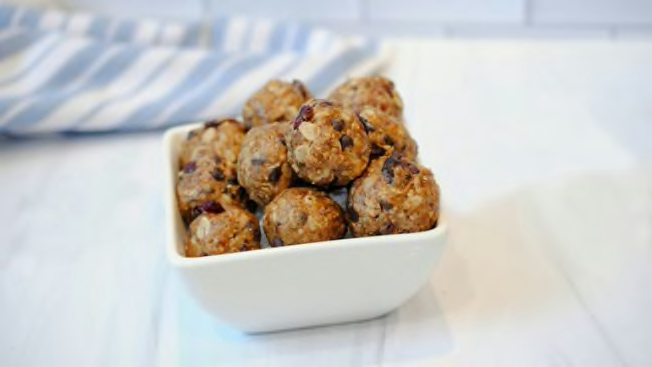 Cranberry, Almond, and Chocolate Energy Bites
2 medjool dates, chopped 
¼ cup almonds 
½ cup salted almond butter 
½ cup rolled oats
½ teaspoon cinnamon 
¼ cup dried cranberries, roughly chopped 
3 tablespoons mini chocolate chips (use dairy-free chips for a vegan option) 
Directions
1. Combine the dates and almonds in a blender and blend until finely chopped. The mixture will resemble a coarse meal.
2. In a medium bowl, combine the almond butter, oats, cinnamon, cranberries, and chocolate chips.
3. Add the date and almond mixture and mix all ingredients together with your hands until well combined. Roll about 1 tablespoon of dough into balls and refrigerate in a sealed container for up to four days or freeze for up to two months. 
Makes 12 energy bites.
Nutrition information per energy bite: 123 calories, 8 g fat, 1 g saturated fat, 11 g carbs, 2.5 g fiber, 6 g sugars (1 g added), 3 g protein, 49 mg sodium.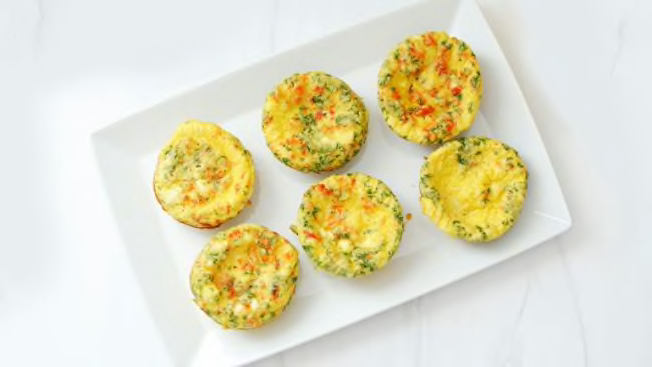 Roasted Pepper, Feta, and Spinach Egg Cups
7 large eggs
1 cup low-fat cottage cheese
¼ teaspoon black pepper 
⅛ teaspoon salt
½ cup crumbled or chopped feta cheese
½ cup chopped roasted peppers (drained if using from a jar)
½ cup chopped fresh baby spinach (or chopped frozen spinach, thawed and drained)
Directions
1. Preheat the oven to 375° F. Spray a muffin tin with cooking spray or rub with olive oil. 
2. Add the eggs, cottage cheese, pepper, and salt to a blender. Blend until eggs and cottage cheese are well combined, about 30 seconds.
3. Add the feta, peppers, and spinach, and pulse once or twice. (Skip this step if you prefer the vegetables to be chunkier.) Divide the mixture evenly among 10 muffin cups.
4. Bake on the middle rack of the oven for 10 to 12 minutes, or until the eggs are set in the middle. Store the egg cups in the refrigerator in a sealed container or bag for up to four days, or freeze in a freezer bag. Serve with a piece of fruit, whole-grain toast, or whole-grain crackers for added fiber.
Makes 10 egg cups.
Nutrition information per egg cup: 90 calories, 5 g fat, 2 g saturated fat, 2 g carbs, 0 g fiber, 1 g sugars (0 g added), 8 g protein, 231 mg sodium.
These snacks can be pulled together in 5 minutes, tops.
• Ricotta toast with tomato: Spread one slice of whole-grain toast with 2 tablespoons of ricotta cheese. Top with sliced cherry tomatoes and sprinkle with fresh cracked black pepper and a pinch of sea salt.
• Hard-boiled egg and fruit: Sprinkle a sliced hard-boiled egg with Everything But the Bagel Seasoning and top with a medium-sized piece of fruit.
• Overnight bulgur cup: Combine 1/4 cup of bulgur wheat with 1/2 cup of unsweetened nondairy or low-fat milk, 1 teaspoon of maple syrup, and a pinch of cinnamon. Stir well and refrigerate overnight. Top with 1 teaspoon of chopped nuts and 1/4 cup of fruit when ready to eat.
• Hummus and avocado on crackers: Spread a long rectangular whole-grain cracker, such as Ak-Mak or WASA-style crackers, with 1 tablespoon of hummus. Top with 1/4 of an avocado, sliced. Sprinkle 1 teaspoon of hemp or sesame seeds on top.
Best Blenders From CR's Tests
A good blender can make prepping morning snacks a breeze. These are some of the ones that performed well in CR's tests, listed alphabetically.