Host a Great Cookout This Summer
Grills, gear, and a recipe for a perfect barbecue in your own yard
When you shop through retailer links on our site, we may earn affiliate commissions. 100% of the fees we collect are used to support our nonprofit mission. Learn more. Whether it's a sprawling expanse of grass or something closer to the size of a postage stamp, your backyard is a tried-and-true summer venue that allows you to entertain at home with less risk during the pandemic.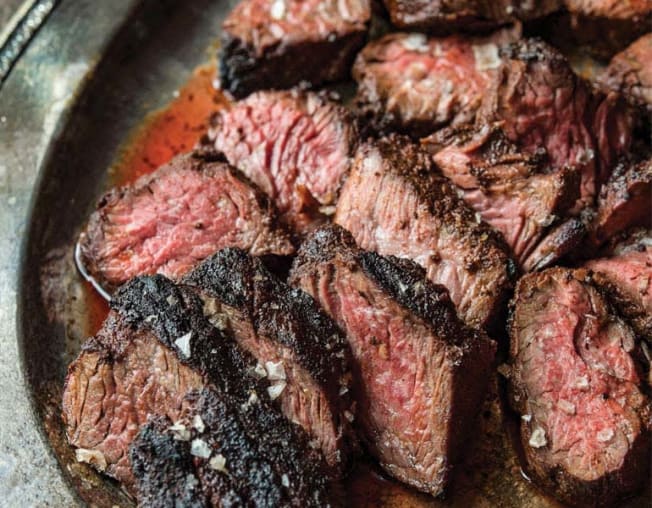 A taste of Spain menu:
• Pasta salad
• Grilled spice-rubbed hanger steak
• Marinated and grilled veggies
• S'mores over the campfire
This menu is built around a steak recipe adapted from "Cúrate: Authentic Spanish Food From an American Kitchen," by Katie Button with Genevieve Ko (Flatiron Books, 2016). "The spice rub is my way of combining Spanish and Moorish seasonings with the distinctly American dish of grilled steak," says Button, who owns two restaurants in Asheville, N.C., with her parents and her husband, Felix Meana.
If you're looking to round out the steak below, Button has a Spanish wine club, and she offers Spanish staples from Cúrate, her flagship restaurant in Asheville, shipped to your home.
Katie Button's Spice-Rubbed Hanger Steak
(Filete de Ternera a la Brasa)

Ingredients
1 tablespoon pimentón (sweet smoked paprika)
1 tablespoon unsweetened cocoa powder
1 teaspoon ground cumin
½ teaspoon ground allspice
¼ teaspoon ground cinnamon
Pinch of cayenne pepper
Kosher salt and freshly ground black pepper
1½ pounds hanger steak

1. Prepare a charcoal grill for direct cooking over medium heat with the top and bottom vents open. While the grill heats, let the steak stand at room temperature. Stir the pimentón, cocoa powder, cumin, allspice, cinnamon, and cayenne in a small bowl until well-mixed.

2. Sprinkle 1½ teaspoons salt all over the steak, then season with pepper. Rub the spice mixture all over the steak to evenly coat.
3. Put the steak on the grate over the medium-hot coals and cover. Grill until the bottom is browned and releases easily from the grate, 4 to 5 minutes. Flip the steak, cover, and cook until the other side is browned, 4 to 5 minutes more for medium-rare.

4. Transfer to a cutting board and let rest for 5 minutes. Slice against the grain and serve with any accumulated juices.
Showing a movie in your backyard takes just a few pieces of gear and a little setup time. To start, you'll need a portable mini projector, about $100 to $500. Look for one that provides 720p video resolution or greater, and at least 2,000 lumens (a measure of brightness). The brighter, the better, because you increase the size of the projection by pulling the projector away from the screen, which dims the image.
Depending on the projector, you'll typically place it between 8 and 12 feet from the screen to get a 100-inch image. You can purchase a large screen to project onto or use a white wall or a sheet pulled taut. A few mini projectors have built-in streaming capability or support wireless mirroring of video from a smartphone. If yours doesn't, plug a streaming media player such as an Amazon Fire TV Stick or a Roku Streaming Stick+ into its HDMI port, or connect a laptop to the projector.
For optimal sound, connect the projector to a Bluetooth speaker or a sound bar, either wirelessly or through an RCA or a minijack audio connection. Some projectors have rechargeable batteries that let you take them to a park or anywhere there's no power. For all other models, use an extension cord rated for outdoor use and place it where people won't trip over it.
Here are some great speaker options from Consumer Reports' tests.
There are a variety of grills that can help you turn out a perfect barbecue. Which type is best for you depends on how and what you like to cook. Here's a look at the four types of grills we test at Consumer Reports. For each type we also highlight a top performer from our tests.
Price: $100 to $3,500.
Sizes: Small models hold 18 or fewer burgers; midsized, 18 to 28 burgers; large, 28 or more burgers.
Temperature range: 150° F to 850° F. Typically, you can smoke meats at 180° F and get a sear at 550° F or more.

Best for grilling: Anything and everything. You can fine-tune the flame for delicate fish, such as cod; sear pork chops; and make easy work of burgers and brats.

Pros: The most popular type, gas grills, are a cinch to light, they heat quickly, and they're easy to use. Add-ons like a rotisserie or a pizza oven allow you to vary the fare. "Models that score well in our temperature-range test can cook at the broadest variety of temperatures, making them better at cooking the most diverse range of foods," says Larry Ciufo, CR's engineer in charge of grill testing.

Cons: You won't get smoky flavor cooking on gas. For that, you'll need to add a smoker box, which you fill with wood chips and leave on the grates.

Grilling tip: Impress your family with perfect grill marks: Halfway through the initial sear, rotate the food 90 degrees.
Price: $70 to $375.
Size: A small to midsized model holds 12 to 24 burgers.
Temperature range: 150° F to 550° F. The bigger the grill, the more coal it can hold and the hotter it can get.

Best for grilling: Hearty food that can stand up to smoke, such as steak, lamb kebabs, swordfish, and salmon steaks.

Pros: You get great smoky flavor from the hot coals.

Cons: Cooking over charcoal is more labor-intensive than gas. You'll need 20 to 30 minutes to light the coals fully. (Use a charcoal chimney.)

Grilling tip: Barrel charcoal grills are usually wider and can cook more food at once but over a thinner coal bed, so they're better for burgers, bratwurst, and other cookout foods that are best cooked over even heat. Kettle charcoal grills tend to have deeper and narrower coal beds, which can concentrate heat for searing or, if you close the dampers, slow the rate at which coals burn for long, slow cooking. "Don't forget that briquettes burn out after about an hour," says grill master Steven Raichlen. "So you'll need to keep adding more coals."
Price: $300 to $2,500.
Size: They're mostly midsized and hold about 20 to 24 burgers.
Temperature range: 150° F to 1,000° F.
Best for grilling: Food that benefits from cooking at very high temperatures, like seared steak and coal-fired pizza, or from low, sustained temperatures, like ribs and brisket.

Pros: Kamado grills offer unparalleled control. They can hold a steady, low temperature for extended periods and go to nearly 1,000° F for searing.

Cons: It can take an hour or longer to bring coals to the right temperature—twice as long as some charcoal grills. "Make sure the coals are fully lit and glowing orange, even slightly ashed over, before starting to cook," Ciufo says.

Grilling tip: Ceramic kamado grills tend to be more sturdy and can be better insulated for superior temperature control than nonceramic models, but they have a higher starting price and are more difficult to assemble. Use briquettes for basic cooking and lump coal for a serious sear.
Price: $350 to $2,000.
Size: They're mostly midsized to large and hold about 20 to 28 burgers.
Temperature range: 150° F to 550° F.
Best for grilling: Food that is easy to burn, such as pork chops or skin-on chicken, and large cuts that require cooking at a low, steady temperature, such as pork shoulder, ribs, and brisket. Pellet grills use wood pellets as fuel and are ideal if you love a smoky flavor without a lot of effort or guesswork.

Pros: They're simple to use, the temperature is easy to control, and the pellets impart distinct flavors depending on the type you choose. Load the hopper with wood pellets, and dial in the cooking temperature on a digital thermostat, just like on an oven. More pellets are drawn automatically from the hopper to maintain the heat.

Cons: "Pellet grills sometimes fail to get as hot as gas grills in our tests, which makes them less adept at searing," Ciufo says.

Grilling tip: For a smokier flavor, use hickory or mesquite pellets; for a milder flavor, try pecan or oak.
Editor's Note: This article also appeared in the June 2021 issue of Consumer Reports magazine.