What to Try and What to Skip for Pain
If you're aching somewhere, several surprising strategies may offer relief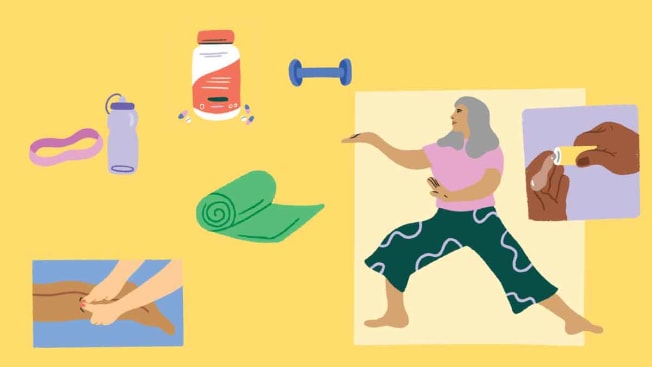 Rheumatoid arthritis, osteoarthritis (OA), low back pain, and neck pain are on the rise around the globe, in part because of contributing factors such as obesity, poor nutrition, smoking, and sedentary lifestyles. And, of course, all sorts of aches and pains can become more common as we age. Hence, it's estimated that up to 60 percent of older adults experience chronic pain in bones, joints, ligaments, muscles, and/or tendons.
Seniors with such musculoskeletal pain are often undertreated, or simply given medication, says the National Institutes of Health. But many older adults already take multiple drugs, and adding more can lead to interactions and side effects.
"One of the biggest problems I see among older patients with chronic musculoskeletal pain is desperation, because there are risks associated with many common medications, even over-the-counter (OTC) ones, and there's usually no magic drug or procedure that can fix their problem," says Seth Waldman, MD, director of the pain management division at the Hospital for Special Surgery in New York City. "Often­times, the safest and most effective treatments are nondrug options."
While some pain meds have a place (see "Use Medication the Right Way") experts say it's best to work with your doctor on a multipronged, personalized plan. And some non­medication options can be quite effective. Here's a look at four common ones.
If it hurts to move, why do it? The less ­active you are, the more muscles stiffen up, causing more pain, says Benjamin Kligler, MD, executive director of the ­Office of Patient Centered Care & Cultural Transformation at the Veterans Health Administration. And stronger muscles put less stress on pain-prone joints.
2. Massage and Acupuncture
Research suggests that both therapies may work well for musculoskeletal pain. A ­review of 39 clinical trials, published in the Journal of Pain in 2018, concluded that acupuncture—the insertion of fine needles into specific body points—was effective for back or neck pain, and OA. A review of 26 studies, published in the Journal of Physiotherapy in 2015, found that massage offered short-term relief for shoulder pain or knee OA. It also helped people with low back pain move more easily.
But these therapies can cost $75 to $150 per session and aren't always covered by insurance, says Peter Grinspoon, MD, an internist at Massachusetts General Hospital in Boston. And unlike PT, they don't tend to include DIY strategies, so they might not be as useful long-term.
Mindfulness meditation, where you might sit quietly for a few minutes or longer while noticing your breath, "strengthens your mind's ability to sustain attention and ­focus, and direct your attention inten­tionally to something other than your pain," says Fadel Zeidan, PhD, an associate professor in the department of anesthesiology at the University of California, San Diego. In a review of almost 40 clinical trials, published in 2017 in the Annals of Behavioral Medicine, mindfulness meditation was associated with a small drop in pain. "I've found it can be a very powerful tool when used with other nondrug therapies to relieve pain," Waldman says.
While some studies have found that yoga, which can include deep breathing, stretching, and strengthening, may be helpful, in some cases it may worsen discomfort or cause new injuries. If you're new to yoga, look for classes described as restorative, gentle, or Iyengar.
A safer option for older adults may be tai chi, which uses slow and gentle movements to stretch and strengthen muscles, says Vanessa Rodriguez, MD, assistant professor of geriatrics and palliative medicine at the Icahn School of Medicine at Mount Sinai in New York City. A review of 15 studies, published in the journal Physical Therapy in 2017, concluded that tai chi was effective for musculoskeletal pain.
Supplements with glucosamine and chondroitin—substances found in cartilage—are often touted as easing OA pain, but research is mixed. Both can also interfere with drugs such as blood thinners.
However, turmeric, a spice sometimes sold in supplement form, may be more promising. It contains the compound curcumin, which has anti-inflammatory properties. A study published in January in the journal Trials found that a 500 mg capsule two times a day was as effective as a thrice-daily 650 mg acetaminophen tablet. Still, supplements are only loosely regulated, so you can't always be sure of exactly what they contain.