When you shop through retailer links on our site, we may earn affiliate commissions. 100% of the fees we collect are used to support our nonprofit mission.
Learn more.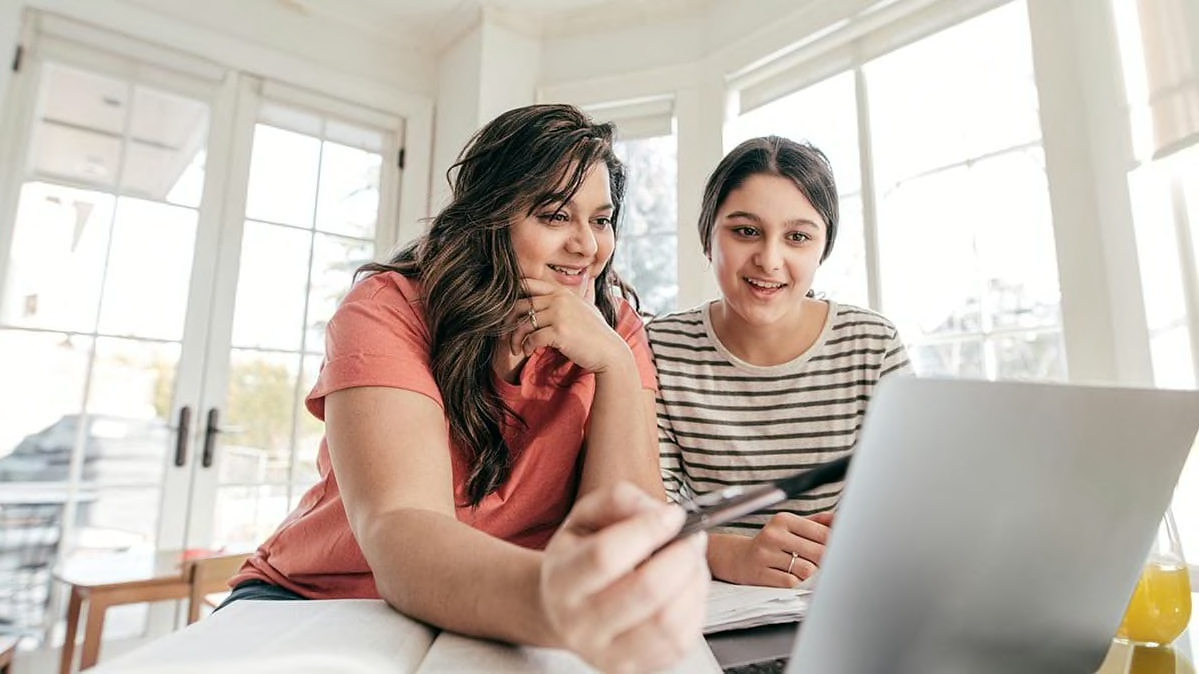 If you're planning to go to college next fall, one dreaded task is going to be a little easier: applying for financial aid.
Starting Oct. 1, you can submit the Free Application for Federal Student Aid (FAFSA) for the 2019-2020 school year. This form determines how much you can get in federal grants, loans, and work-study programs, as well as financial aid from states, colleges, and some scholarship programs.
To make the application more accessible, the Department of Education has launched a mobile app called myStudentAid and a redesigned, mobile-friendly website that will allow you to fill out the application on smartphones and tablets as well as on laptops and desktop computers. The application is also more user-friendly, with help boxes for each question and plainer language to guide you.
"Easier" doesn't mean filling out the FAFSA won't still be daunting. It has a 108 questions—157 if you count all the sub-questions. (Making changes to significantly shorten the FAFSA requires Congress to act.) And you need to pull together a raft financial information to complete the form.
"People get intimidated by the application or get stuck and give up," says Karen McCarthy, director of policy analysis at the National Association of Student Financial Aid Administrators (NASFAA).
More on Paying for College
Only 61 percent of high school students file a FAFSA, and even fewer low-income students do, leaving more than $24 billion in state, federal, and institutional aid on the table, according to the National College Access Network (NCAN).
While NCAN and other advocates for improved college access and affordability say more substantial changes are needed to simplify the form, they say that making the FAFSA mobile and more user-friendly will make a difference.
"For some people, the primary way they access the internet is through their phone," says Kim Cook, executive director of NCAN, which advocates for policies to improve college admission and completion, particularly for low-income, minority, and first-generation students. "This helps us meet students and their families where they are."
The changes are a meaningful improvement to the FAFSA process, says Cook, whose team tested a beta version of the myStudentAid app this summer with financial aid experts, students, and parents. You can start the application on the app or a computer, save the information, and finish it on a different device. The team did find a couple of confusing features, which we note below.
As part of the redesign, wording in the application has been tweaked to make it easier to navigate. The changes include clarifying whether certain questions apply to the student or the parent, whose information may be needed if the child is a dependent. Returning students will be able to renew their financial aid application, make corrections, and view their federal student aid and loan history.
Making the FAFSA easier to complete can have a significant impact on whether a student enters college and stays on, especially lower-income and first-generation students, says Cook. High school graduates who complete the FAFSA are 63 percent more likely to enroll in college than graduates who don't fill out the form, according to NCAN.
Don't miss out on aid that can make going to college more affordable. Follow these tips to make the FAFSA application process go smoothly.
Just Do It
As many as 2 million students per year who are probably eligible for aid don't even apply, according to a report by the Bill and Melinda Gates Foundation.
Some people aren't aware that there is financial aid available to pay for college. Others don't apply because they mistakenly think the FAFSA is only for students with financial need. That's not true, says Cook from NCAN. The FAFSA is required by many schools and states to be considered for any aid, whether it's need-based, merit-based, or a combination of both.
Families should also know that income isn't the only factor used to determine the amount of aid you can get. It also depends on the number of children in a family and how many are enrolled in college at the same time. For older people, a larger portion of nonretirement savings is excluded from the financial aid calculation. (Retirement savings such as 401(k)s aren't counted at all under the federal aid formula.)
The cost of a school is also a determining factor. "If you're looking at a four-year private college, you might get aid you wouldn't qualify for at a lower-cost public university," says McCarthy from NASFAA.
Know Your Deadlines
It's important to submit your application as soon as possible. Some of the aid is first come, first served, while other programs, such as those for state grants and scholarships, may have strict deadlines. In Tennessee, for example, applications for state grants are due Jan. 16. In Connecticut, priority is given to financial aid applications received by Feb. 15. (Find state deadlines here.)
You can apply for federal financial aid with the FAFSA until the end of the academic year you're enrolled in school. (That's June 30, 2020 for the 2019-2020 school year.) But consideration for programs such as work-study is given to those who apply earlier, so sooner is better for federal aid, too.
Beware of Confusing Language
Though the mobile app is generally user-friendly, there are a few things to watch out for, according to NCAN's user testing. Pay particular attention to the signature process, because both parents and dependent students are required to sign before the application can be processed. Never tap the "Start Over" button when logging in to complete a parent signature. That will erase all previous information entered by the student. And the navigation button that allows you to send the FAFSA to multiple schools is confusing. Click "New Search" to add a school, not "Next" which moves you to a new question.
Get Help
There are lots of free resources for help filling out your FAFSA application. Many states sponsor workshops at high schools and community centers. North Carolina, for example, is hosting a College Application Week Oct. 15–19, when hundreds of volunteers will go to high schools to help students with college application and financial aid forms. New York's College Goal NY has FAFSA completion events around the state, as does Virginia as part of its Super FAFSA Project. Go to FormYourFuture.org to find resources where you live.
You can also get help from nonprofit organizations such as Reach Higher, which offers UpNext, a texting tool where college advisers walk students through the college application and financial aid process by sending reminders and answering questions via text.
Another good resource: the Department of Education's Federal Student Aid office, which has a step-by-step guide to filling out the FAFSA. You can call 800-4-FED-AID (800-433-3243) with questions, or check out explanatory videos on the office's YouTube channel.
Wait a Little
Although the myStudentAid app is available now if you still need to complete a 2018-2019 FAFSA, the application for the 2019-2020 year won't be available until Oct. 1. You will also have to wait until then to use the IRS Data Retrieval tool (which automatically imports tax information required on the FAFSA), and to be able to renew or correct an application.