When you shop through retailer links on our site, we may earn affiliate commissions. 100% of the fees we collect are used to support our nonprofit mission.
Learn more.
One way that scammers often try to convince consumers to send them money is to threaten them with fines and penalties if they don't do as they're told. That's exactly what happened to Anna Guillory Yates of Los Angeles. The 70-year-old resident received a voice message from someone claiming to be from the IRS. The caller threatened to confiscate her property if she didn't pay a tax bill right away.

This time, the scammer was messing with the wrong person. Yates, a member of the Stop Senior Scams Acting Program, was well versed in how the notorious "IRS scam" works. That's because the program puts together a show dramatizing dozens of ruses and frauds used against seniors. It then takes the show on the road to senior centers and other venues around the Los Angeles area.
"I just laughed because I do that skit," Yates recalls. "I thought to myself, 'You do not have me on this one!'"

Senior-to-Senior Education
I was thinking of how Yate's know-how helped her when I testified on preventing senior scams before the House Committee on Energy and Commerce Subcommittee on Commerce, Manufacturing and Trade on October 23. Getting the word out among seniors about how scams work is key to preventing them from being successful.
But becoming an expert in elder fraud isn't all that easy because many seniors are reluctant to speak about what they've been through. My suggestion: Why not fund senior-to-senior educational groups like the Stop Senior Scams Acting Program all over the country?

There are others who are also doing good things to educate seniors and others about elder fraud. My co-panelist before the House Subcommittee, Charles Wallace, associate professor and undergraduate program director of computer science at Michigan Technological University, discussed his university's innovative Breaking Digital Barriers program. It's a unique program that brings college students and seniors together. The students act as technology tutors to seniors in the community.

During their meetings, Wallace observed that while some senior participants were initially afraid to venture onto the Web for fear of scams or privacy breaches, others readily opened spam and other dodgy emails, making them vulnerable to fraud. Among the lessons seniors learn is how to identify emails that should be treated just like junk mail they get in their mailboxes at home.
"In a nutshell, an ounce of education is worth a pound of prosecution," Wallace says.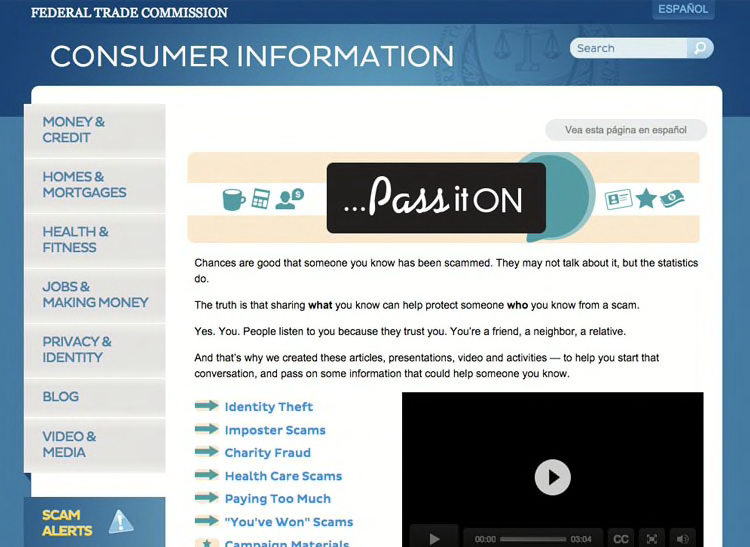 Spreading the Word About Elder Fraud
The Federal Trade Commission has taken the word-of-mouth concept to heart. At the October hearing, Daniel Kaufman, deputy director of the FTC's Bureau of Consumer Protection, outlined the agency's elder-fraud education initiatives, including "Pass It On," a multimedia program with simple, pointed messages on a number of current scams. Individuals can obtain free articles, presentations, videos, and activities to help identify and thwart a number of current scams, including impostor scams (IRS, FTC), charity fraud, health-care scams, and "you've won" scams. Among my favorite souvenirs from a recent elder-abuse conference: FTC "Pass It On" bookmarks with straightforward advice. An example:
Someone calls to ask you to DONATE MONEY to a charity. TODAY.

The advice? Stop. Call the charity. Never donate by wiring money.
Another witness, Stacy Canan, deputy director of the Office of Financial Protection for Older Americans at the Consumer Financial Protection Bureau, mentioned the bureau's Money Smart for Older Adults awareness program, a series of instructor-led lessons developed together with the Federal Deposit Insurance Corp.
The CFPB also recently released guides for fiduciaries—that is, the relatives, friends, and professionals tasked with managing a senior's money when he or she is no longer capable of doing so. The CFPB's Managing Someone Else's Money guides walk fiduciaries through their duties; tells them how to watch out for scams; advises what to do if the senior has been victimized; and outlines where to go for help.
The CFPB has published state-specific guides for Florida and Virginia, and soon will release guides to help financial caregivers in Arizona, Georgia, Illinois and Oregon. Because the agency can't draft guides for every state, it recently issued templates that other states can use to create their own guides.

Where Is Hollywood?
All of these approaches are useful, but what I'd really like to see is a Hollywood movie on elder fraud. It's a plot with poignant stories, heroic investigators and victims, piles of money—at least $3 billion lost each year—and even some exotic locales. That kind of exposure could make financial elder abuse part of the cultural conversation and get more folks to protect themselves.