When you shop through retailer links on our site, we may earn affiliate commissions. 100% of the fees we collect are used to support our nonprofit mission.
Learn more.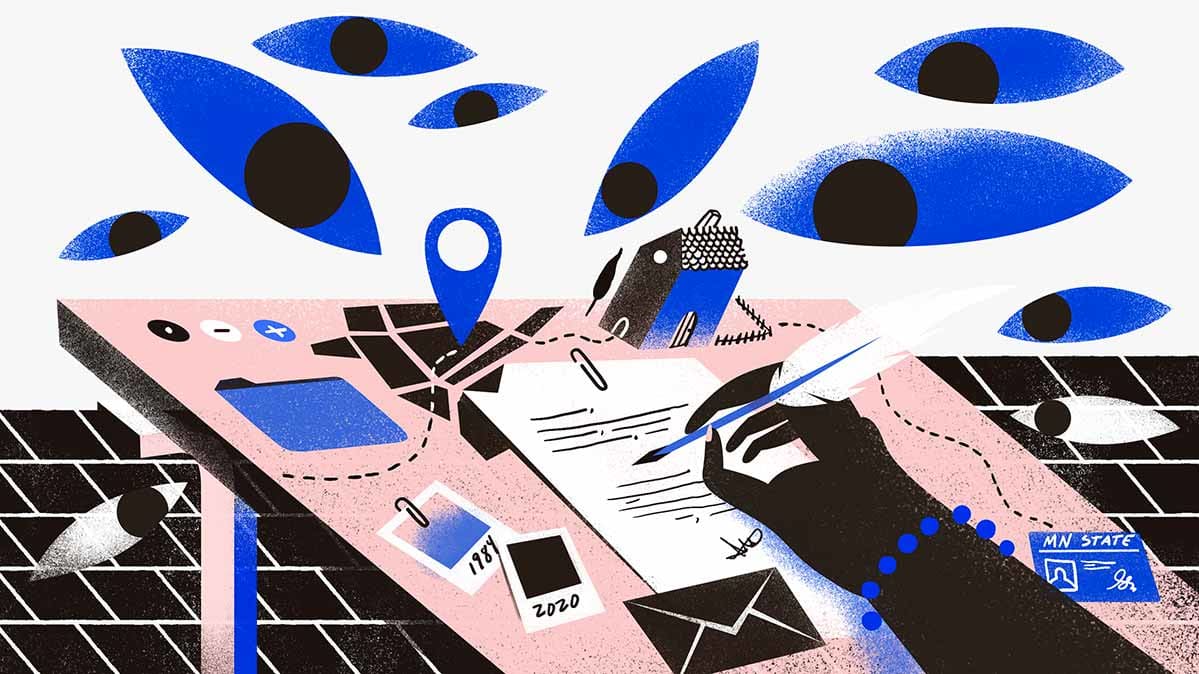 Illustration: Miguel Monkc
If you've ever entered your name into a search engine, you might be shocked at just how much sensitive information crops up.
People-search sites may have even more data than what you see on the first page of your search results. These sites scour through public records, commercial sources, and social media to accumulate a dizzying amount of information about people. It can include past and present addresses, any criminal records or bankruptcies, and even where your relatives live.
"Data brokers are highly unregulated," says Maureen Mahoney, a policy analyst at Consumer Reports. "There is no federal law that gives consumers the right to exercise their privacy preferences with respect to these sites. It's all very opaque and confusing."
Even in California, where consumers can stop the sale of much of their personal information under a broad privacy law that went into effect in 2020, there's an exemption for information that's publicly available through local, state, and federal records.
And though Vermont, like California, has set up a data broker registry, there's no requirement for companies to honor consumer requests to have information permanently deleted.
People-search sites are just one slice of the data broker industry, which also includes companies that develop dossiers on people to facilitate marketing tailored to individuals and companies that verify people's identities to detect fraud.
However, people-search sites present special risks. They make it easier for stalkers or people intent on harassing you to make unwanted visits or phone calls. They can facilitate identity theft. And they can reveal personal information—to potential employers or others—that you'd prefer to keep private.
You probably can't keep your information completely secret, but you can make it more difficult to find by scrubbing it off people-search sites. It's not easy to do, however—and you may find that once you get information deleted, it will eventually reappear. If you don't want the information to be easy to find, you'll need to treat this as a periodic maintenance task, not a one-time project.
The Do-It-Yourself Approach
Removing your information from these sites is time-consuming. If you want to pay a service to take care of it for you, some options are listed below.
To get started on your own, you can consult an alphabetical list of more than 50 data brokers and opt-out links that I created in September 2017; it's available as a Google Doc and on GitHub, a site used mainly by programmers to share information and collaborate on projects. I update it twice a year.
If you're pressed for time, you might want to start with a few well-known data broker sites, including BeenVerified, Instant Checkmate, Intelius, MyLife, PeekYou, PeopleFinders, Pipl, PublicRecords, PublicRecords360, Spokeo, Whitepages, Zabasearch, and ZoomInfo.
If you want to get through all the data broker sites listed, though, make sure to set aside a good chunk of your day, get snacks ready, and cue up some music. Keep track of how far you've gotten in case you need to step away.
Ironically, it's sometimes necessary to provide data brokers with some personal information to get them to remove your data. We recommend checking to see whether the site has your information listed before sending any data to help remove it. That way, you're not providing personal information to shadowy companies without receiving any benefit from it.
You can also minimize the information you do provide. For example, some data broker sites require a copy of your driver's license or other official ID before allowing you to opt out, but you can cross out your license ID number and Social Security number (if it's on your ID) before sending it in.
Whether you're on an iPhone or an Android phone, you can use the Markup tool to draw over anything you'd like to keep private.
Another option is to use the secure Signal messaging app's Blur feature. Just tap the blur icon in the toolbar at the top of the screen and color in any areas you'd like to keep private. Then, tap on the check mark icon in the top right corner of the screen to save the image.
Because several data broker opt-out pages require you to send a letter, opt out by phone, or even use a fax machine, you may also need some stamps and envelopes handy. To send a fax without finding a fax machine, you can sign up for a free trial of a fax app. MyFax, for example, lets you send up to 100 pages in 14 days. Just make sure to cancel when you're done.
If you keep track of which data brokers need requests in specific formats (such as mail, phone, or fax) and which need IDs, you can chunk these together once you're done with the quicker, easier online opt-out forms. Just write down the names of the sites where you haven't completed the process (or keep the browser window open until you have).
Removing your contact information from data broker sites isn't always a one-time thing. You'll want to go back to the same sites that removed your data to make sure it's gone. To speed up the process, take note of any sites that you've opted out of. You can use the list to go back later to make sure your information is truly gone a few weeks later. Otherwise, you'll need to opt out again. It's also a good idea to go through the entire process around twice a year.
Pay Someone to Do It for You
If all that seems like an impossible chore, an easier way to remove your information from these sites is to pay a service to take care of the task. A number of companies have cropped up that do the legwork, and continue to do so as the information reappears.
None of them promise to remove your data from every site, but here's what they do offer:
DeleteMe currently removes your information from 41 sites every three months for $129 per year, or $229 per year for two people.
PrivacyDuck currently removes information for two people from 91 sites every month for $499 per year, or from 190 sites for $999 per year.
OneRep currently removes your information from 107 sites for $100 per year (or $180 for a family), with a pricier option for the most challenging sites.