Petcube Bites 2 Camera Review
Spoiler alert: Two CR staffers aren't fans of this pet camera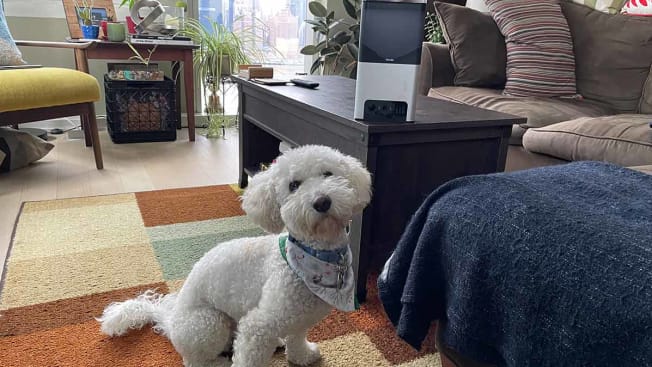 As part of a recent Outside the Labs project, my colleague and I tried two pet security cameras, as well as two regular home security cameras, to see how easy they were to use and how well we could watch our pets. I have a cat, and he has a dog, so we thought it'd be interesting to try out the cameras on different species.
We each used the cameras at home with our pets—Frannie and Bentley, respectively—and tried out the treat-tossing functions when available and looked at how easy the cameras were to set up and use. And because these devices go in your home, well, we were a bit judgy on appearance. 
For more information on the other pet cameras we tested, as well as our thoughts on the other models, check out "Can You Use the Furbo Dog Camera for Your Cat?"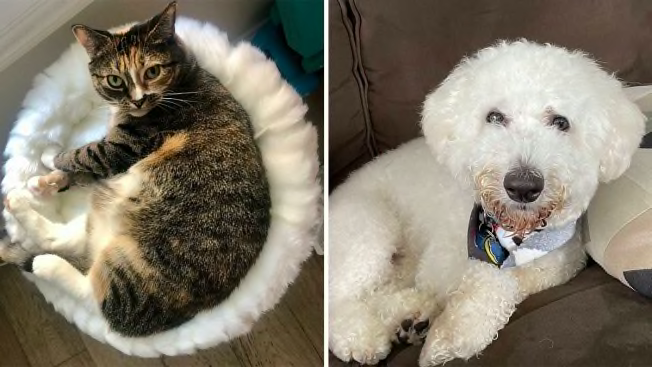 Price: $249 at Amazon, Chewy, Petcube, and Walmart
Basic app features: Live video, video recording available for 4 hours, treat-tossing, and two-way communication. You can also connect your device to Amazon Alexa.
Subscription plans: The Optimal subscription is $6 monthly or $4 per month if you pay for the annual plan after a two-week free trial. There's also a Premium plan for $15 monthly, or $10 per month if you purchase the annual package. I tried the Optimal plan, which includes features like automatic video recording triggered by sound and/or motion, three days of video history, smart alerts (bark, meow, pet, and human notifications), and a web interface that includes video history and downloads on your computer.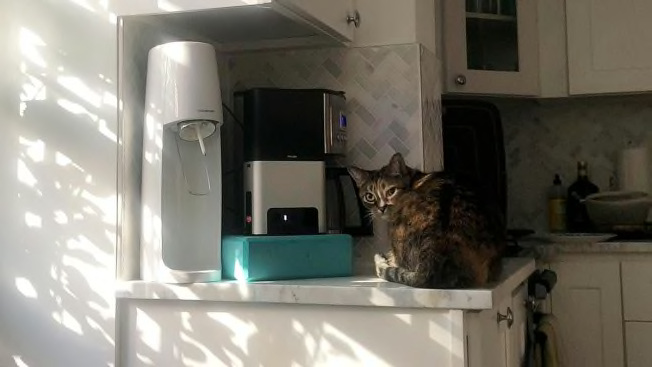 Did We Like the Petcube Bites 2 Camera?
Nope. This was our least favorite camera of the four we tried with our pets. While the app itself is easy to use and the treat-tossing function works just fine, the position of the camera on the bottom of the tall, bulky device provides a limited viewing angle. 
Setting Up the Petcube Bites 2 Camera and Using the App
Setting up the Petcube Bites 2 is pretty easy: You download the app and follow the instructions. There's no need to scan a QR code using the camera like on some other security devices. You can name the device, which is handy if you have more than one and need to keep track. 
I signed up for the Optimal membership free trial and found the app itself pretty easy to navigate, with a lot of customizable notification options, like whether or not to play a sound when the livestream starts—something i decided not to do because it led my cat to expect treats and then start staring at the camera. This makes me feel guilty when I'm not actually there, even if I know all she really wants is for the dang thing to cough up some more food, and isn't actually staring at me accusingly for leaving her.
Patrick didn't find the app that intuitive—for example, he couldn't find the option to turn off the speaker on the device when live mode is activated, as mentioned above. As his dog, Bentley, can be easily startled, this was a sticking point for him.
I did like the Care Awake and Care Asleep modes of the app, which made it easy to toggle the camera on when I left the house, or off when I was around and likely to set off motion detection.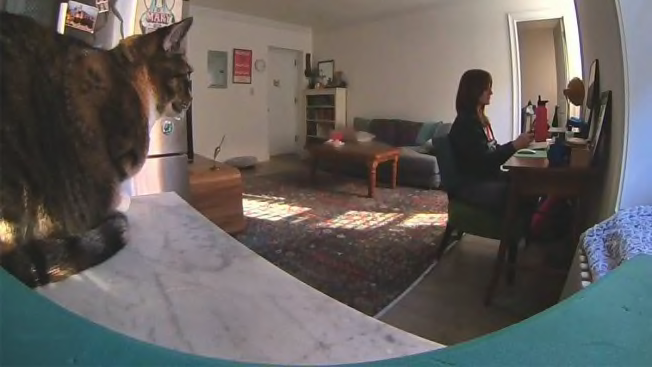 The Petcube Bites 2 might have had a chance of getting a pass from us if not for its limited viewing angle. I placed it in the same spot as the other cameras I tried—on a kitchen counter facing out toward my living room—and at first all I got was a great view of my countertop. This, despite the fact that my counter is 3 feet tall, the minimum height Petcube recommends the camera should be, whether that's on a flat surface or mounted on the wall. And depending on your décor, you might not want to mount that thing on a wall. I know I don't.
So in order to get a better view of my living room, I set the camera on a yoga block, which isn't exactly aesthetically pleasing, not to mention potentially unstable. Patrick had the same issue, noting that he couldn't see much of the room unless he placed the Petcube close to the edge of the counter, which again, could make it a tempting target for a hungry pet in search of more of those good, good treats. Without any expert testing on this camera and the Furbo Pet Camera, we can't comment on the technical quality of the video. But both Patrick and I were generally unimpressed—the picture was just fine, good enough for checking on an animal while you're away.
The Petcube Bites 2 comes with optional plastic inserts that you can use depending on the size of treats you're putting inside. For example, cats may have smaller treats than dogs, or perhaps you want to use kibble instead of a treat, which is generally smaller pieces. 
When it comes to dispensing treats, the Petcube app offers some choices: You can set up a schedule to toss treats automatically at certain times, designate the "flinging power" on a scale of Close, Medium, and Long, and the serving amount, from one to four. That's one edge it has over the Furbo Dog Camera, which allows you to throw treats only while watching the video live.
Key Takeaway for the Petcube Bites 2
The camera angle and appearance of the device itself led both of us to give a "meh" to the Petcube Bites 2, unless you're really dedicated to rewarding your pet with treats on a schedule. 
Otherwise, the Furbo Dog Camera is cheaper and sleeker, and offers a better angle of the room. And if you don't care about giving out treats, a regular security camera like the Wyze Cam V3 or Arlo Essential will do the trick, again, for a lot less than the $249 sticker price for the Petcube Bites 2.
When you shop through retailer links on our site, we may earn affiliate commissions. 100% of the fees we collect are used to support our nonprofit mission. Learn more.