Preview: 2022 Ford Maverick Priced Under $20,000 With Standard Hybrid
New pickup truck takes on entry-level role once held by small cars, with more fun and function The all-new 2022 Ford Maverick is the first-ever pickup truck to come standard as a hybrid, which is EPA-rated at 37 mpg combined. Starting at $19,995, the small Maverick is positioned below the midsized Ranger, giving Ford the broadest range of pickups compared with its competitors. 
The introduction of the Maverick completes Ford's transition away from cars, aside from the venerable Mustang. Ford has shed almost its entire car lineup and expanded its truck and SUV offerings in the past few years, citing that since 2009, car market share has decreased 56 percent while the truck and SUV market grew 73 percent. With the Maverick, the company seeks to appeal to younger buyers who a decade ago might have considered a subcompact Fiesta or compact Focus. More than that, the Maverick creates an opportunity for buyers looking for a more expressive vehicle than a subcompact car, with greater work and play capabilities, without buying a large, expensive, and thirsty pickup truck. Appealing to both those buyer mindsets will be key for the Maverick. 
The Maverick is a traditionally shaped truck based on a platform shared with the Bronco Sport and Escape that promises an SUV-like driving experience. It will be available with a more powerful, turbocharged four-cylinder engine with a two-ton towing capacity. 
What it competes with: Honda Ridgeline, Hyundai Santa Cruz
What it looks like: A boxy starter truck for Junior, and a smart alternative to oversized trucks.
Powertrains: 191-hp total, 2.5-liter hybrid four-cylinder with a continuously variable transmission and front-wheel drive; 250-hp, 2.0-liter turbo four-cylinder with an eight-speed automatic transmission; front- or all-wheel drive
Price: $19,995-$35,000
Destination charge: $1,495
On sale: Now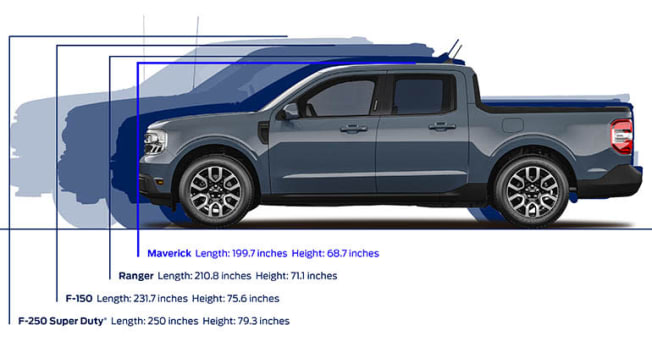 We are enthused to see such a vehicle launch at $20,000—less than half the price of the average new car and far less than the current crop of midsized trucks. We like that, even at that price, it includes automatic emergency braking, a proven safety feature we want to see on all new vehicles but one that is too often missing on today's trucks. 
The standard hybrid powertrain is a real twist, helping further distinguish this trucklet in the land of dino-juice-slurping trucks. This may add appeal to buyers who are concerned about their budget and the environment, and its fuel savings may draw in some businesses looking for a small work vehicle. 
Compared with the fancy technology marketed on the Ford F-150, and especially the electric F-150 Lightning, the Maverick seems a bit quaint in its simplicity. However, it offers many conveniences not available on small trucks a decade ago. 
Previously, the Honda Ridgeline was the only SUV-derived, mild-mannered pickup truck on the market. We love the Ridgeline, but it hasn't been a strong seller. 
The Hyundai Santa Cruz follows the same format as the Maverick. The Maverick boasts a slightly larger bed than the one in the Santa Cruz, but both beds are smaller than the Honda Ridgeline's. The design freshening given to the Ridgeline for 2021 gave it a more rugged appearance, underscoring that many shoppers want their truck to be, well, trucky. We suspect Ford building on its truck legacy will find plenty of buyers. 
"SUV-based pickups such as the Maverick have the potential to radically change the car market," says Jake Fisher, senior director of auto testing at Consumer Reports. "Today, most SUVs are built like cars, and the improved fuel economy, ride, and handling qualities have helped propel them to the most popular vehicle category. Using that as a foundation, this new breed of pickups will appeal to many consumers who never even considered buying a pickup truck."
We look forward to being among the first customers and putting it through our tests.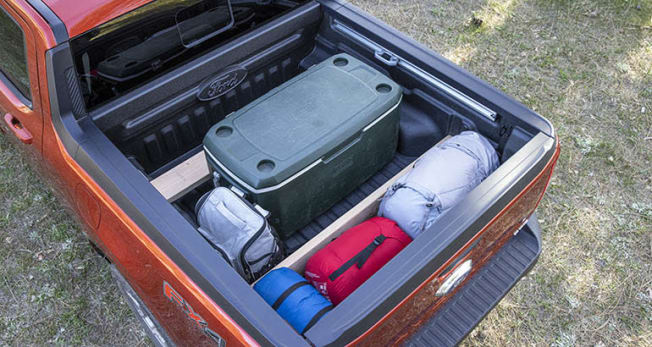 Sizewise, the four-door Maverick is roughly a foot shorter bumper to bumper than a Ranger crew cab and 10 inches shorter than a Honda Ridgeline. (It's 27 inches longer than the Bronco Sport.)
The front design is reminiscent of the larger F-150, with headlamps shaped like C-clamps. The sides are flat and smooth, with just a prominent wheel arch and faux vent just ahead of the front doors as embellishments. 
The rear features large, dramatic brake lights and an offset license plate bracket, allowing for the central-mounted tow hitch. The bed measures a humble 4.5-feet—10 inches shorter than the Ridgeline bed but longer than the one in the Santa Cruz. The bed is sculpted with notches for segmenting the space, fitting a wood-based mounting point for bikes, and for creating a shelf. It is wide enough to hold 4x8-foot plywood sheets atop the wheel housings with the tailgate down. The multiposition tailgate can be set to hold at a midway position, aka half-open, to add a little more space when needed, rather than use a flip-out bed extender. A drop-in hard bedliner, $375, and spray-in bedliner, $495, can be added.
There are a couple of small storage areas in the tailgate-end corners of the bed with 8x8-inch openings. Bed lighting and a 110-volt AC outlet are available. However, the Maverick does not have a large, underbed storage compartment like the Ridgeline and Santa Cruz have.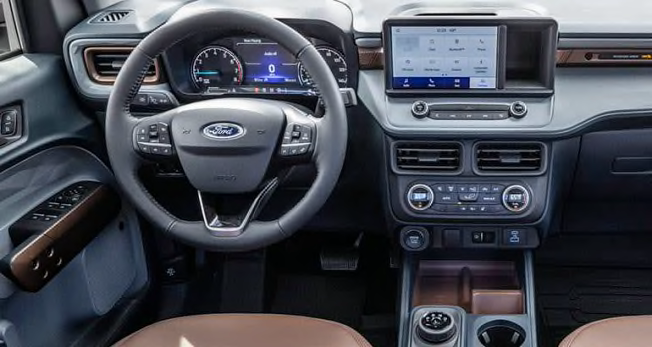 Despite being longer than the Bronco Sport SUV, the Maverick's interior isn't any larger because of its bed. Some key dimensions, such as rear legroom, make the Maverick a smidge tighter. That's too bad, because we found that adults could feel a bit snug in the Bronco Sport's second row. There is storage under the rear seat, like big trucks have, and space on doors that fit large water bottles.
The dash appears straightforward. The infotainment system uses an 8-inch touch screen, and it is compatible with both Android Auto and Apple CarPlay. The Maverick has FordPass Connect with an onboard modem for WiFi that can handle up to 10 devices. This also allows owners to lock and unlock the doors, turn on the truck, and check the fuel level from a smartphone. Plus, it allows owners to view the maintenance schedule and to schedule service appointments.
Bright accents are used to highlight areas the occupants will touch, such as the door handles, dash vents, and phone storage nooks. There are two central cup holders, a place for the driver and passenger to each stow their phones, and a small cubby for earbuds. This area also houses a rotary gear selector. A center armrest provides more storage. A 100-volt/400-watt outlet can be added for rear passenger use, $150.
A moonroof is available for $795.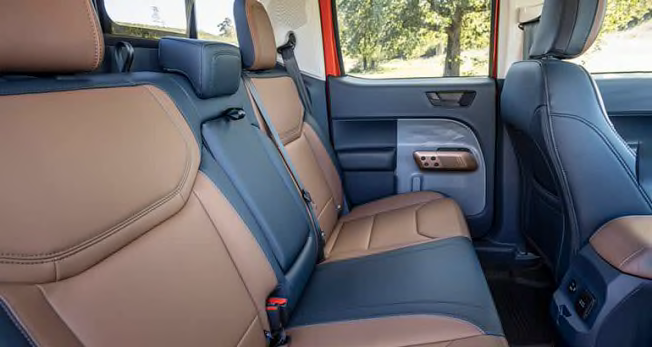 The Maverick is the first pickup truck in America to have a hybrid powertrain in its base configuration. The 191-hp, 2.5-liter hybrid four-cylinder is linked to a continuously variable transmission and drives the front wheels. This combination is EPA-rated at 37 mpg combined and has a total range per tank of 500 miles. We recorded 34 mpg overall for our Ford Escape Hybrid. We expect this small pickup to easily be more efficient than any other pickup on the market. The Maverick hybrid has a standard payload capacity of 1,500 pounds and a 2,000-pound tow capacity—plenty to tow a personal watercraft or two. Traveling on dirt trails or snowy conditions will be traction-limited with the hybrid.
For more power, there is an available 250-hp, 2.0-liter turbo four-cylinder with an eight-speed automatic transmission. When fitted with an optional "4K" tow package, a turbocharged Maverick doubles the towing capacity to 4,000 pounds—enough to pull a small travel trailer or 20-foot boat. 
There are five standard modes that the driver can select from to tailor powertrain performance to specific conditions: Normal, Eco, Sport, Slippery, and Tow/Haul. The FX4 package adds Mud/Rut and Sand, plus hill descent control.
The truck with the turbo engine is available in front- and all-wheel-drive configurations. All-wheel-drive models get 8.6 inches of ground clearance, which is just 0.2 inch shy of the clearance the Bronco Sport Badlands has.
Safety and Driver Assistance Systems
The Maverick comes with forward collision warning, automatic emergency braking, and automatic high beams. Optional equipment includes blind spot warning, lane keeping assistance, adaptive cruise control, and rear cross traffic warning.