When you shop through retailer links on our site, we may earn affiliate commissions. 100% of the fees we collect are used to support our nonprofit mission.
Learn more.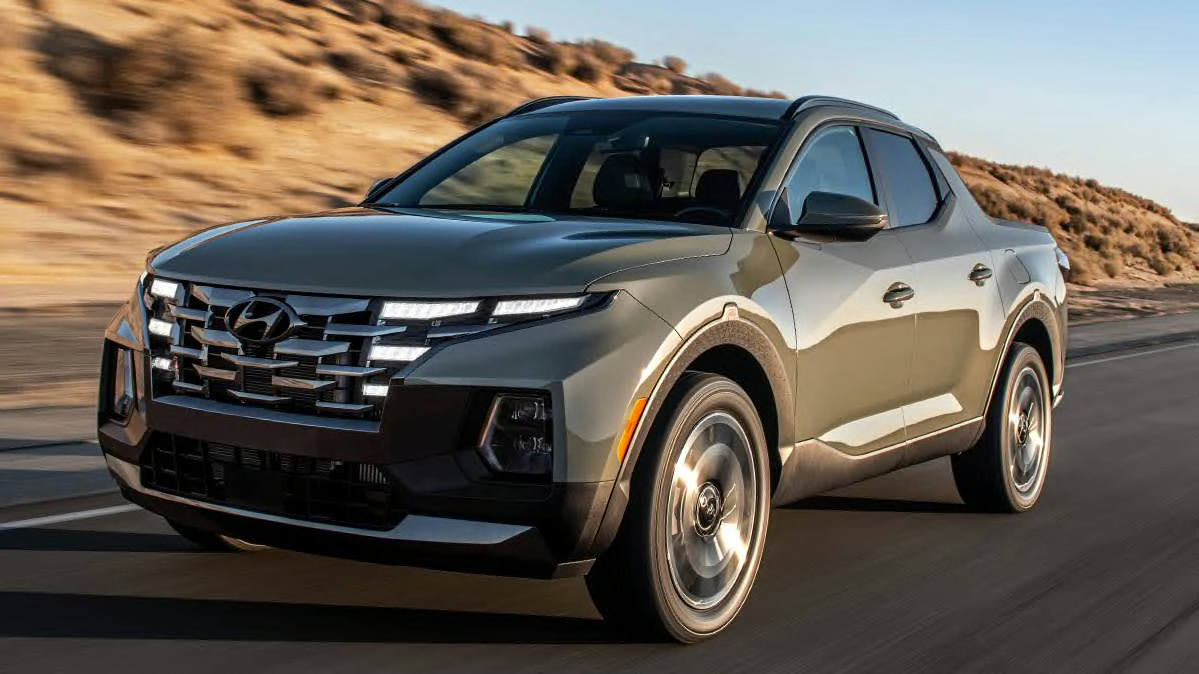 Hyundai has unveiled the production version of its first pickup truck, the Santa Cruz. Spun off a platform shared with the redesigned Tucson, the Santa Cruz merges the ideas of a small SUV and pickup truck into a single vehicle engineered to attract adventure-seeking buyers. Think of it like the Honda Ridgeline, but smaller.
The Santa Cruz is distinguished by dramatic styling compared with the conservative, blocky shapes used on most pickup trucks. But beneath the skin you'll find its chief appeal: The promise of SUV refinement and pickup truck capabilities.
For now, the Santa Cruz is a unique offering at this scale, although numerous published reports say Ford is readying a car-based compact pickup for the U.S. market, dubbed the Maverick, that will be positioned below the Ranger.
Production of the new Santa Cruz starts in June at Hyundai's Montgomery, Alabama, factory, with sales to follow later in the summer.
Here is what we know so far:
What it competes with: Ford Maverick, Honda Ridgeline
What it looks like: A small SUV with a bed that is ready to play.
Powertrains: 190-plus-hp, 2.5-liter four-cylinder with a 8-speed automatic transmission; 275-plus-hp, 2.5-liter turbocharged four-cylinder engine with a dual-clutch 8-speed automatic transmission; front-wheel or all-wheel drive
Price: $26,000-$38,000 (estimated)
On sale: Summer 2021
CR's Take
Hyundai further expands its growing lineup with the new Santa Cruz. This stylish trucklet could attract buyers who might be torn between a small SUV and a pickup truck. Like the Ridgeline, it promises the comfort and ride quality associated with car-based SUVs, with versatility that can only be possible with an open bed.
Its small size is both part of its appeal and a chief limitation. The concept is a reminder of the Subaru Baja from a couple decades ago that turned an Outback into a pickup, with a cargo box sized more like an ottoman than a bed. It was a fun idea, but limited functionality hampered its appeal.
Hopefully, the Santa Cruz's driving dynamics, fuel economy, and clever convenience features prove key to this fresh model's allure.
Outside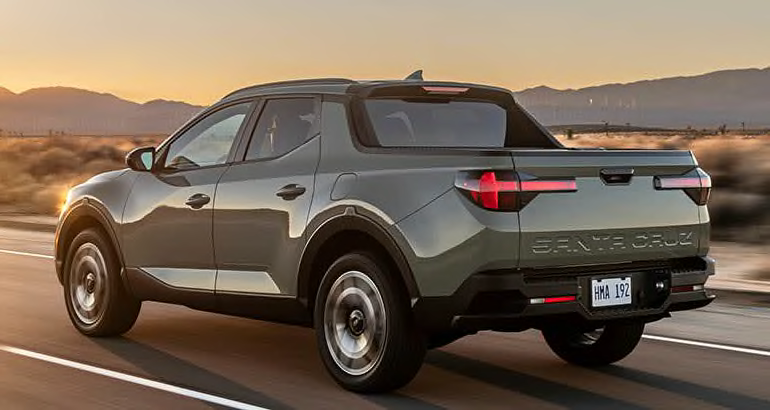 A sleek exterior defined by rakish angles and an illuminated, cheese-grater grille declare that this isn't just another truck.
The Santa Cruz is more than a foot longer than the Tucson SUV, but it is dwarfed by the current midsized SUV field. The Ridgeline is the most similar competitor for now, and it has a solid 16-inch advantage over this new Hyundai.
This can be seen most dramatically in the bed dimensions, where the Ridgeline has about a foot more length available. And as anyone who has made a lumber run in a midsized truck can attest, a shallow 5-foot bed is limiting.
The upside is that the Santa Cruz is sized for city traffic, providing a fun option for those truck-loving buyers who may not need as much cargo capacity. A lockable tonneau cover for the bed can provide secure storage, and like the Ridgeline, there is a storage compartment in the bed floor.
The tidy dimensions make the Santa Cruz more city friendly than typical trucks, aided by a tight turning radius that is certain to help with parking.
Inside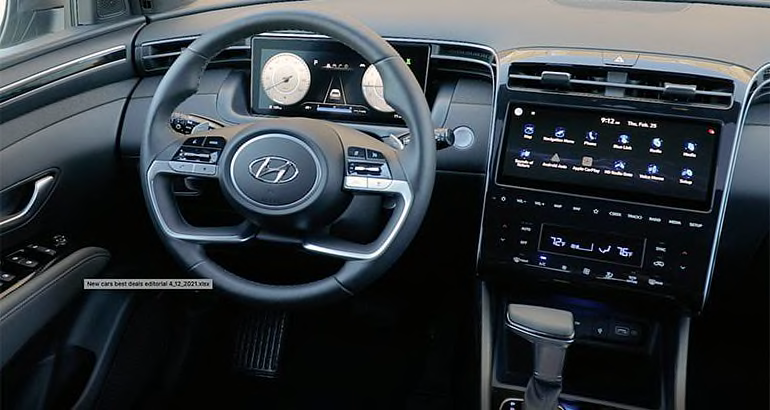 The cabin looks to be more SUV than truck, with a number of conveniences seen on recent Hyundais. The flowing dashboard design and flush audio and climate controls are a direct carryover from the redesigned Tucson. There are two digital instrument panels offered, sized up to 10 inches across. The infotainment screen measures 10 inches, and it uses the latest, retro-inspired graphics that we have seen on the Santa Fe and Tucson. A Bose stereo is optional. To keep the entertainment rolling, there is an available Qi wireless phone charger, along with USB ports and a 12-volt power point.
We are pleased to see it uses a traditional lever gear selector, rather than buttons, as seen in other recent Hyundais.
Back seat space looks a bit intimate in photos, although there is convenient storage beneath that bench. In total, there is seating for five.
What Drives It
The Santa Cruz is offered in a choice of 2.5-liter four-cylinder engines. The base setup produces at least 190 horsepower. It is mated with an eight-speed automatic transmission. The uplevel option has at least 275-hp from a turbocharged four-cylinder engine paired with a dual-clutch eight-speed automatic transmission with paddle shifters. Both engines will be offered in front- and all-wheel drive configurations.
A driver can select from Normal, Sport, and Smart modes to configure the drivetrain to the desired performance. The all-wheel drive system can alter how much power is sent to the rear wheels depending on the selected mode and driving conditions.
The tow capacity ratings for the Santa Cruz are notable for such a small vehicle. The base truck is rated at 3,500 lbs. and the turbocharged version is good for 5,000 lbs. That puts the Santa Cruz on par with midsized SUVs, and shy of some midsized pickup truck configurations.
It also means a small trailer can address any concerns for available cargo space. Since most personally owned trucks travel with an empty bed, using a trailer for occasional weekend escape or Home Depot runs may make sense for a lot of people, rather than drive around a larger, mostly empty vehicle.
To be clear, the Santa Cruz is not pitched as an off-roader, despite the "active lifestyle" target. This is especially true when fitted with the optional, large 20-inch wheels and a dual-clutch transmission.
Safety and Driver Assistance Systems
The Santa Cruz comes with forward collision warning and automatic emergency braking with both cyclist and pedestrian detection—a move we applaud. It also is equipped with lane keeping assistance and a driver attention monitoring system.
Optional features include adaptive cruise control, blind spot warning with video feed in the instrument panel, and rear cross traffic warning, rear automatic braking, and surround-view camera. Like other Hyundais, the Santa Cruz is available with a feature that can warn if the truck senses a vehicle or bicycle approaching as a passenger attempts to open a door and exit into traffic.