The 2017 Chevrolet Colorado, GMC Canyon, and Toyota Tacoma scored well in the latest Insurance Institute for Highway Safety crash tests, grabbing better ratings than some bigger pickups.
The Nissan Frontier was the weakest performer in the crash tests, falling behind its rivals in overall ratings.
Some full-sized pickups went through crash testing last year, and only the Ford F-150 received the group's top rating.

"This group of small pickups performed better in the small overlap front test than many of their larger pickup cousins," said David Zuby, the institute's executive vice president and chief research officer, in a statement. "The exception was the Nissan Frontier, which hasn't had a structural redesign since the 2005 model year."
But the trucks' headlights did not perform well in the organization's testing.
The IIHS gives vehicles an overall score, which comprises five test areas: A small overlap front crash test, a moderate overlap front crash test, a side crash test, roof strength and head restraints and seat safety. It then has a four-point ratings scale, Good, Acceptable, Marginal, and Poor.
In this round of testing, the IIHS examined the midsized pickups in extended and crew cab configurations, for a total of eight trucks. Extended cabs have two full front doors, two smaller rear doors and compact second-row seats. Crew cabs have four full doors and two full rows of seating.
The best performer among these pickups was the Tacoma Double Cab, which is its crew cab version, the IIHS said. It was rated as Good in all five categories, and it was the best performer in the critical small-overlap test.
The Colorado and Canyon crew cabs, and the Tacoma extended cab were tied at the next level, with each of them achieving a Good Overall rating.
The Colorado and Canyon extended cabs scored an Acceptable overall, while both versions of the Frontier got a Marginal score from the IIHS.
"Nissan is committed to the safety and security of our customers and their passengers," said spokesman Steve Yaeger. "In addition to these results, the 2017 Nissan Frontier Crew Cab has earned a four-star overall safety rating from NHTSA, and achieved Good ratings in the IIHS moderate overlap front, side, and roof strength test."
The IIHS pointed out that several of these trucks lack advanced safety systems. Only the Colorado and Canyon pickups offer an optional forward-collision warning (FCW) system, which gets an IIHS Basic rating for front-crash prevention. (FCW systems are rated on a scale based on the level of protection: Basic, Advanced, and Superior. Basic means the vehicle has a warning system that meets government performance criteria; better systems demonstrate the ability to automatically brake.)
"Midsized pickups have grown in popularity, in large part because they attempt to blend some of the capability of a work truck with the everyday conveniences of the family SUV," said Jake Fisher, Consumer Reports' director of auto testing. ""It is disappointing not to see advanced safety features as standard in these cars."
Headlights were also an issue for these pickups, the IIHS reported, saying that all of the available options are poor performers.
The IIHS began rating headlights in 2016 in an effort to get automakers to improve nighttime driving visibility and reduce glare for oncoming drivers. IIHS engineers measure the reach of a vehicle's headlights as the vehicle travels straight and on curves.
Consumer Reports also tests headlights for how far the low beams illuminate the road. (CR does not perform crash tests.)
"We test that way because most drivers use low beams most of the time," said Jen Stockburger, operations director at CR's Auto Test Center.
The Colorado and Tacoma achieved Good overall headlight performance in CR testing, while the Frontier scored Poor. Because the GMC Canyon is a corporate sibling of the Chevy Colorado, and uses the same headlights, CR did not test it separately.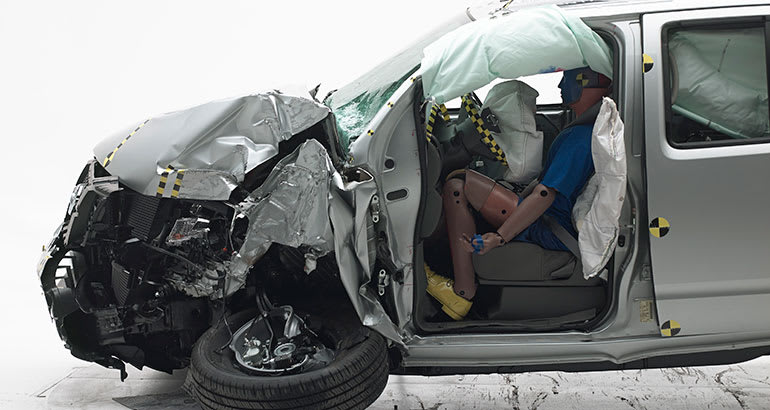 Consumer Reports is an independent, non-profit organization dedicated to helping consumers. We make it easy to buy the right product from a variety of retailers. Clicking a retailer link will take you to that retailer's website to shop. When you shop through retailer links on our site, we may earn an affiliate commission – 100% of the fees we collect are used to support our mission.
Learn more.
Our service is unbiased: retailers can't influence placement. All prices are subject to change.