When you shop through retailer links on our site, we may earn affiliate commissions. 100% of the fees we collect are used to support our nonprofit mission.
Learn more.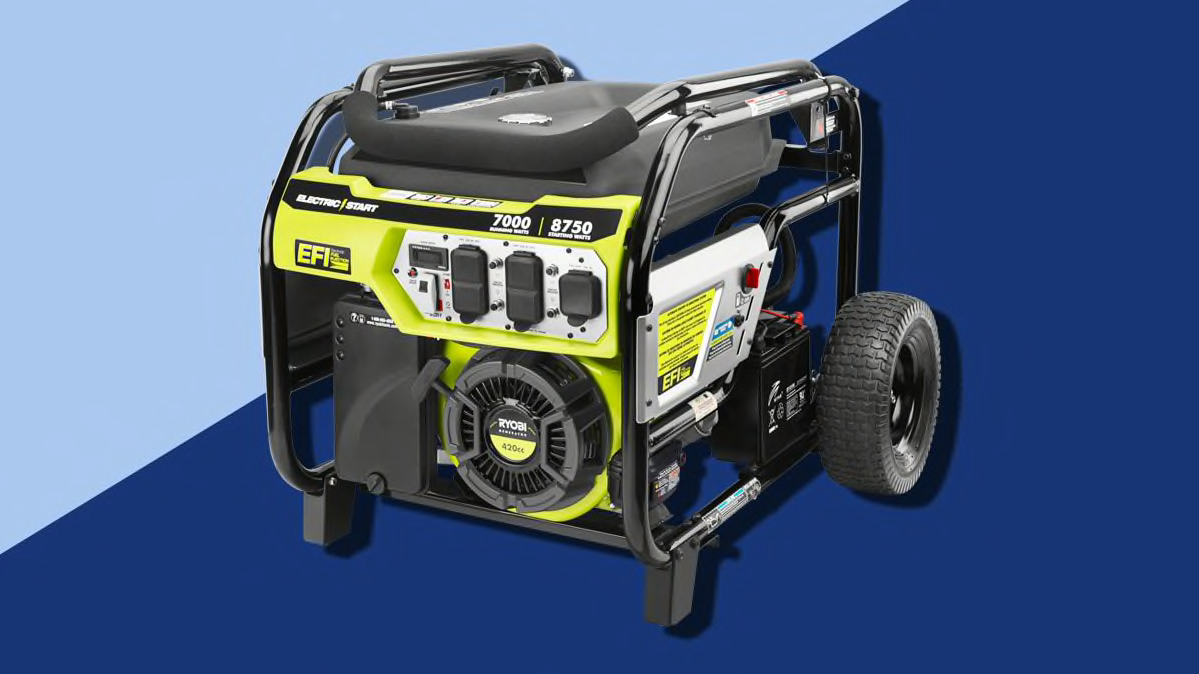 When you need to power your entire house during an outage, you have two options: a home standby generator or a portable model. If you lose power often, you might opt for a standby generator, also called a stationary generator. The unit itself can cost thousands, with an installation bill to match.
But if you live in an area where outages are infrequent or where the lights often come back on in a few hours, you'll save thousands by going with a portable generator. These units keep costs down and pack plenty of power to run most of the essentials in your home. Provided, that is, you're willing to pull the unit out of the garage during an outage and exert a little effort when it comes to storing gasoline for an emergency and refueling the generator when you need it.
"Portable generators really hit the sweet spot with price and performance," says Dave Trezza, who oversees Consumer Reports' generator tests. "They'll power most—if not all—of what you need during a storm, and you can be all-in for under $2,000, including the semipermanent installation."
Unlike a home standby generator, a portable model will work right out of the box, meaning you can add gas and oil, fire it up, and plug in the equipment you want to power. But to get the most out of it, you'll want to hire an electrician—well before an outage—to install a transfer switch, a device that allows you to connect your generator to your home's circuit breaker panel.
That preparatory step means you can power entire circuits rather than using extension cords to plug in equipment and devices one at a time. It also means that you can run hardwired equipment, such as a water heater or well pump.
The only drawback to portable models? They typically max out at about 7,500 watts, meaning you can power, say, a gas furnace but not an electric range and dryer at the same time, like a home standby unit can. And because they run on gasoline (some burning close to a gallon an hour at peak capacity), you'll need to keep a lot of gas on hand, stored with fuel stabilizer mixed in, to sustain you through a prolonged outage. You'll also need a model-specific canopy in order to run your generator during inclement weather.
Check out our generator buying guide to learn more about portable vs. standby models, as well as large inverter ones, a more fuel-efficient variant of portable generators that we rate separately because their increased efficiency puts them in their own class. CR members can access our full generator ratings.
New Portable Generator Safety Features
From 2005 to 2017 more than 900 people died of carbon monoxide (CO) poisoning while using portable generators, according to data from the Consumer Product Safety Commission (CPSC).
To reduce the risk of carbon monoxide poisoning, some new generators feature a built-in sensor that triggers an automatic shutoff if CO builds up to dangerous levels in an enclosed space, and some also have engines that emit less CO in the first place. Recent test data from CR shows that these safety features will likely save lives.
Consumer Reports now only recommends portable generators that pass our new CO Safety Technology test.
But our findings also reveal potentially life-threatening gaps that the automatic shutoff fails to address, reinforcing why it's critical for consumers to follow safety guidelines. Never operate a generator indoors. Position a portable generator at least 20 feet from your home with the exhaust directed away from your it, as well as any windows, doors, AC units, or other structures.
How to Run a Generator Safely
3 Top Portable Generators
CR recently tested five new portable generators with an automatic shutoff, and all five passed our new CO Safety Technology test, shutting down before carbon monoxide built up to specified levels in our enclosed space. Three models also did well enough in our performance tests to earn a CR recommendation.
CR members with digital access can read on for ratings and reviews of the only three portable generators that blend enhanced safety and superb performance.
Generator Tips
Damaging storms can happen at any time. On the "Consumer 101" TV show, host Jack Rico learns from Consumer Reports' expert, Paul Hope, how to avoid being left in the dark during a power outage.