When you shop through retailer links on our site, we may earn affiliate commissions. 100% of the fees we collect are used to support our nonprofit mission.
Learn more.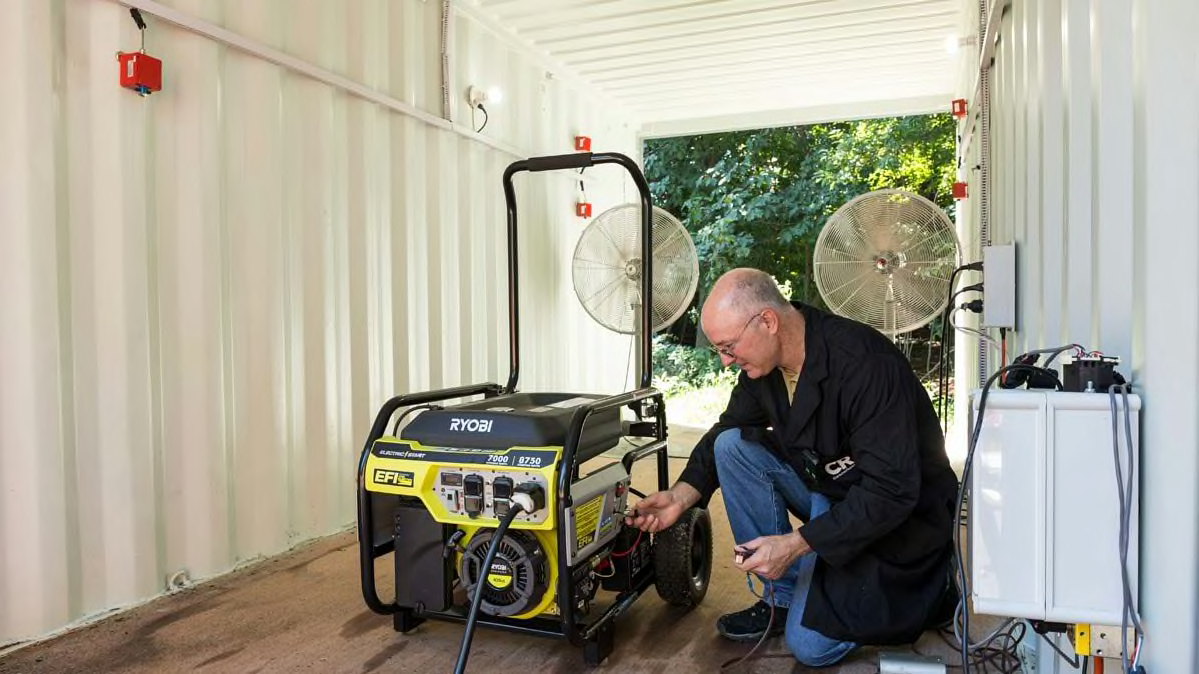 Last year, Consumer Reports overhauled its ratings of portable and inverter generators to reward models that implement new safety features, and to penalize those that don't.
Now, CR has expanded our testing to distinguish between models that simply have safety features meant to prevent deaths from carbon monoxide poisoning, and those we've found to be demonstrably safer in various scenarios.
"When we started our safety testing program, we essentially scored models on a pass-or-fail system based upon the presence of a working CO shutoff, because any generator that has the feature is safer than one that doesn't," says Misha Kollontai, a CR test engineer for generators. "But now we're able to grade these models on a scale that reflects a broader range of scenarios. So if you want the absolute safest option, you can find those specific models in our ratings."
Our updated ratings include 34 gasoline-powered generators. Of those, 13 have safety features built in, and 11 earn CR Recommended status.
From 2005 to 2017, more than 900 people in the U.S. died of carbon monoxide poisoning while using portable generators, according to the Consumer Product Safety Commission (CPSC), and about 15,400 people were sickened enough to require treatment at an emergency room.

To reduce the risk of carbon monoxide poisoning, most new generators have either a sensor that triggers an automatic shutoff if CO builds up to dangerous levels in an enclosed space, or an engine that emits less CO in the first place (or both). Either safety feature is likely to save lives, according to test data from our labs.
We test these features in a chamber designed to simulate what would happen if a consumer were to use a generator in an enclosed or partially enclosed space.
Generator Safety Technology at Work
Here's a simulation of CO emissions from two different portable generators building up in an enclosed space. One has an automatic CO shutoff, and one does not.
PPM = Parts per million
By Andy Bergmann
How CR Tests Generators for Safety
The first iteration of our CO safety technology test scored generators pass/fail, based on whether they had an automatic CO shutoff that stopped the engine before the deadly gas built up to specified levels in an enclosed space. In about 93 percent of the deaths reported to the CPSC, the generator was inside the victim's living space.

Now the CO safety score includes results from a second test, designed to capture what happens when a generator is used in a space that's only partially enclosed—like in an attached garage with the garage door open. This scenario is what safety experts and the CPSC call "foreseeable misuse", and it's especially important for generators, because misusing one can cost you your life.
Generators are motorized equipment that people use under duress, often in the aftermath of a bad storm, when they're desperate to keep the lights on, the fridge running, and phones charged. Hauntingly, in about a third of the cases for which the CPSC has data, homeowners who died from CO poisoning from using a generator in a living space had made some effort to vent the exhaust—either by propping open windows or doors, or in some cases, making their own ductwork.

"It's foreseeable that a homeowner could end up using a generator in an attached garage with the garage door open," says John Galeotafiore, an associate director for testing at CR. "After all, a generator shouldn't get wet, yet power outages often occur during rain or snowstorms. If a person doesn't have a canopy to protect his generator, we can imagine why he might mistakenly think it's safe to run it near an open garage door."
Our testing shows in that scenario, some models still fall short.

This evolution in our scoring is a direct result of testing performed by our experts. In order to conduct tests safely, we bought a 20x8x8-foot shipping container and hauled it onto the grounds of our headquarters in Yonkers, N.Y. We cut off one end and replaced it with a garage door to allow for various simulations, then outfitted it with laboratory-grade carbon monoxide sensors to record levels of the gas in different sections of the 1,280-cubic-foot enclosure.

"The idea is to capture readings from the entire space," says Dave Trezza, CR's test engineer in charge of the project. "Carbon monoxide is a gas and doesn't build up uniformly throughout."

Trezza and his team ran each of the newly tested generators through a variety of scenarios. Every generator we tested with a CO safety shut off did shut down the machine when it was operated in our test chamber with the door closed. But when we ran the same test with the door open and the exhaust of the generator directed inside the chamber, none of the generators shut down. But the levels of carbon monoxide produced varied significantly between models, with those models designed to limit CO emissions producing the lowest levels in our tests.
CR's New CO Safety Scoring
For a generator to earn an Excellent rating on CO Safety, it must have an integrated CO safety shutoff that triggers when the generator is used in an enclosed space and it must also not produce dangerous levels of CO emissions when used in a partially enclosed space, as we described.
Models with a shutoff that works in an enclosed space, but which are able to produce higher levels of CO with the door open, will now earn a rating of either Good, or Very Good for this test, depending upon the levels of CO we record. Any model without a CO safety shut off will earn a rating of Poor, and will not be eligible to be recommended by CR.

The new safety features comply with one of two voluntary safety standards, one from the Portable Generator Manufacturers' Association (PGMA) and another from UL. Our new CO Safety test does not consider whether a model is built to comply with the PGMA or UL safety standard, and Consumer Reports does not endorse either voluntary safety standard over the other. Our experts believe both have tremendous potential to save lives, and that both have shortcomings, too.
"Manufacturers are off to a good start, but there are still clear safety gaps," says William Wallace, CR's manager of safety policy. "Both standards are voluntary. The PGMA standard doesn't restrict CO emission rates—turning a blind eye to the foreseeable risk of the gas coming in from outside—and the lower shutdown limit isn't stringent enough to prevent harmful buildup. The UL standard lacks detail in key areas, isn't as widely used, and doesn't include safe construction or warning requirements."
Wallace goes on to explain CR's current stance on generator safety. "A single strong standard enforceable by the Consumer Product Safety Commission is the best way to help people stay safe," Wallace says. "And Consumer Reports aims to rapidly move the market in that direction through our testing and advocacy efforts."
Of the 18 models we've tested that comply with either of the two standards, only those designed to comply with the UL standard have earned the highest possible rating of Excellent for CO Safety in our tests, so far. A PGMA-compliant model is eligible to earn an Excellent rating, but the manufacturer would need to design the tool to produce lower levels of carbon monoxide.
CR will continue to evaluate models tested to either of the two standards as they come on the market. In the meantime, whichever generator you use, follow this critical safety guidance: Always place it 20 feet away from your home or any other structure, with the exhaust directed away from the structure.
CR members with digital access can check our ratings and reviews of our recommended portable generators.