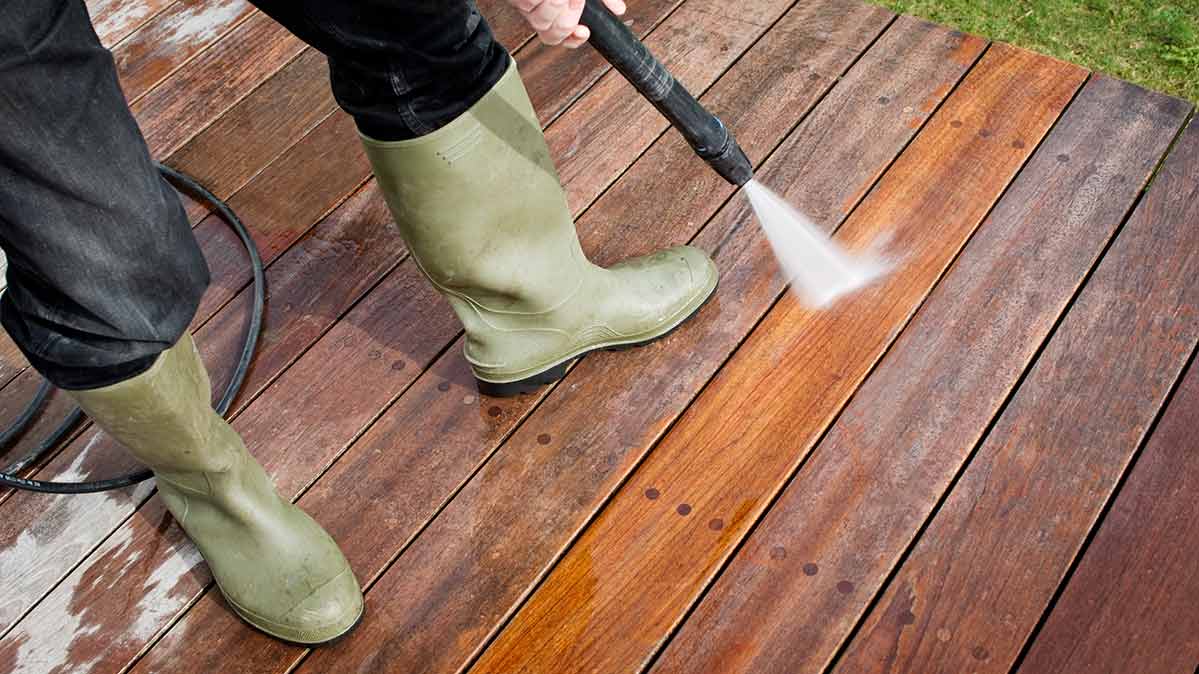 Pressure washers can work magic on concrete or decking, and the best can erase decades' worth of stains with a brief blast. But as Consumer Reports has demonstrated in its tests, a pressure washer is much more than a high-powered garden hose. It can direct a stream of water with such force that it can pierce skin and even cut through protective gear, including boots.
That's why CR doesn't recommend any pressure washers that include a zero-degree tip or nozzle, which harnesses water power into the finest, most powerful stream.
"It's not just that zero-degree nozzles are dangerous; they're not really necessary," says Dave Trezza, who oversees pressure washer testing for Consumer Reports. "Our testing routinely finds that you can get the same results with a little patience and a 15-degree tip."
If you buy a model with a zero-degree nozzle, toss that nozzle in the trash.
How CR Tests Pressure Washers
We measure how much pressure each model can produce, in pounds per square inch, giving a higher score to those with a higher psi. Then we fire up each pressure washer and use it to strip paint from painted plastic panels, timing how long it takes. Models with a higher pressure output tend to perform better on this test.
We also measure noise, and you should know that almost all pressure washers are loud enough to require hearing protection. Last, we size up ease of use by evaluating basics such as the process of adding fuel and noting features that improve the experience. (A model whose engine automatically shuts off when oil is running low will earn a higher score.)
Regardless of performance, it's CR's policy to recommend only models that do not include a zero-degree nozzle, which we believe poses an unnecessary safety risk to users and bystanders.
The Best Pressure Washers
If you're shopping for a pressure washer, start with our buying guide to figure out which type you need. Gas models are the most powerful, and they tend to be the most expensive and require more maintenance. Electric models can be great for lighter cleaning and are easy to use, but they lack power for the toughest jobs. CR members can browse our full pressure washer ratings of more than two dozen models. Here, our selection of the best pressure washer for every project.
Best Gas Pressure Washer Overall
DeWalt DXPW3425
Price: $600
CR's take: This DeWalt does everything a pressure washer should do. It's the machine you want if you've neglected a deck or patio for a long time—with a high flow rate of 2.4 gallons per minute and a variety of nozzles, all of which help it earn a rating of Excellent for cleaning. The wand has a side grip, too, allowing you to control it with two hands. Plus, it's the only gas pressure washer in our ratings that has a pressure regulator built into the unit, allowing you to dial back the pressure if you get kickback from the spraying force.
Best Gas Pressure Washer on a Budget
Ryobi RY803111
Price: $390
CR's take: If you don't want to shell out $600, this Ryobi almost matches our top-scoring DeWalt on power and cleans just as well. Like most gas models, it's loud and earns a rating of Poor in our noise test, so you'll want to wear hearing protection. In addition to a standard pull cord for starting, this model can be equipped with any Ryobi 18-volt power tool battery, and it can be fired up with the press of a button, using electric start. A single battery is included, which can also be used in a variety of other Ryobi products, including its P1811 cordless drill.

Best Light-Duty Electric Pressure Washer
Craftsman 99016
Price: $140
CR's take: This pressure washer is trim and versatile, and packs enough power for some medium-duty jobs—if you're willing to spend some extra time working problem spots. It still earns a rating of Very Good for cleaning. It's also sold without a zero-degree nozzle, making it a safer choice than models that include this tip. Our testers especially liked that the hose and power cord wrap around built-in reels, so it's easy to store when you're done working.
Best Heavy-Duty Electric Pressure Washer
NorthStar 1573021
Price: $850
CR's take: For the performance of gas without all the noise, this NorthStar is a terrific choice. It requires a 240-volt receptacle (instead of a standard 110-volt), so you'll need to make sure you have one in your garage or somewhere outdoors. It provides exceptional power and flow, earning a rating of Excellent in power, enabling it to blast away years of grime quickly, even on stubborn surfaces like irregular stone. The 35-foot power cord and 25-foot hose let you roam 60 feet from the outlet, but you'll need to choose a gas unit if you travel farther than that—no pressure washer is safe to use with an extension cord, least of all one that relies on a 240-volt power source.
Best Powered Hose Attachment
Worx WG629
Price: $120
CR's take: Worx's unusual pressure washer can't really compete with a full-sized pressure washer, but it isn't meant to. This powered wand runs on a 20-volt lithium-ion battery, the same one used in the Worx WX176L cordless drill. It partners with a garden hose to spray water at elevated pressure for light-duty cleaning—it still earns a rating of Good in our cleaning tests. It can also be used without a garden hose—simply attach the included hose and drop the other end in a water source, such as a full bucket, and you can clean anywhere you need to go, with or without a water hookup.

Consumer Reports is an independent, non-profit organization dedicated to helping consumers. We make it easy to buy the right product from a variety of retailers. Clicking a retailer link will take you to that retailer's website to shop. When you shop through retailer links on our site, we may earn an affiliate commission – 100% of the fees we collect are used to support our mission.
Learn more.
Our service is unbiased: retailers can't influence placement. All prices are subject to change.