When you shop through retailer links on our site, we may earn affiliate commissions. 100% of the fees we collect are used to support our nonprofit mission.
Learn more.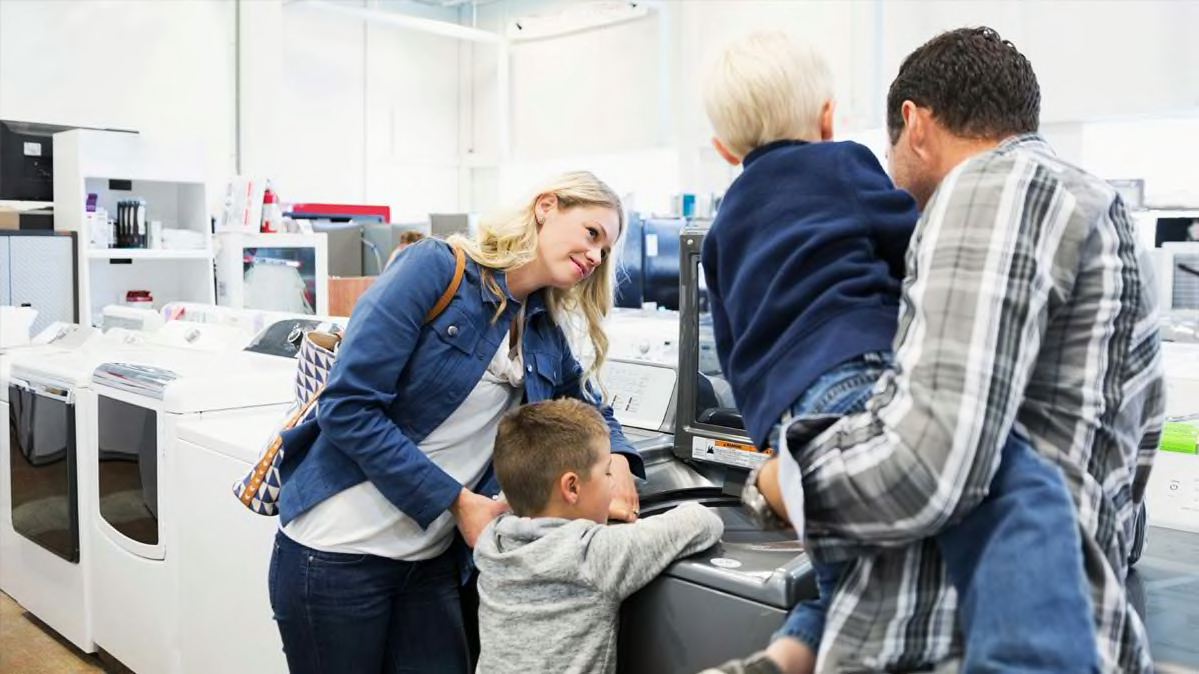 Washing machine prices are going up, though it's unclear how much is due to the tariffs that President Trump imposed on washer imports earlier this year.
U.S. makers told CR that they are increasing prices because of rising costs and other factors.
"We have announced cost-based price increases on our U.S. laundry business, tied to raw material increases, investments in innovation," says Whirlpool's Kristine Sherman, senior manager of global media. The increase applies to both washers and dryers. "These will be effective in the second quarter."
GE Appliances notified retailers in February that it, too, will be increasing prices in late April, according to a copy of the letter that CR obtained.
"This increase will be across most laundry products," the letter says. "This change is being driven by significant cost increases."
LG, which is based in South Korea, raised prices on washers and dryers by 4 to 8 percent on March 20, according to John Taylor, senior vice president of public affairs for the manufacturer.
"The more expensive models are in the 8 percent range," Taylor says, adding that the price increase is about $50 per appliance, on average.
"It's too soon to tell if more increases are coming," he continues. "We'll see what the competition does this summer and as new models are brought out."
Samsung, which is also based in South Korea, would not disclose pricing plans.
LG's increase marks the first change in pricing CR has seen since the tariff went into effect. And with other manufacturers following suit, you're likely to see prices go up across the showroom floor.
The Complex World of Washer Pricing
How much you pay for a washer depends, among other factors, on its features, along with what time of year you're shopping. Appliances typically go on sale around holidays, and November is the best time to buy—a nearly monthlong Black Friday/Cyber Monday bonanza for large-appliance shoppers.
"Plus, washers usually drop in price over time," says Mark Allwood, a senior market analyst at Consumer Reports. "They start out high, and typically the price begins to drop within six months and declines steadily as the appliance is phased out and replaced with new models."
Normal life cycle aside, manufacturers might have other tariffs to contend with, as Whirlpool's Sherman alluded to above. Given that washers are essentially big metal boxes, the effects of recently imposed tariffs on imported steel and aluminum are yet another factor that could contribute to an increase in price.
Whatever impact the tariffs are having on prices isn't likely to last long.
In January, Samsung started to make washers in its first U.S. plant, in Newberry County, S.C. And LG plans to produce washers in the U.S. for the first time this fall near Clarksville, Tenn.
Once their U.S. plants are fully operational, their need to import washers will drop sharply. "If not to zero, certainly below the 1.2 million quota," says Thomas Prusa, Ph.D., a professor of economics at Rutgers University.
CR's Ongoing Pricing Analysis
To track the impact of the tariff beginning back in January, CR teamed up with Gap Intelligence, a market research company that specializes in retail-pricing data by monitoring in-store and online appliance prices weekly across the country.
We looked at data on seven front-loaders and seven high-efficiency top-loaders in CR's washing machine ratings, tracking their prices from early 2017 through the first quarter of 2018. The washers in our sample are made by Whirlpool Corporation (which produces Whirlpool and Maytag machines), GE Appliances (which is owned by China's Haier Group), and South Korea-based LG and Samsung.
These 14 washing machines vary in price, are widely available, and are key to each manufacturer's lineup, according to CR's Allwood.
Of the five major washing machine brands we tracked, most manufacturers have held steady prices since the tariff went into effect (and a few have actually dipped in early 2018). LG was the one exception, with price hikes up to 8 percent at the end of March.
"Based upon this sample of 14 washing machine models analyzed, any increases in sales price have not yet been passed on to the consumer," says Christine Edwards, senior analyst of home appliances at Gap Intelligence. "Manufacturers may be sitting on inventory received prior to the tariff ruling," she adds.
We'll continue to track these prices through 2018 to see just how much manufacturers raise them.
In the Market for a Washer and Dryer?