When you shop through retailer links on our site, we may earn affiliate commissions. 100% of the fees we collect are used to support our nonprofit mission.
Learn more.
No car has had as much of an environmental impact—and changed the way people think about green cars—than the Toyota Prius.
With the footprint of a compact but the interior space of a midsized car—plus best-in-industry fuel economy, bulletproof reliability, hatchback versatility, and a sticker price without the sticker shock—the Prius is a pretty sublime transportation solution.
Because it has been redesigned for the 2016 model year and is just reaching dealerships as of this writing, we couldn't include it among our Top Picks because we haven't tested it yet. But we drove a prototype, and it's quite promising.
The Toyota Prius was derided as little more than a green-marketing science project when introduced to the U.S. market in 2000. But the high-tech, gas-electric hybrid parachuted into a cultural zeitgeist that was just beginning to grapple with environmentally conscious transportation.
But you didn't—and still don't—have to be a tree-hugger to drive a Prius. It just made economical sense in a way no car had done before, by practically doubling the miles driven per gallon of gas. Factor in low repair costs and low depreciation, and the Prius is quite affordable to own.
The Prius—the name means "to go before" in Latin—became a cause célèbre among Hollywood early adopters including Cameron Diaz, Leonardo DiCaprio, and Tom Hanks, and began gaining attention among a growing eco-fan base.
The arrival of a more family-friendly, second-generation model in 2003, combined with a gas-price spike in 2005, triggered a mainstream rush. Suddenly, hundreds of thousands of consumers were choosing the Toyota hybrid over traditional gasoline sedans, making it one of the top-selling cars in the U.S.
See our complete guide to the Toyota Prius.
That mass-market acceptance of the Prius—compared with people buying a typical midsized sedan—today represents 2.1 billion gallons of gasoline not consumed since 2000. And 11.7 million tons of CO2 haven't been poured into the atmosphere.
Other automakers have tried to replicate that success with hybrid variants of existing models, such as the Ford Escape hybrid, or with dedicated Prius imitators, such as the underwhelming Honda Insight. Yet none have been able to get anywhere near the brake lights of the Prius when it comes to a mass-market embrace. Why? Perhaps because the Prius is a dedicated hybrid; there's no regular gas version. Clearly, the public considers it the car for proclaiming one's green commitment.
Toyota invited us to try the redesigned 2016 model in California. (We paid our own travel expenses.) Our impression? The early models show elements the previous versions lacked, such as more dynamic styling, a steadier ride, and rather athletic handling.
Our one day of driving included a mix of suburban routes and some freeway cruising, and yielded an average of 50 mpg, according to the onboard computer. Even more impressive, a separate 27-mile loop in a lighter-weight Prius Eco version returned 66 mpg.
The new gasoline engine now puts less roar into the cabin when you tromp on the gas pedal. The continuously variable transmission—which changes speeds on a continuum rather than through fixed gears, to aid fuel economy—is more refined and less obtrusive. The Prius can propel itself solely on electric power up to 45 mph depending on driving conditions—handy in stop-and-go traffic.
The Prius also has the latest frontal-collision and pedestrian-protection systems­­, although they're a $4,000 premium over the base model.
The interior also benefits from a major upgrade. Gone is the hard, hollow plastic cabin of the previous generation. Instead, the 2016 Prius brings some soft-touch surfaces, flashes of chrome, and a vivid, colorful digital display.
Starting at $25,035, the Prius redesign amounts to an incremental improvement rather than a metamorphosis, just the way Toyota likes it. Even with gas prices recently plummeting to historic lows (when adjusted for inflation), the idea of an energy-efficient vehicle still makes sense—for the good of your wallet and the planet, and to reduce America's dependence on foreign oil.
The bonus is that the Prius feels more fun to drive than the previous versions, which felt more like sterile, high-tech appliances than cars.
Stay tuned for our complete road test.
See our complete guide to the Toyota Prius.
---
Prius Through the Years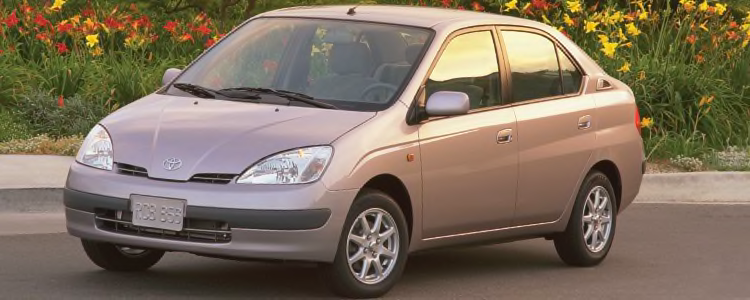 1997-2003: First Generation (shown)
Although introduced in Japan in 1997 as the world's first mass-produced gas-electric hybrid vehicle, the Prius doesn't reach the U.S. market until 2000. The small car's tight interior and poky acceleration are compromises, but its excellent gas mileage (41 mpg in our tests) boggles consumers.
2003
Prius gets a huge image boost when a local dealer shuttles celebrities to the Academy Awards.
---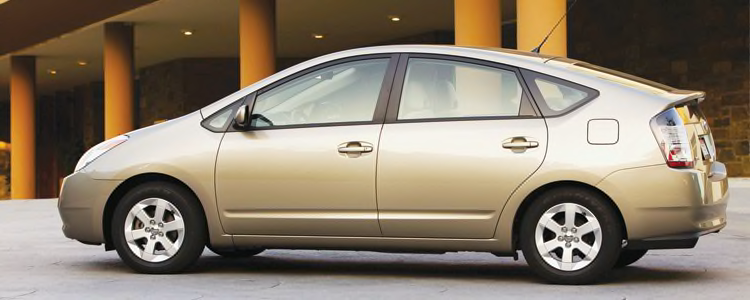 2004-2009: Second Generation
A larger, more practical hatchback shape emerges. The hybrid battery is smaller, lighter, and more powerful. With gas prices soaring, the Prius becomes a hit thanks to its great gas mileage (44 mpg in our tests).
---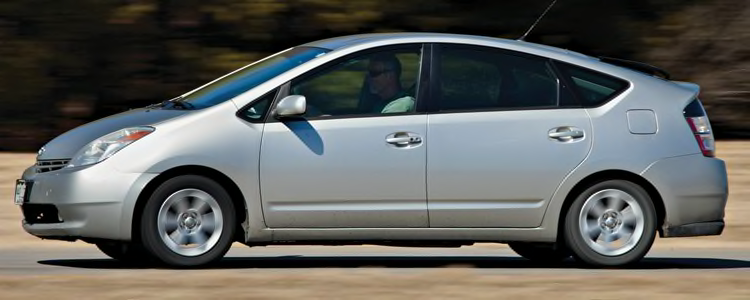 2010
The 2 millionth Prius is sold worldwide.
---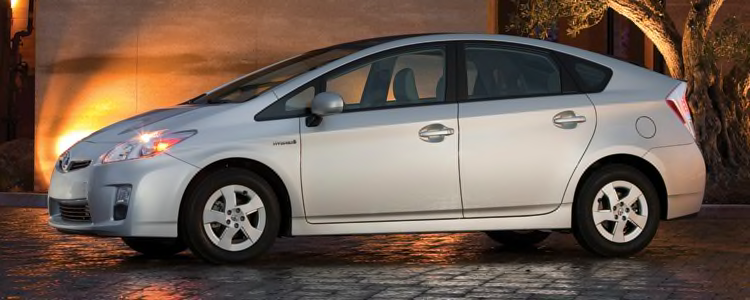 2010-2015: Third Generation
Although fuel economy holds at 44 mpg, the redesign brings more power because of upgraded components, including a larger 1.8-liter engine. A rechargeable plug-in version arrives in 2012, with 15 miles of electric-only range.
---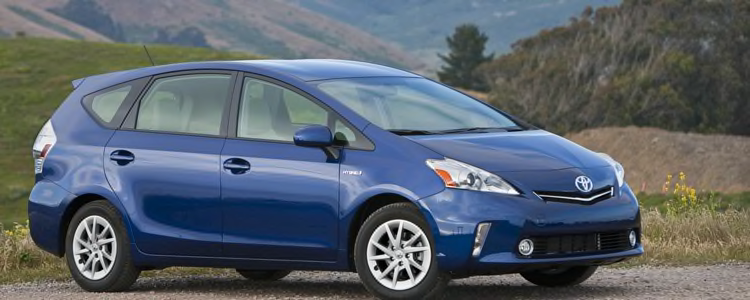 2011
The Prius V wagon is introduced.
---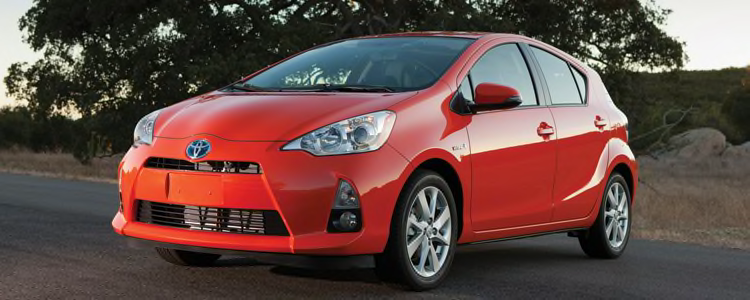 2012
The smaller Prius C expands the range.

---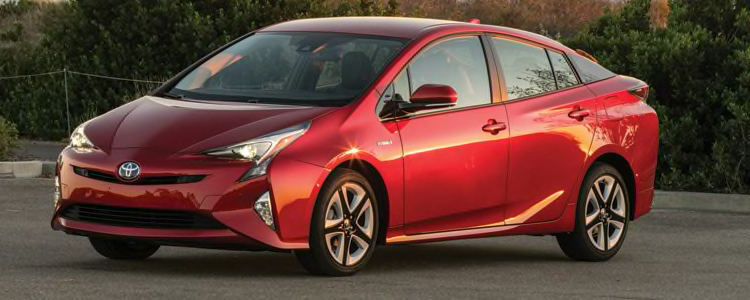 2016: Fourth Generation
The new Prius platform will also underpin the next Camry. It includes a sportier feel and available advanced safety features. Fuel economy increases to an EPA-estimated 52 mpg overall.