When you shop through retailer links on our site, we may earn affiliate commissions. 100% of the fees we collect are used to support our nonprofit mission.
Learn more.
How can parents know if a magnetic toy is safe to give to their child?
In the past few years, regulators and safety advocates have expressed serious concerns about products containing small "rare earth" magnets. These magnets are known for their super strength, and can cause serious gastrointestinal injuries when swallowed by young kids.
According to a government review of injury data from 2009 through 2013, an estimated 2,900 ingestions of magnets from magnet sets were treated in U.S. emergency rooms. An estimated 1,900 of the 2,900 victims were ages 4 through 12.
These products have a tumultuous regulatory history. In 2014, the Consumer Product Safety Commission approved a national safety standard for high-powered magnet sets requiring that individual magnets sold in these sets either be too large to be considered a small part or have a magnetic force below a defined threshold. But a subsequent 2016 court decision overturned this rule, and cleared the way for a flood of high-powered magnet-based desk toys and building kits available this holiday season, often sold online.
Separate from the 2014 CPSC rule, previously established federal toy safety standards define "hazardous magnets" as those products that either are or include small parts with a force of attraction greater than 50 kG² mm² that are accessible to kids. These magnets cannot legally be in toys intended primarily for children under 14. Federal rules also define any small parts that can fit inside a 1.0- to 2.25-inch long, 1.25-inch-diameter tube as a choking hazard for children under 3.

Even with these standards, CR experts believe high-powered magnets meeting current legal requirements may pose a risk to children. And it is often difficult for parents to know which products may be okay for their kids.
Recently, Consumer Reports found a variety of magnet-based toys with confusing guidance on age appropriateness on the sites of several major retailers, including Amazon, Target, and Walmart. Some toys had vague age recommendations in their online listings, some had information that directly contradicted the age guidance on the packaging. When contacted for this story, all three retailers said they took safety seriously and that all products they sell conform to federal standards.
More on Toys and Kids Safety
Nancy Cowles, executive director of Kids In Danger, a nonprofit organization that seeks to improve children's product safety, says that magnets are a hazard parents may not be aware of—especially because parents may not be able to tell if a child has put magnets in his or her mouth.
"They're very tiny, so if a kid does swallow one a parent might not even know," she notes. "The first symptoms are not that different than [other] symptoms a kid might get, like a stomach ache," especially during the holidays when they're eating a lot of different foods.
Because of the combination of confusion and potential harm, safety experts urge caution for any parents considering magnetic toys for young children this holiday season. "We've seen magnetic toys marketed to kids of all ages," says Don Huber, director of product safety for Consumer Reports. "But we recommend that if you have young children, don't keep these toys in your home because of the potentially fatal consequences that can result from accidental ingestion."
"For all ages, we believe that magnetic toys should be consistently labeled and marketed, so that parents can make an informed decision. For right now, parents should consider the age and maturity of their kids when buying a toy with magnets included, and closely supervise use," says Huber.
Here's what parents of young children need to know before letting kids play with these products.
Types of Magnetic Toys
Toys with magnetic components have been around for decades (kids have been able to decorate the face of Wooly Willy with metal filings since 1955). But in 2009 some companies started packaging super-powerful rare-earth, or neodymium magnets into sets that included hundreds of small spheres, marketing them as "sculptural toys" or desk toys for adults.
Neodymium magnets can be manufactured in a variety of sizes and strengths, and now are widely available. Many of the products marketed toward both kids and adults are often described as having "strong" or "super-strong" magnets, although it's not always clear exactly what kind of magnets are in them, or how powerful the magnets are.
Adding to the confusion is the sheer variety of products that have magnets in them. Online retailers offer everything from traditional educational horseshoe magnet sets to plastic building kits with embedded magnets to "desk toy" magnet sets that feature multiple ball, egg, or cube-shaped magnets.
Here's how the broad categories of these products differ, and to whom these toys are generally marketed.
Educational Magnets and Tile Building Sets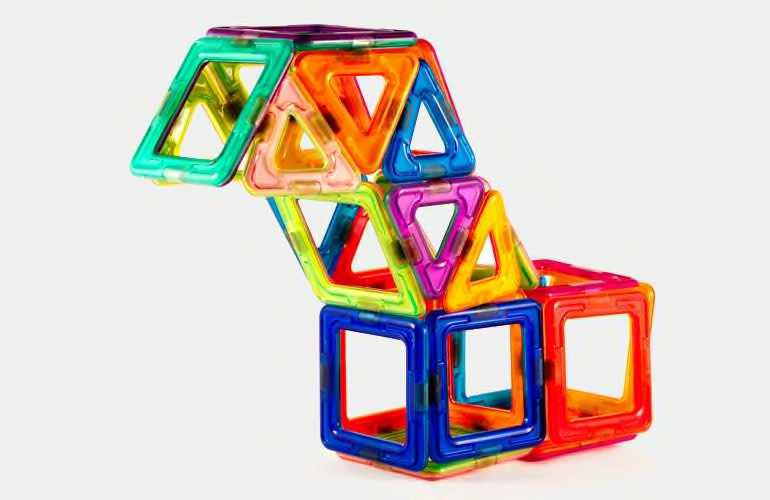 Some magnetic construction sets embed magnets inside large plastic tiles or panels, allowing children to assemble them and make various geometric shapes, towers, and structures.
Other playsets can involve magnetic letters, animals, or colorful, plastic versions of traditional magnet shapes, with large horseshoes, rods, and balls. Some embed magnets in wood or foam shapes.
Who are these sets for? Some of these products are recommended for children under 3 years old, many are designated for children 3 and up; several kits, however, are labeled for children over 6 years old.
"Panel sets tend to be safer because they are typically not as strong as the neodymium rods or spherical magnets, and because the panels are not small parts," explains Huber. Toys for young children should be designed with larger parts, so that young toddlers won't swallow them.
Magnetic Construction Sets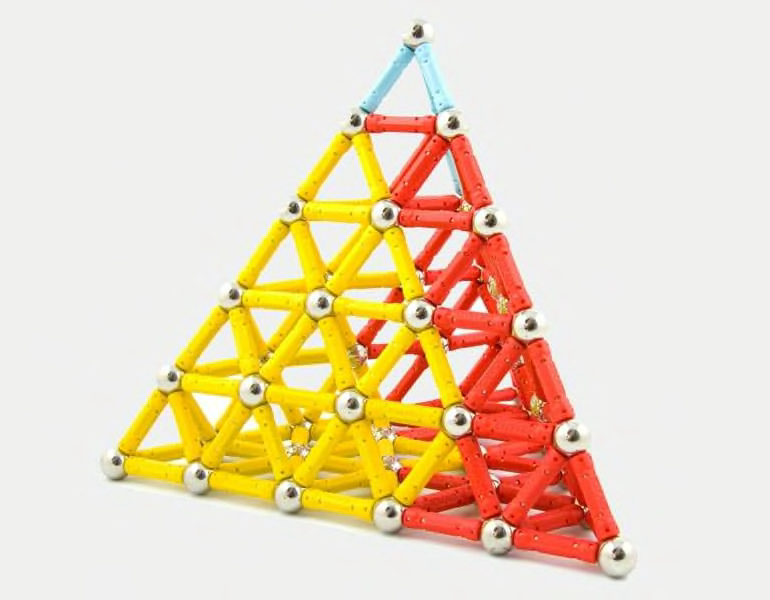 These building or construction sets generally consist of brightly colored plastic rods of varying lengths with embedded magnets along with steel ball bearings. By snapping the rods and balls together, children can build three-dimensional shapes and structures.
These sets are also typically available from manufacturers such as PlayMaty and Magz. Some manufacturers, such as CMS Magnetics, also sell magnets for industrial and research applications.
Unlike some other magnetic ball sets, the steel balls included in these construction sets typically aren't magnetic themselves, but the rods are often advertised as including powerful neodymium magnets.
Who are these sets for? Consumer Reports found the age recommendations for these products to be all over the map.
For example, the online description of a 306-piece PlayMaty magnetic building set we purchased from Amazon warns that the product is "Not intended for children under 14 years." However, the packaging, which included an illustration of a cartoon boy riding a camel toward a rod-and-ball pyramid, indicated that the product was for "Ages 6+" The packaging also warned about small parts, but said nothing about magnets.
The Amazon listing for a 156-piece magnetic construction set from CMS Magnetics mentions that the length of the magnet bars — 2.26 inches— is "specially designed" to be "safe for children." The manufacturer's recommended age for the product reads "5 years and up."
On the back of the product's box, however, a large warning with a bright yellow triangle reads: "CHOKING HAZARD—Small parts. Not suitable for children under 3 years."
A general warning below that acknowledges that the product "contains small magnets which may cause considerable or fatal damage to the gastrointestinal tract. If swallowed or inhaled seek medical attention immediately."
We spotted similar products on Target.com and Walmart.com as well that contained possibly confusing age labeling and warnings. One Walmart listing for a magnetic construction kit curiously named "ixaer Magnetic Sticks-60Pcs Baby Kids Intelligence Educational Toys" listed the age group as simply "child."
We reached out to PlayMaty and CMS Magnetics for more information on who their products are for, and what age children should be before playing with their products.
According to a PlayMaty company response via email, the construction set we asked about "is suitable for children over the age of 14" and "it is also for adults." The company also says that the product meets current regulations. We have not yet received a reply to a followup question about why the packaging recommends the toy for children as young as 6.
We also reached out to the Consumer Product Safety Commission, the government agency with oversight over products like this, about the age discrepancy we noticed, and a spokeswoman said she had "referred this specific product to our compliance department for review."
We have not yet received a response from CMS Magnetics.
Desk Toys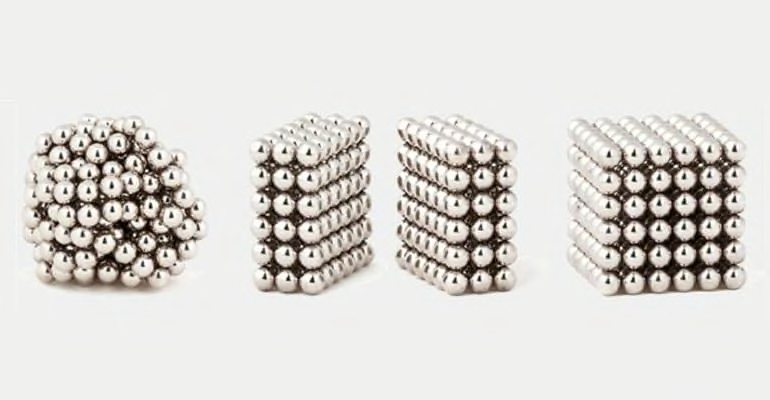 With these products, the magnets themselves are the playthings. These neodymium magnets are sold as cubes, balls, or eggs, and can include hundreds of tiny magnets, or just a few larger ones.
These sets are often pitched as stress relievers and office toys for people looking for something to fidget with.
Who are these sets for? Many manufacturers such as Speks and Rolytoy, do have notices on Amazon product pages warning parents to keep these magnets away from children. The age advice can still vary significantly, though—Speks suggests its tiny ball magnets are for ages 14+, while Rolytoy's listing for 216 5mm cube magnets describes the product as "educational toys for kids" and suggests it for ages 10 and up.
Consumers Union, the policy and mobilization division of Consumer Reports, supports a mandatory safety standard for magnet sets that accounts for the reality of how the products are used and doesn't overly rely on age restrictions. "The last time small, high-powered magnet sets were on the market, thousands of children ended up in the emergency room," says William Wallace, a policy analyst for Consumers Union.