When you shop through retailer links on our site, we may earn affiliate commissions. 100% of the fees we collect are used to support our nonprofit mission.
Learn more.
A mom from Asheville, N.C., selling a Fisher-Price Rock 'n Play Sleeper for $20 on Craigslist in October gave the product a ringing endorsement. "This was a lifesaver for my newborn," she wrote. "He was able to sleep right next to me and I didn't have to worry about him choking in the middle of the night. . . . Gave us so much peace of mind."
"Was a lifesaver when my daughter was a baby," echoed another mom from Kenosha, Wis., in a post on Facebook Marketplace. She had listed the Rock 'n Play Sleeper for sale for $40.
Neither mother apparently was aware of how much her upbeat recommendation jarred with reality. The opposite of a lifesaver, the Fisher-Price Rock 'n Play Sleeper was recalled by the Consumer Product Safety Commission in April after Consumer Reports tied the product to dozens of infant deaths. The number of deaths associated with infant inclined sleepers has since grown to 73, according to the CPSC.
CR, the American Academy of Pediatrics, the CPSC, and others have all since advised against the use of any infant inclined sleep product; in October, a government-commissioned study confirmed that infant inclined sleepers drastically increase the risk of infant suffocation.
By law, retailers must pull recalled items from sale. But it is perhaps less well-known that the law also makes it illegal to sell recalled products on the secondhand market. And even if individuals aren't aware of a recall or the law, the websites that host their listings should be. Yet when CR did a search late last month of online platforms such as Craigslist and Facebook Marketplace for the unsafe recalled sleepers, we found hundreds available.
More on Recalls And Buying Used Items
In addition to the sleepers, CR also found at least a dozen recalled Ikea dressers listed on Craigslist and Facebook Marketplace. The dressers, which do not meet the industry's voluntary safety standard for stability, have been linked to hundreds of tip-over incidents, including ones associated with the deaths of several children. Millions of the dressers were first recalled in 2016.
Why do these websites permit this? Technically, they don't. Both websites discourage the sale of recalled products, but their warnings are buried in their policy pages, and don't appear to be effective in stopping people from posting recalled items.
"Resale platforms should do much more to put safety first, including by tracking recalls and actively blocking the sale of recalled goods. These platforms have a responsibility to all of their users to keep their marketplace free of dangerous products," says William Wallace, CR's manager of home and safety policy.
Neither Craigslist nor Facebook responded to questions about steps they take to prevent the sale of recalled products on their websites. (Disclosure: Craigslist founder Craig Newmark is a former board member and donor to CR through Craig Newmark Philanthropies.)
Both eBay and Kijiji.ca (a popular Canadian website) told CR that they use a number of strategies to prevent the sale of recalled items on their websites.
For instance, an eBay spokesperson said the company works closely with manufacturers and authorities, such as the CPSC and other regulators, to "monitor and prohibit harmful and recalled goods listed on our marketplace." The website uses filters and dedicates a team of people to keep dangerous items from being listed. When recalled products are identified, the company notifies sellers and requires them to contact buyers, as well. Plus, any visitor to the website is able to report an item, which eBay staff will cross-reference with the CPSC.
A Kijiji spokesperson cited a similar approach, using a team of staffers along with automation to filter out recalled products. The company will also notify users with further details in the event that their post is removed due to a product recall.
For its part, a CPSC spokesperson said it "regularly monitors and conducts surveillance on the internet and looks for recalled and banned products." The agency said it also contacts websites when they see recalled items for sale and requests that they be removed.
But based on CR's recent online searches, the agency's steps don't fully prevent the sale of recalled products on secondhand-sales websites.
An Imperfect Vetting System
Part of the problem has to do with the way recalled products are advertised for sale on these websites. CR found that while some posts list the model's full name, many others are listed generically, so even if the website has a system to flag recalled items, they may fly under the radar. For instance, we found the Rock 'n Play Sleeper listed for sale on Craigslist and Facebook Marketplace as "baby sleeper/rocker," "baby bouncy," "baby boy floor cradle," and "bassinet," among other labels.
Jan Hinson, a lawyer in Greenville, S.C., whose grandson almost died in a Rock 'n Play Sleeper but was found in time to be revived, thinks many of the sellers aren't aware the sleeper was recalled. Since the April recall, Hinson, who also represents a couple whose baby died in a Rock 'n Play Sleeper, found at least 28 of the products for sale on Facebook Marketplace, listed by people who lived nearby. When she messaged the sellers to let them know about the recall, many said they hadn't heard about it. A few mentioned that Facebook Marketplace had initially rejected their post without explanation when they first titled it "Fisher-Price Rock 'n Play Sleeper," but that their listing was accepted after they changed the name to be more generic.
Hinson believes that secondhand-selling websites should do more to make users aware of recalls. "Their posts should bounce back to them with an alert saying it is unlawful to sell this product," she says.
Safety advocates and legislators agree. In April, Senator Richard Blumenthal (D-Conn.) wrote an open letter to Facebook, Craigslist, and other online platforms urging them to implement stronger practices to protect users from purchasing dangerous recalled products. "I trust that many parents and caregivers selling their old Rock 'n Plays [on Craigslist and Facebook Marketplace] are not intentionally trying to offload their deadly products, and do not want to be subject to thousands of dollars in fines," Blumenthal wrote. He encouraged the websites to use online tools to take down recalled items listed for sale. That includes technologies such as reverse image search and keyword matching, which can help websites identify products through images and words that are similar on the web.
Kids In Danger, a consumer safety group, has called on Facebook to allow buyers to report sellers who post recalled products for sale. "The technology exists to eliminate recalled product sales online, and we want those websites profiting off the sales to use it," says Nancy Cowles, KID's executive director. "One easy way is for Facebook to make it possible to flag recalled products on Marketplace. The users can help Facebook do its job of creating a safe shopping experience."
To date, Facebook has not created a way for users to specifically flag recalled items being sold on Marketplace.
CR also asked Fisher-Price and Ikea how they prevent their recalled products from being sold secondhand. Fisher-Price said the company has "communicated directly with nearly two dozen major online marketplaces, including Facebook and Craigslist, urging them to take immediate action to prevent the sale or resale of Rock 'n Play Sleepers. Consumers who own the Rock 'n Play Sleeper should participate in the recall remedy approved by the CPSC and should not attempt to sell the product, as it is unlawful to sell or resell a recalled product."
Ikea said, "as part of the July 2016 recall, Ikea sent letters to Amazon, Craigslist, and eBay to inform them of the recall so they could take appropriate action. Specifically, to address the secondary market, when Ikea sends customers wall-anchors for their recalled dressers to prevent tip-overs, the kit includes a sticker that consumers are instructed to affix to the product. The sticker informs secondary buyers that the product is recalled and how to contact Ikea for a remedy."
Vigilantes for Product Safety
Jan Hinson, the South Carolina grandmother and lawyer, is not waiting for websites or regulators to intervene. Instead, she has been directly alerting online sellers in her area about the Rock 'n Play Sleeper recall. "I am on a mission so that no one has to suffer the horror of losing their baby in this chair," she says.
Hinson not only informs sellers about the recall, she also sends them her own money in exchange for a promise to remove the product from the marketplace and destroy it. Many seem eager to oblige. One woman named Heather wrote back to Hinson on Facebook saying, "Thank you for letting me know. I would never want to cause any harm to anyone's child. It will not be passed on to another child, I promise you that." She then sent Hinson a video (below) of her fiancé breaking the sleeper beyond repair so that it could not be used again.
Bob, from Ottawa, Ontario, who prefers not to use his full name, has also been tracking recalled items sold online, but he's focused on Ikea dressers and has different motivations.
In the summer of 2016, after learning that he could return his recalled Malm dresser and collect the original purchase price from Ikea, he decided to start a side business. He began buying recalled Ikea dressers on Kijiji.ca and Facebook Marketplace and returning them to collect the refund.
"My wife, daughter, and I would buy the dressers, pick them up in our truck and go to Ikea, and we'd see the same people doing the same thing," says Bob, who found that most sellers were glad to avoid the trouble of lugging the furniture back to the store.
At one point, this underground economy got so competitive that Ikea dressers would sell in 5 minutes, often above asking price. "If you listed a dresser on the site for $50, people were offering you up to $100 or more," he says.
Eventually, both Kijiji and Ikea got wise to the scheme and tried to put a stop to it. Kijiji began sending emails to users who posted the dressers for sale to alert them of the recall and reject their sale posts, Bob says. And Ikea, in April of 2019, sent a letter to Bob and other serial returners announcing that no one could return more than six recalled dressers for a refund without a receipt or proof of purchase. The refunds were "not intended to provide a business opportunity to people purchasing recalled chests of drawers on the secondhand market," the letter said.
Bob, however, believes he was not just making money but also solving a marketplace problem. "From what I've read, the Ikea dresser recall has been highly unsuccessful; the public generally doesn't know about it and the return rate is extremely low. What the group of us was doing was effectively getting them off the market where they represent health threats," Bob says.
Ikea does offer to pick up recalled dressers from customers' homes and provide the refund, but the process can be cumbersome and time-consuming, says Tracii McGregor, of Los Angeles. After asking Ikea in the spring of 2019 to pick up her recalled 3-drawer Hemnes dresser, it took Ikea more than three months to get back to her, and the response only came after she tweeted to CR about Ikea's unresponsiveness. When Ikea did finally agree to retrieve the dresser, there were multiple mix-ups, time delays, and aggravation, McGregor says.
Ikea is looking into McGregor's case. A company spokesperson said, "we strive to respond promptly to all customer inquiries in connection with the recall."
CR's Wallace says that companies should make it as simple and convenient as possible for consumers to participate in a recall, and should generally provide a full refund. "It's critical to give people a strong incentive to get dangerous items out of homes and keep them off the secondhand market," he says. "Whenever a product is recalled, a manufacturer created a safety problem, and it's the manufacturer that needs to fix it."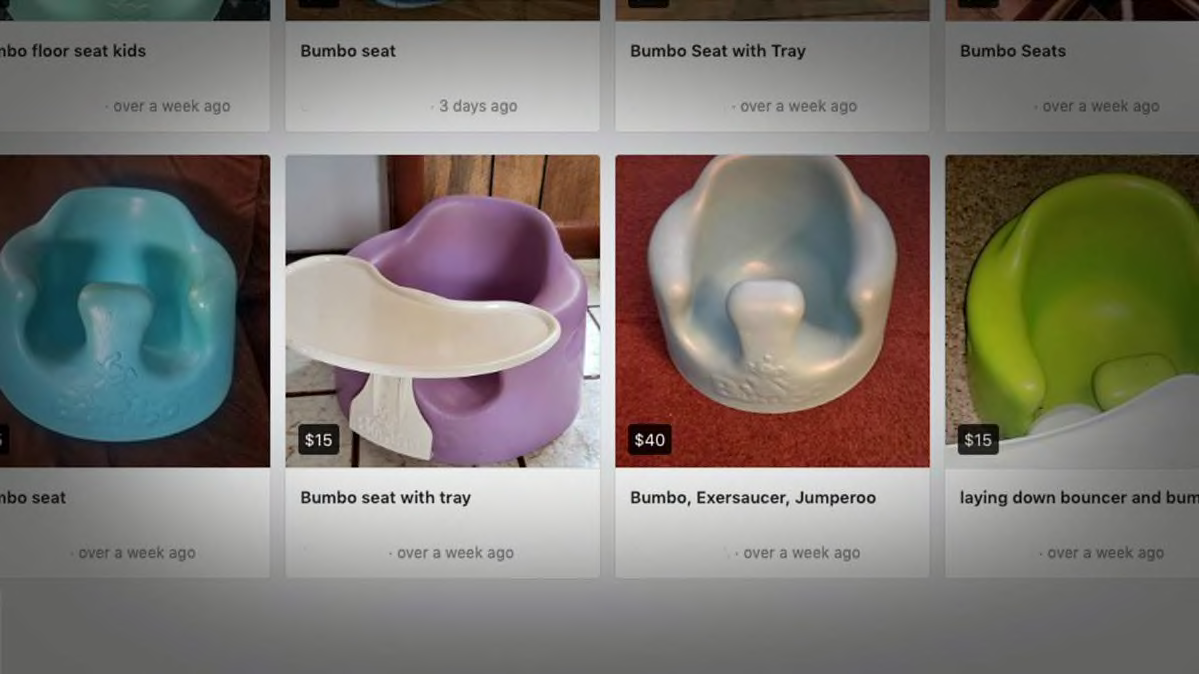 What You Can Do
How can you tell if a used product you're interested in buying has been recalled? And what safety precautions should you take when you're thinking about selling a used item?
Whether you're shopping online or at a garage sale or flea market, ask the seller for the brand, model, serial number, and date the product was manufactured. Or if you can, look for that information yourself on the product or in its instruction manual. Then look up the product on CPSC.gov/Recalls.
At thrift stores or consignment shops, ask if they screen for recalled products. Some do. For instance, Just Between Friends, a franchise that specializes in secondhand children's items and organizes hundreds of consignment events across the country every year, has rigorous practices in place to prevent the sale of recalled products. These strategies include training JBF franchise owners on product safety and recalls, giving them a CPSC resellers guide and a book of product recalls, and having dedicated recall specialists at sales events. "We want our families to know that they can shop at our events with the confidence that what they're purchasing is safe," says Kami Snowbarger, director of product safety and recalls at JBF.
When considering used baby gear, be extra careful and avoid purchasing expired car seats (car seats expire for reasons such as design and technology updates) or any older equipment that may lack safety upgrades. And note that even if a product hasn't been pulled from the market, it might have been part of a recall-repair program. For example, in 2012, the makers of Bumbo seats recalled the foam baby seats for repair after at least 50 babies fell out of the seats and were injured. The company offered customers a repair kit with a restraint belt to be used at all times with the product. But last week, CR found several of the seats sold online without the safety belt.
Be part of the solution. If you see a recalled product posted for sale, let the seller know so that the item doesn't get purchased and used by anyone else. If a product you own is recalled, follow the manu­facturer's instructions on how to return or repair it by calling the company or checking its website.
If you are selling a used item, check first to make sure it hasn't been recalled. Go to Recalls.gov or cpsc.gov/recalls. Don't put a recalled product up for sale or give it away.
When you purchase an item, register the product if you can. That way, the company can notify you if it is ever recalled or needs a repair.