Parent of TJ Maxx, HomeGoods, and Marshalls to Pay $13 Million for Selling Recalled Products
But the chair of the federal safety agency says the amount is too low and calls on Congress to lift the ceiling on civil penalties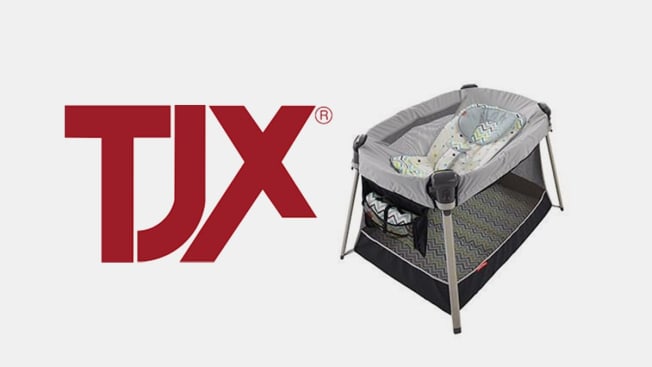 TJX Companies has agreed to pay a $13 million civil penalty to settle charges that it sold more than a thousand recalled consumer products over a five-year period, the Consumer Product Safety Commission announced yesterday.
The parent of TJ Maxx, HomeGoods, and Marshalls stores also agreed to maintain a compliance program to avoid selling recalled goods in the future. TJX didn't admit to any wrongdoing in agreeing to pay the penalty. (Scroll down to see a list of recalled products.) 
The $13 million fine may seem hefty, but the market cap of TJX brands as of Aug. 1 was $71.66 billion, according to Macrotrends, an investment-research platform.
Recalled Products Sold by TJX
Inclined Sleeper Accessory for Ultra-Lite Day & Night Play Yards recalled by Fisher-Price
Portable Speakers recalled by ION Audio
Rocking Sleepers recalled by Kids II
Rock 'n Play Sleepers recalled by Fisher-Price
Glass & Ceramic Drawer Knobs recalled by TJX
Bistro Chairs recalled by Jimco
Swivel Barstools recalled by TJX
Children's Cardigan Sets recalled by Carter's
Sharper Image and Frigidaire Mandoline Slicers recalled by Premier Kitchen
Glass Beer Mugs recalled by TJX
Coffee Presses recalled by Bradshaw International
Oball Rattles recalled by Kids II
Cutlery Knives recalled by Calphalon
Self-Balancing Scooters/Hoverboards recalled by Swagway
Foldable Lounge Chairs recalled by TJX
Ivanka Trump Scarves recalled by GBG Accessories Group
Children's Light-Up Watches recalled by MZB
Foldable Wood Patio Chairs recalled by Linon Home Décor Products
Gardeners Eden Light-Up Decorations recalled by TJX

StyleCraft Upholstered Benches recalled by StyleCraft

Bollinger Fitness Resistance Bands recalled by Bollinger

Calphalon Pizza Wheels recalled by Calphalon
Consumer Reports has long worked to publicize recalls related to product safety and has covered hundreds of individual recalls in the past. Consumers who want to check to see if a product is under recall can search the CPSC database. For recalls specifically tied to cars and trucks, you can also check CR's Car Recall Tracker.