When you shop through retailer links on our site, we may earn affiliate commissions. 100% of the fees we collect are used to support our nonprofit mission.
Learn more.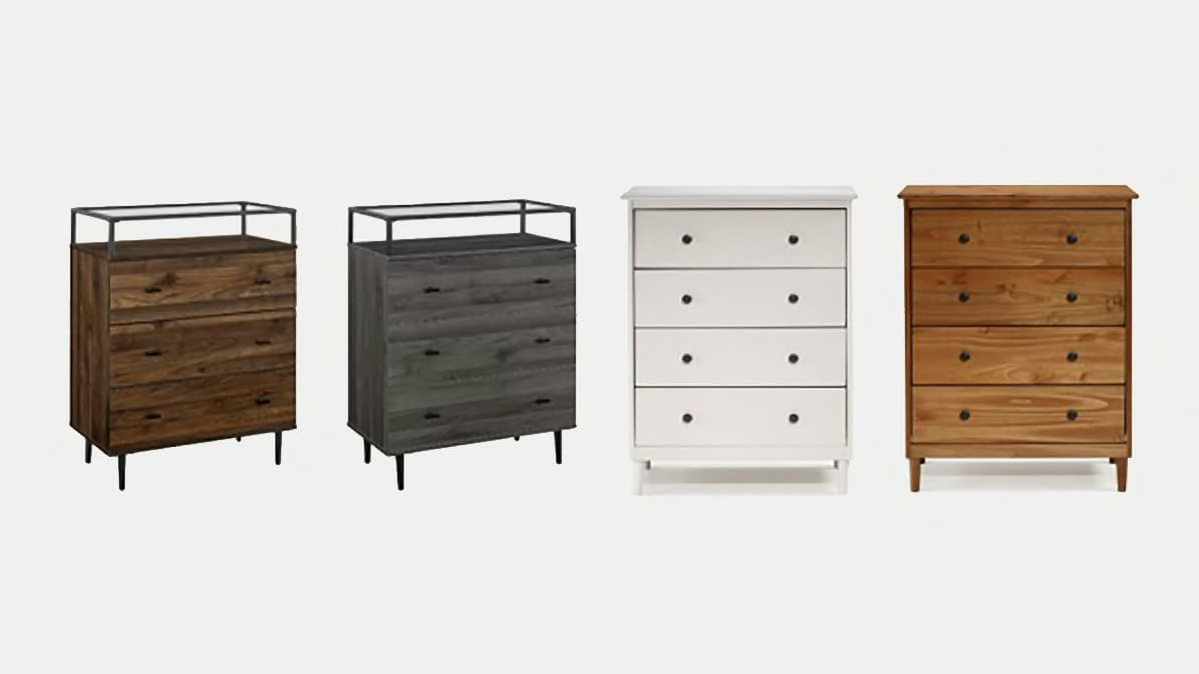 Furniture supplier Walker Edison recalled about 24,000 dressers yesterday because they pose a serious tip-over and entrapment risk that could result in death or injuries in children, according to an announcement from the Consumer Product Safety Commission.
The recall involves two of Walker Edison's products: the Spencer four-drawer chest and an unnamed chest of drawers (for model numbers, see below), which do not comply with the industry's voluntary standard and might be unstable if not anchored to the wall.
There have been no reported incidents or injuries linked to the products, but consumers should immediately stop using the recalled dressers and move them to a place that children can't access. This is particularly urgent now while many Americans are home more than usual because of the coronavirus pandemic.
A statement on Walker Edison's website noted that the company "values the safety and wellbeing of all their customers" and is offering a full refund or a free replacement for the recalled dressers.
The recall comes after a spate of dresser recalls over the past several months, and as the U.S. Senate is considering legislation, already passed by the House of Representatives, called the Stop Tip-overs of Unstable, Risky Dressers on Youth (STURDY) Act.
The act would require the CPSC to create a new rule that includes more stringent stability requirements and is mandatory, as opposed to the voluntary stability standard, which safety advocates believe is not strong enough to protect consumers from harm.
Currently, one person is injured about every 20 minutes—and one child dies about every two weeks—when a piece of furniture, an appliance, or a television falls onto them, according to the CPSC. Each year, thousands of those incidents involve dressers.
In September 2020, acting CPSC chairman Robert Adler and CPSC commissioner Elliot Kaye issued a joint statement calling on industry to do more to prevent tip-overs.
"These tragedies are preventable through design change of the product," they wrote. But until regulations make those design changes law, Adler and Kaye urged companies to recall unstable dressers and "offer full and fast refunds to consumers who do not want to live with furniture that could tip over and harm children."
Today's recall gives consumers that option, and CR's safety experts urge consumers to take advantage of it immediately and stop using the dressers.
Recall Details
Product recalled: Two types of wood dressers made by Walker Edison. These include: the Spencer four-drawer chests with SKU numbers BR4DDRCA (842158142443), BR4DDRWH (842158142436), and BR4DDRWT (842158142450); and unmarked drawer chests, model numbers BR3DMILDRDW (840035320847) and BR3DMILDRSG (840035320854). The drawer chests themselves are unmarked, but their boxes are labeled with the model numbers. Both types of dressers come in white, gray, wood stain, or a wood imitation laminate.
Sold at: At online retailers including Amazon, Best Buy, Pier 1, and Target from August 2018 through March 2020 for about $200 to $300.
The problem: The dressers, which do not comply with the industry's voluntary stability standard, pose a serious tip-over and entrapment risk that can result in death or injuries to children.
The fix: Consumers should immediately stop using the recalled chests and keep children away from them. Then contact Walker Edison for a full refund or free replacement. The company will offer instructions on how to remove the chest's drawer slides, and will provide packaging and prepaid shipping labels so that consumers can send the drawer slides to the manufacturer.
How to contact the manufacturer: Call Walker Edison at 833-208-3600, send an email to recall1020@walkeredison.com, or go to the company's recall page.
To report a dangerous product or product-related injury, go to SaferProducts.gov.