When you shop through retailer links on our site, we may earn affiliate commissions. 100% of the fees we collect are used to support our nonprofit mission.
Learn more.
Want a quick, elegant, cat-nimble, relatively fuel-efficient, seven-passenger SUV brimming with useful high-tech features? The redesigned 2017 Audi Q7 delivers—which is why it's now our top-rated SUV.
A calm, tranquil cabin shields occupants from exterior ruckus without insulating the driver from a fun cruise down the road.
The 2017 Audi Q7 rides comfortably, but some underlying firmness creeps in at low speeds. You can get a $64,300 Prestige edition with an optional $4,000 air suspension system that impressively cushions that slight discomfort, if it bothers you.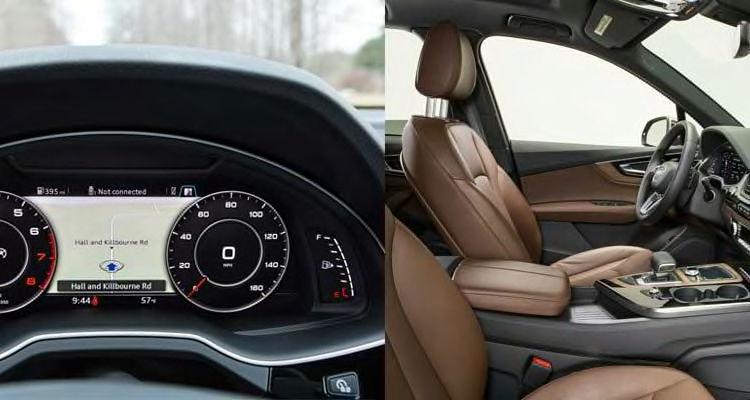 HIGHS: Powertrain, quiet, handling, braking, infotainment, luxurious interior, towing capacity, standard frontal-collision avoidance
LOWS: Learning curve for controls, unintuitive shifter, rear visibility
POWERTRAIN: 333-hp, 3.0-liter V6 supercharged engine; 8-speed automatic transmission; all-wheel drive
FUEL: 20 mpg
PRICE: $68,695
As it romped through our test track's avoidance maneuver, we found that our roomy 2017 Audi Q7 handles more like a smaller SUV. Like all Audis, the Q7 is predictable, balanced, and bracing to drive, even under pressure. The 333-hp gasoline engine provides plenty of smooth and effortless thrust. The previous Q7 offered a diesel variant, but the emissions scandal surrounding parent company Volkswagen has put its diesel plans on hold.
The Q7 continues Audi's trend of modernist-luxury interiors. It's a joy to run your fingers over the matte wood, brushed aluminum, and double-stitched leather. The infotainment and controls are daunting at first but over time prove to be logical.
Though it's pricey, the 2017 Audi Q7 is a good reason to spend part of your children's inheritance on a car.