When you shop through retailer links on our site, we may earn affiliate commissions. 100% of the fees we collect are used to support our nonprofit mission.
Learn more.
Even though the 2016 BMW X1 compact SUV earned a decent road-test score and ranks well among its competitors, its dynamic responsiveness lacks the purity we expect from the German brand.
A zippy turbocharged four-cylinder provides alert acceleration should you need to squirt through traffic. The transmission performs smooth and quick upshifts. Fuel economy is impressive for the class.
But unlike most BMWs, the X1 lacks a certain handling precision. It's capable of hustling down a back road, but the patented BMW verve and fun factor aren't present.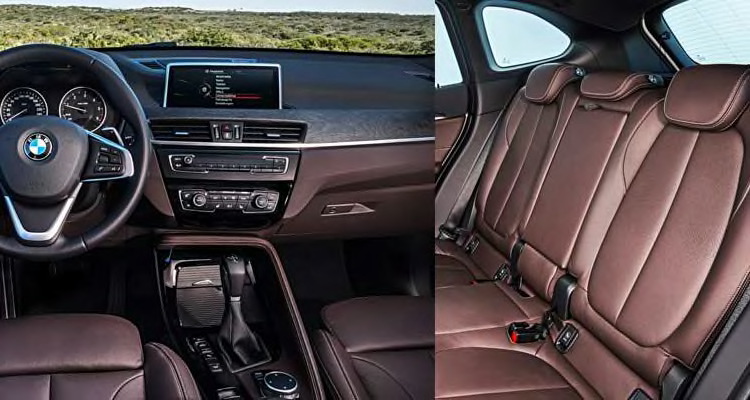 HIGHS: Transmission, braking, fuel economy
LOWS: Road noise, narrow front seats, stiff ride, no blind-spot monitoring
POWERTRAIN: 228-hp, turbo 2.0-liter 4-cyl.; 8-speed automatic transmission; all-wheel drive
FUEL: 26 mpg
PRICE: $44,745
This second-generation X1's ride gets jittery over rough surfaces, and noise from the road and an uncultured engine are coarse inside the cabin—unbefitting a luxury brand. Braking, however, is confidence inspiring, with short stops.
The X1's ride height feels akin to driving a tall wagon. But the front seats are insultingly small and narrow; the short seat cushion has the thigh support of a beach chair.
As is typical BMW, the X1 features an attractive come-on price, but key safety features cost additional. And blind-spot monitoring isn't available at all.
If you're new to BMW, you'll probably find the 2016 BMW X1 capable and inviting. Come with a knowledge of BMW's inherent brand qualities, and you might be in for a letdown.