Products are recalled for a specific and serious reason: They can be hazardous. Yet only about 10 percent of consumers typically follow up on recalls each year.
The main reason? Consumers never hear about the recall, says Don Huber, director of product safety for Consumer Reports. "If they are aware, they might consider the recall remedy to be too inconvenient," he says.
But recalls, conducted by companies with the Consumer Product Safety Commission, are vitally important.
"The CPSC works with companies on product recalls to protect consumers from product-related injuries or deaths," says Patty Davis, a spokeswoman for the government agency. "This past fiscal year the CPSC conducted 295 recalls involving approximately 32 million units." (The agency's fiscal year ended Sept. 30.)
That total number includes children's products, toys, hoverboards, bikes, bike helmets, and more. Over the past five years, the CPSC conducted 300 to 400 recalls annually.
To check if any products you owned have been recalled—and sign up for recall alerts—go to recalls.gov.
Here are the CPSC's home and appliance recalls from 2017, along with a quick explanation of the problem, the number of units recalled, and what action you can take if you have one of these products.
Home Furnishings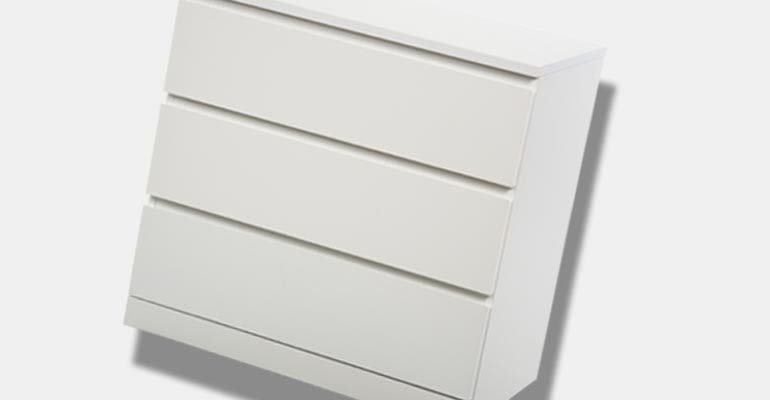 DRESSERS
"Unstable, unanchored furniture can seriously injure or even kill young children when it tips over," says William Wallace, policy analyst for Consumers Union, the policy and mobilization division of Consumer Reports. One child dies every two weeks, on average, from injuries caused by unsecured large furniture and televisions falling on him or her, according to the CPSC.
It's important to anchor all furniture. Check the recall notices for each company's remedy. Many are offering free wall-mounting kits. Here are this year's dresser recalls in alphabetical order, with links to the recall notices:
Ameriwood Home Mainstays Chests of Drawers
Bolton Furniture Two-Over-Two Dressers
Homestar North America Stockholm Three-Drawer TV Chests
Ikea Malm and Other Dressers
Linon Home Décor Cynthia Dressers
Safavieh Lingerie Chests
Simpli Home Artisan, Bellevue, Holden, and Stratford Chests
South Shore Summer Breeze Chests
Target Room Essentials Dressers
Vanguard Bow Front Chest of Drawers

BEDS AND ACCESSORIES
Customatic Adjustable Beds
Units recalled: 50,000
Why: The bed's side-mounted AC outlets can be incorrectly wired, posing an electric shock hazard.
What to do: Unplug and contact Customatic Beds at 844-815-9023 or customaticbeds.com to arrange for a free inspection and repair.

Sleep Number Foot Warmers Sold With Sleep Number 360 Smart Beds
Units recalled: 11,900
Why: The foot warmer under the mattress cover can short-circuit and overheat, posing a burn hazard.
What to do: Disable the foot warmer and contact Sleep Number at 800-318-4432 or sleepnumber.com/recall for a free replacement and installation.

LIGHTING
Hampton Bay 3-Light Crystal Chandeliers and Home Decorators Collection 4-Light Crystal Chandeliers
Units recalled: 10,500
Why: The halogen bulbs sold with the chandeliers can melt parts of the fixture.
What to do: Stop using and contact Lumicentro Internacional at 888-356-6430 or lumicentro.com for a replacement kit that includes LED lightbulbs.

Home Decorators Collection 3-Light and 4-Light Comotti Vanity Fixtures
Units recalled: 64,200
Why: The light shades of the three-light and four-light Comotti vanity fixtures can detach and fall.
What to do: Contact Design Solutions International at 800-388-6141 or register at dsilighting.com to receive free replacement light shades and replacement instructions.

West Elm Industrial Task Table Lamps
Units recalled: 43,000
Why: The electrical wire that runs through the lamps can fray or be cut by the lamp's adjustable joint, posing a risk of electric shock.
What to do: Stop using and contact West Elm at 866-577-9276 or westelm.com for a full refund, including return shipping.
Hunter Contempo ceiling fans with light globe
Units recalled: 168,000
Why: The owner's manual instructs consumers to install the light globe incorrectly and the light globe can fall.
What to do: Check to make sure globe is secure and contact Hunter at 866-326-2003 or hunterfan.com/recalls for a correct set of instructions.

Kitchen Appliances and Products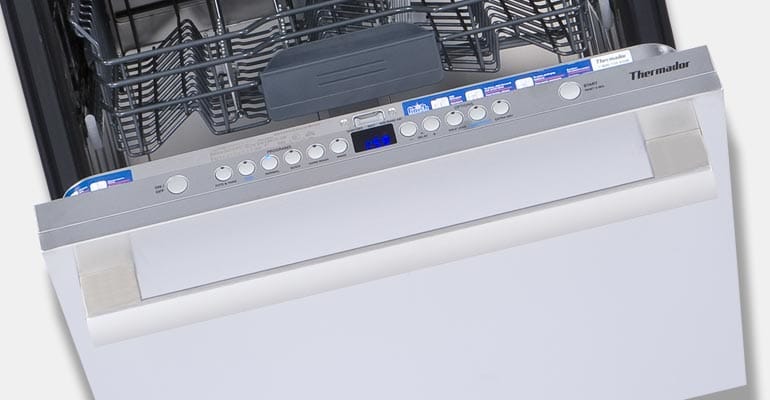 DISHWASHERS
Bosch, Gaggenau, Jenn-Air, and Thermador Dishwashers
Units recalled: 663,000
Why: The power cord can overheat and catch fire.
What to do: Unplug and call 888-965-5813 or check the recall section of the brand's website for a free inspection and repair.
For more: Read CR's dishwasher recall article.
FOOD DEHYDRATORS
Greenfield World
Units recalled: 14,000
Why: The food dehydrator can overheat, posing fire and burn hazards.
What to do: Stop using and contact Greenfield at 877-881-0065 or at greenfieldworld.com for a free replacement or full refund.

GARBAGE DISPOSALS
Anaheim and Moen Garbage Disposals
Units recalled: 146,000 from 10 brands, including Waste King.
Why: A metal component inside the disposal can break off and come out of the disposal during use.
What to do: Stop using and contact Anaheim Manufacturing at 800-628-0797 or at anaheimmfg.com for a free replacement and installation.

KNIVES
Calphalon Contemporary Cutlery Knives
Units recalled: 2 million
Why: The blade can break during use.
What to do: Stop using and contact Calphalon at 800-809-7267 or at calphalon.com for a free replacement.
Martha Stewart Whiteware Cake Knife and Server Sets
Units recalled: 18,900
Why: The handles on the knife and server can break during use.
What to do: Stop using and contact Macy's at 888-257-5949 or at macys.com for a full refund.
RANGES
Blomberg and Summit Electric Ranges
Units recalled: 6,300
Why: The ranges can become energized, posing electric shock and electrocution hazards.
What to do: Stop using and shut off the electricity supply, then contact Arçelik at 877-271-1489 or at blombergappliances.us for a free on-site inspection and repair.
Outdoor Gear and Power Equipment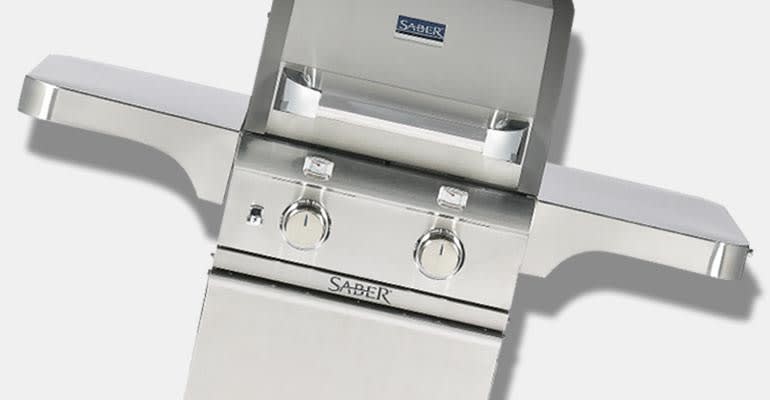 GRILLS
Saber Gas Grills
Units recalled: 18,800 grills and 2,900 conversion kits
Why: The grills' LP regulator can allow gas to flow at a higher pressure than intended, which can result in a gas leak and flame burst from the burner knobs.
What to do: Stop using and contact Saber Grills at 866-671-7988 or at recall.sabergrills.com for a free repair kit with installation instructions.
For more: Read our article on the Saber grill recall.
Fred's Living Traditions Mini Barrel Charcoal Grills
Units recalled: 2,000
Why: The exterior paint on the grill can ignite, posing a fire hazard.
What to do: Stop using and contact Fred's at 800-374-7417 or at fredsinc.com for information on how to return the grill.

CHAIN SAWS
Stihl Gas-Powered Chain Saws
Units recalled: 100,000
Why: The fuel line can leak, posing fire and burn hazards.
What to do: Stop using and contact Stihl at 800-233-4729 or online at stihlusa.com to arrange to return saw to an authorized dealer for a free inspection and repair.
GENERATORS
Westinghouse Portable Generators
Units recalled: 4,500
Why: Generators can overheat, posing a fire hazard.
What to do: Stop using and contact Westinghouse at 855-944-3571 or at westinghouseportablepower.com for a free repair.
LAWN MOWERS
Kobalt and Greenworks Cordless Electric Walk-Behind Lawn Mowers
Units recalled: 28,000
Why: The circuit board can short-circuit and catch fire.
What to do: Remove the battery and contact Hongkong Sun Rise Trading at 888-266-7096 or at greenworkstools.com for a free repair.

Home Maintenance and Safety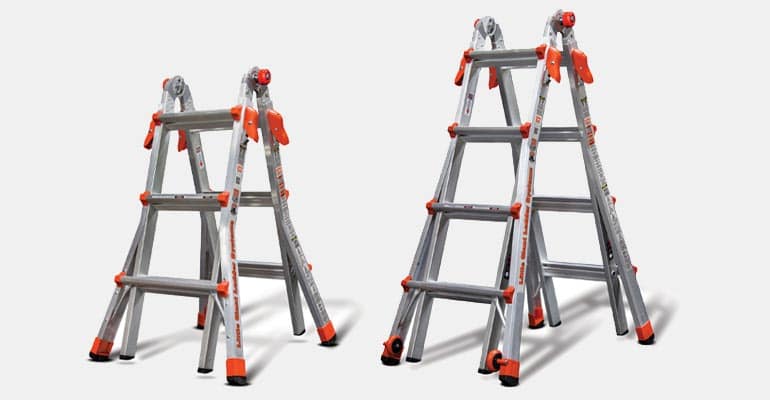 LADDERS
Little Giant Ladders
Units recalled: 37,000
Why: The locking pins/rung fasteners can fail, posing a fall hazard.
What to do: Stop using and contact Wing Enterprises at 855-595-3378 or at littlegiantladders.com for a free repair kit.
FIRE EXTINGUISHERS AND ALARMS
Kidde Fire Extinguishers
Units recalled: 40 million
Why: The fire extinguishers can become clogged or require excessive force to discharge and fail to activate. In addition, the nozzle can detach with enough force to pose an impact hazard.
What to do: For a free replacement, contact Kidde at 855-271-0773 or at kidde.com.
For more: Read CR's Kidde recall article.
Swift Wireless Gateway Fire Alarm Systems
Units recalled: 900
Why: The smoke detectors connected to the wireless gateway can fail to activate properly.
What to do: For a firmware update, contact Honeywell at 800-289-3473 or at hwll.co/CPSCsafety.

HEATING AND COOLING
Bosch Solar Panels
Units recalled: 28,000
Why: Panels can overheat, posing a risk of fire.
What to do: Contact your installer and ask whether your panels are the model being recalled. If so, contact Bosch at 855-866-8470 or at bosch-solarenergy.com to arrange for a free replacement.

Bryant Evolution Extreme and Carrier Greenspeed Heat Pumps
Units recalled: 23,300
Why: The capacitors in the fuse boards in the heat pumps can stop working, causing the unit to overheat.
What to do: Contact Carrier or Bryant at 844-864-8233 or at carrier.com or bryant.com for a free replacement fuse board and installation.

Carrier Packaged Terminal Air Conditioners and Packaged Terminal Heat Pumps
Units recalled: 94,000
Why: The power-cord plug of the air conditioner and heat pump can overheat.
What to do: Unplug the AC or heat pump and contact Carrier at 800-761-8492 or at carrier.com for a free replacement cord.
TABLE SAWS
Craftsman and Black+Decker Portable Table Saws
Units recalled: 46,000 Craftsman and 400 Black+Decker
Why: The saw's stand can collapse unexpectedly, posing laceration and impact injury hazards.
What to do: Stop using and contact Rexon at 866-934-6360 or at rexon.net for a free replacement stand.
CR Advocates for Your Safety
The CPSC learns of dangerous products in various ways. Emergency room reports are one. Consumers also can call the agency's hotline or post reports on saferproducts.gov; retailers and manufacturers can also report any problems.
After a company discovers that a product may pose a significant safety risk, it is required by federal law to inform the CPSC quickly.
"Manufacturers and retailers should make it easy for consumers to register their products at the point of sale and receive recall alerts by email, text, or whatever method they prefer," says Wallace at Consumers Union.

"When a product has a safety defect, consumers should be notified promptly and completely, and should be given straightforward steps to take to stay safe," he adds.
Consumer Reports is an independent, non-profit organization dedicated to helping consumers. We make it easy to buy the right product from a variety of retailers. Clicking a retailer link will take you to that retailer's website to shop. When you shop through retailer links on our site, we may earn an affiliate commission – 100% of the fees we collect are used to support our mission.
Learn more.
Our service is unbiased: retailers can't influence placement. All prices are subject to change.