How to Shop for Roofing Shingles
Feel in over your head when it comes to choosing the right roof? Let CR's experts help you raise your roofing IQ.
When you shop through retailer links on our site, we may earn affiliate commissions. 100% of the fees we collect are used to support our nonprofit mission. Learn more. Reroofing your house is a significant undertaking, so you want to be sure to choose materials that will last and protect your roof well. To help you decide what to use, CR's labs rigorously test asphalt roofing products, which we focus on because it's the most commonly used residential roofing material.
Within asphalt, there's a lot to consider. Start by looking at shingle types, including three-tab, architectural, and multilayered (all of which you'll find in our ratings, available to CR members). In our strength tests, we found that the most costly type—multilayered architectural shingles, typically with three to four layers that overlap—generally performs better overall than other styles. However, this type of shingle is expensive, is heavy, and may require a more labor-intensive installation process.
Inspect the Shingle Warranty
Once you start looking at shingles, you might be impressed by how many manufacturers offer lifetime protection. But in roofing parlance, a lifetime really isn't a lifetime. It's more like 10 years. That's the period during which most manufacturers will pay the roof's original owner in full to replace defective shingles under the baseline warranty. After that—and for the rest of the period you own your home—it'll reimburse only for your shingles' depreciated value.
To extend the full-replacement period, you have to either upgrade to a different shingle or buy more of the manufacturer's components. Another way to upgrade: Use a contractor who's certified or otherwise credentialed by the company.
For instance, most Owens Corning shingles come with a "lifetime" warranty that covers full shingle replacement for only the first 10 years. Going with one of the company's Preferred or Platinum contractors, though, can extend the 10-year full-pay period to 50 years.
You may think of roofing warranties as an extension of coverage, "but they're also limiting the manufacturer's liability," says Mark Graham, vice president of technical services at the National Roofing Contractors Association, a trade organization based in Rosemont, Ill.
A roofing warranty won't pay if the shingle maker finds problems in your home's ventilation. And manufacturers usually won't cover damage from certain acts of God, such as very high winds and hail; for that, you'll have to put in a homeowners insurance claim or pay out of pocket.
Given the gotchas, a warranty probably shouldn't be your main focus in choosing a new roof. Rather, our testers recommend that you place your faith in a strong shingle and a reliable contractor. The right combination can help your home weather most storms without draining your wallet.
With any roofer, get local references and check for local and state licenses, proof of bonding, Better Business Bureau rating, and active certificates of insurance—for liability and workers' compensation. Your homeowners insurance company may also have a network of contractors.
If you have already decided on a shingle style, check the maker's website for contractor recommendations. The company's credentialed contractors, in theory, have more training in installing the product. In reality, a lot of that training focuses on sales, Graham says. "Nonetheless," he says, "you know that person is going to be a little bit more experienced."
Look, too, for a contractor who has been around at least five years and has a good local reputation, Graham says.
Ask about the quantity of shingles needed, labor charges, a description of the work to be done, approximate work dates, needed building permits, warranty details, and a payment schedule. The roofer typically orders the shingles and gives you the manufacturer documents; store those papers safely for future reference.
To activate a warranty upgrade, you may have to use a maker's suite of shingles and other roofing components, such as flashing and underlayment. But there's another reason to bundle these products together, says Jerod Raisch, president of Metro Construction, a roofer based in Denver. "They've been tested together," he says. "That consistency can give you better performance."
Compare Installers' Warranties
Some installers offer workmanship warranties separate and apart from a shingle manufacturer's. Be sure to ask for one in writing. Among the dozens of contractor websites from across the country that we reviewed, only a few showed explicit warranties. The promises we found covered between one and 50 years, though experts told us most roof problems happen in the first couple of years.
"If you don't find a leak in the first two years, it's probably not going to happen," says Melissa Eiseman, president of Eiseman Construction in New Britain, Pa., which offers a five-year workmanship warranty.
(Lowe's offers a two-year workmanship warranty for roofs that its partner contractors install.)
Take These Last Key Steps
Contact your insurer once the work is done; some reduce premiums for new roofs. Register your warranty with the manufacturer if the contract requires it; even with its caveats, the document can have use down the road. And note whether it can be assumed by the second homeowner—a common feature that can be an attractive home-selling tool later on. Check the warranty for transfer requirements, which include strict deadlines.
If you want to get an idea of the asphalt shingles that are available, CR members can read on for our ratings and reviews of some of the best from our tests. These shingles cover a variety of prices and styles, from high-end multilayered architectural shingles to affordable architectural/laminated shingles that punch above their price. We've focused on their strength, how well they can resist a strong wind lifting them, and how much of a beating they can take.
Anatomy of a Roof
Before giving you an estimate, a contractor should assess all components in and around your roof, including the drip edge and gutters that steer water runoff. In a complete roof repair or redo, you'll typically need to replace the underlayment. That component, usually treated paper or synthetic sheets, serves as a weather barrier atop the decking, the flat surface—typically plywood—that lies on rafters. In a cold climate, a roofer may suggest applying an ice-dam protection membrane in some areas to prevent ice dams that can cause water seepage. Adding or updating the ridge vent and vented soffits can improve attic airflow and prevent harmful moisture buildup. Replacing or fixing flashing, the material around the chimney and where roofing planes meet, can prevent leaks.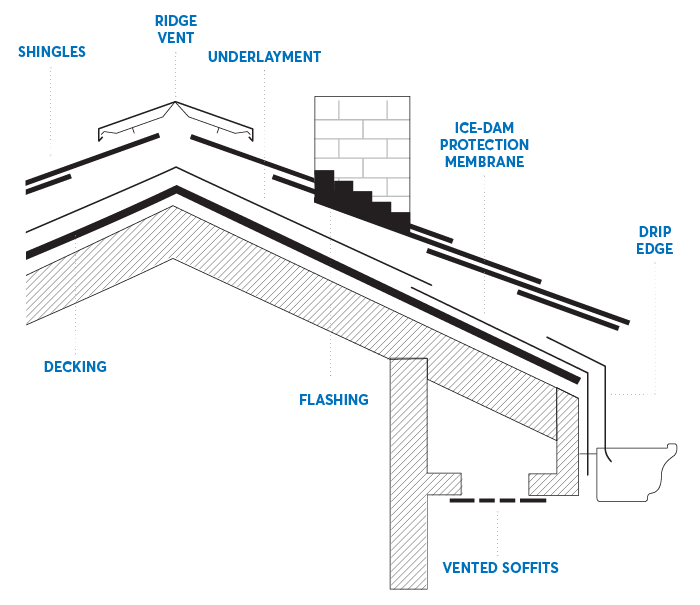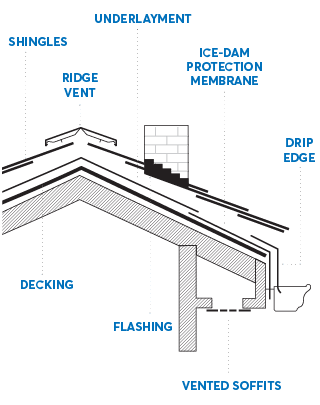 Illustration by Chris Philpot
Neglecting your roof can be a costly mistake. On the "Consumer 101" TV show, Consumer Reports expert Misha Kollontai explains to host Jack Rico how CR tests roofing and what to look for when replacing shingles.