When you shop through retailer links on our site, we may earn affiliate commissions. 100% of the fees we collect are used to support our nonprofit mission.
Learn more.
When you shop through retailer links on our site, we may earn affiliate commissions. 100% of the fees we collect are used to support our nonprofit mission. Learn more.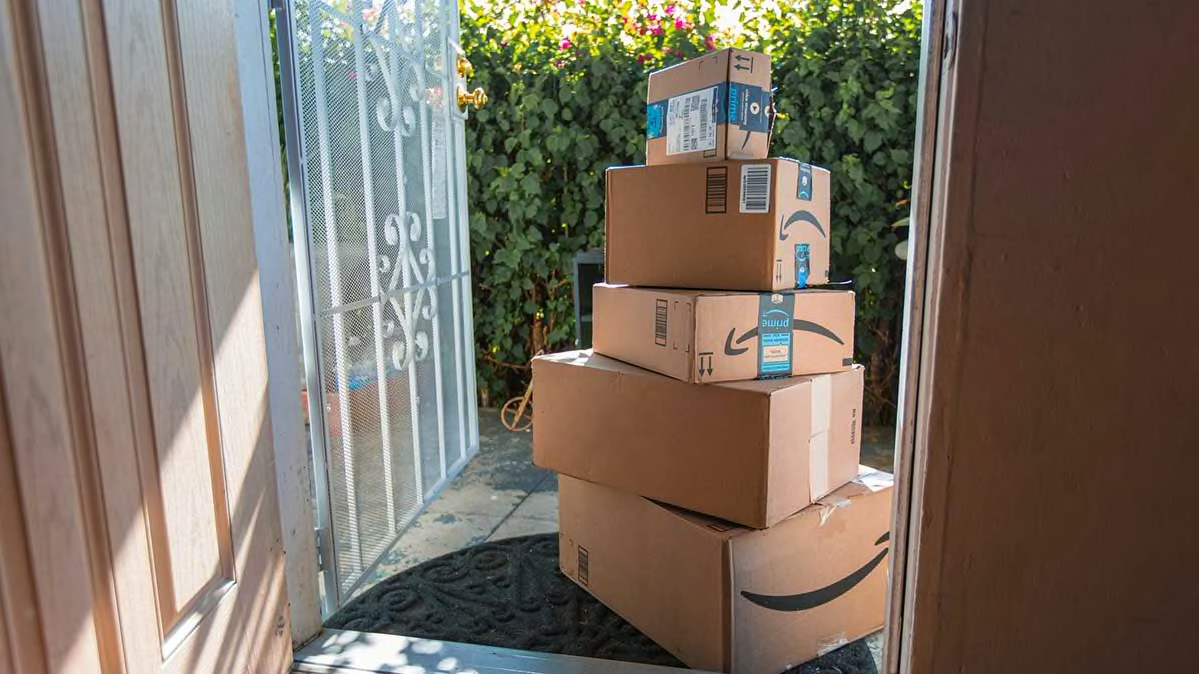 Amazon Prime Day, which begins next week, will be an unusually early kickoff to the holiday shopping season.
Since the company started the yearly event in 2015, Prime Day has taken place during the summer. But the event was postponed this year because of the coronavirus pandemic.
Amazon Prime Day will fall on Oct. 13 and 14. The sale will start at 12 a.m. PT (3 a.m. ET) and run through 11:59 p.m. PT Oct. 14 (2:59 a.m. ET Oct. 15).
Now that Prime Day is approaching, here's what you can expect.
What Is Prime Day?
The sale, which includes deals on products of all kinds throughout the site, is open exclusively to Amazon Prime members. You can sign up for a free 30-day trial to take advantage of deals and cancel before the trial period ends if you don't want to pay for a membership.
Prime membership ($13 per month or $119 per year) offers a variety of perks, including expedited shipping on select products, as well as access to Prime Video, exclusive deals, and more, all of which you can sample during the trial.
It's worth noting that without a Prime membership, you won't even be able to see the majority of the deals on Prime Day. Some discounted prices are visible only when you're logged in to a Prime account. Read about the pros and cons of Amazon Prime.
What Deals Can You Expect This Year?
This year, Amazon is promising more than 1 million deals in almost all categories. As in years past, the company is already offering deals on its own products, so if you've wanted an Echo smart speaker or a Fire TV streaming device, this is a great time to pick one up for less.
There are also early Prime Day exclusives on Prime services, such as discounted movies and rentals on Prime Video, and savings for new subscribers to Kindle Unlimited, Amazon Music, and Audible.
Beyond Amazon's own brand lineup, the online store will have deals on everything from apparel and toys to home goods, tech gadgets, beauty supplies, and kitchen items.
In previous years, we've seen price drops on Instant Pots, robotic vacuums, smartwatches, and even mattresses. There will also probably be deals and discounts on groceries and essentials at Amazon as well as in Whole Foods stores.
As with past Prime Day events, not all discounts are guaranteed to be available for the duration of the sale, encouraging shoppers to buy quickly for fear of missing out on a deal.
Consumer Reports' product experts will be tracking all the deals on Prime Day and sharing the best offers on top-tested products.
How Should You Prepare for Prime Day?
If you're not already a Prime member, you'll need to sign up for the free trial before the sale begins. This is the only way you can see Prime Day prices. And you can easily spot the special savings by the blue badges labeling them as Prime Day deals.
There will also be a new Prime Day shopping tool in the Amazon smartphone app that allows you to add items you're interested in to a special list. You'll be able to tap a button called "Watch this deal" and then, if anything on your list goes on sale, you'll get an alert. Just make sure your notifications are enabled.
Lightning Deals, as the name implies, are limited-time discounts. They last anywhere from 4 to 24 hours. Amazon will also limit the number of available items in a Lightning Deal, so if something is 100 percent claimed, you can join the waitlist and you'll be notified if someone abandons their cart. Other discounts might not be as transparent in how long they'll be available or even how good the deal is.
Consumer Reports will be comparing sale prices on tested products with each product's typical cost to help you avoid overspending or buying something that doesn't work as well as you want. You can also take a look at CR's tips for finding deals on Prime Day, so you'll be ready to shop when the sales start.
How Will Prime Day Affect Holiday Shopping?
Part of the reason Amazon chose October for this year's Prime Day is to coincide with the holiday shopping season, which for Amazon will begin Oct. 15. You can expect to see sales, discounts, and other offers continue through December.
Amazon is probably hoping Prime Day will encourage shoppers to start buying their holiday gifts a little earlier this year, spreading out the expected surge of online orders and helping to ensure that everyone gets their presents in time for the holidays.
When the pandemic started, the surge in online sales created a global shipping slowdown, causing delays for Amazon as well as many other retailers. Amazon has recently been staffing up to anticipate demand. The company recently listed more than 100,000 open positions to handle the increase in orders during Prime Day and into the holiday shopping season.
Home Depot also announced plans to extend its own holiday deals throughout November, and many other major retailers are likely to follow suit. We've already seen early evidence of this shift, as retailers including Best Buy, Walmart, and Target have announced that their walk-in stores will be closed Thanksgiving Day.
Will Other Retailers Have Prime Day Deals, Too?
Ever since the first year of Prime Day, other retailers have started holding their own sales around the same time. This year, despite the rescheduling, it seems this will continue to be the case. Best Buy, Target, and Walmart have announced competing events, and other major retailers may follow.
Walmart is actually trying to outflank Amazon. The retailer scheduled its annual Big Save Event, which usually happens at the same time as Prime Day, to begin earlier—at 7 p.m. ET Sunday, Oct. 11—and run until Oct. 15.
In addition to getting a head start on Amazon, Walmart is giving consumers more time to shop for deals online. The company is promising savings that rival Black Friday in most categories, including electronics, home, toys, clothing, and more. And it will continue to offer free shipping on eligible items for orders over $35.
Target is sticking closer to Amazon's schedule, holding two Deal Days on Oct. 13 and 14. And just as Amazon is doing, Target intends to continue the savings by starting up holiday promotions as soon as the Deal Days are done. Unlike Amazon and Walmart, whose deals may last as little as a few hours, Target is promising that all of its sale pricing will be available the entirety of the two-day event.
Other retailers, including Best Buy and Bed Bath & Beyond, will also have an array of savings, so be sure to include them when you're comparing prices. Best Buy is planning to release some of its Black Friday deals Oct. 13 and 14, including big discounts on laptops, headphones, and TVs. There will be a 70-inch Samsung 4K TV for $530, but we don't know which model it is yet.
If you shop any of these sales, you may be able to choose next-day shipping, in-store pickup, or even contactless curbside pickup to get your items faster. And CR will be keeping an eye on all the top retailers leading up to and during the sales events to bring you the latest updates and best deals on top-tested products.