BrightFarms Salad Greens Linked to Salmonella Outbreak
The greens, sold in four states at some Walmarts and other retailers, have been recalled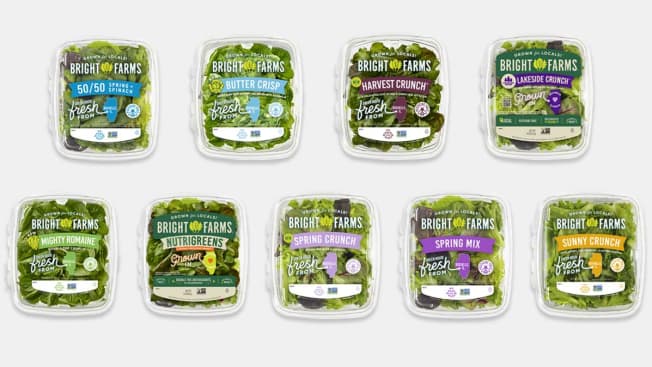 Eight varieties of greenhouse-grown, packaged greens from BrightFarms brand have been linked to an outbreak of salmonella, the Centers for Disease Control and Prevention announced.
Nine people have become ill in Illinois and Wisconsin. One of them was hospitalized, but no deaths have been reported, according to the CDC.
As is often the case in outbreaks of foodborne illness, it's likely that more people have gotten sick during this outbreak because cases often go unreported. In fact, the CDC estimates that, in general, for every confirmed case of salmonella, 30 cases go undetected.
How Greens Get Contaminated
When greens (and other vegetables) become contaminated with salmonella or other illness-causing bacteria, it is often because they're grown near livestock farms. The bacteria can enter the growing fields or irrigation water from runoff from animal waste. That shouldn't be a problem when produce is grown in greenhouses. On its website, BrightFarms notes it uses mostly water instead of soil to grow vegetables (known as hydroponic), and that doing so helps the company use less water and less land space compared with traditional farming methods. This process, it says, allows much greater control over the produce.
Vegetables grown in such a controlled greenhouse setting are "typically considered safer due to the lack of exposure to the environmental elements," says James E. Rogers PhD, director of food safety research and testing at Consumer Reports. "It's not clear how the greens involved in this outbreak became tainted with salmonella, but it is possible that they came in contact with vegetables that were grown outdoors and were contaminated with salmonella in the packing facility. Or it could be a case where a worker was infected with salmonella and transferred the bacteria to the greens."
BrightFarms says it is investigating the source. "We are continuing to conduct our own thorough investigation with the assistance of a team of outside experts, and we have also assured the FDA and CDC of our full cooperation as they continue their own investigations," Matt Grant, a spokesperson for BrightFarms told CR in an email.
If you have the recalled greens in your refrigerator, don't eat them. Throw them away or return them to the store where you bought them for a refund. "The fact that greens are eaten raw makes them even riskier than other foods, such as chicken, which are typically cooked," says CR's Rogers. (Proper cooking kills the bacteria.) You can't wash off salmonella or any other bacteria from the greens. It's also important to be aware of the symptoms of salmonella infection. Fever, diarrhea, nausea, vomiting, and abdominal pain are the most common in otherwise healthy adults, and can occur anywhere between 6 hours and six days after consuming contaminated food, according to the CDC. Most people will recover in about four to seven days without needing medical treatment.
But call a doctor if you become dehydrated, have a fever above 102° F with diarrhea, can't keep liquids down, or have diarrhea for more than three days. Salmonella can become fatal in older people, children, or anyone with a weakened immune system.
Products recalled: Eight BrightFarms varieties of packaged salad greens. See the FDA's list of product brands, sizes, and codes.
The problem: The salad greens may be contaminated with salmonella.
The fix: Return the recalled greens to the store where you purchased them for a full refund or throw them away.
How to contact the manufacturer: Call 866-857-8745 between 8 a.m. and 11 p.m. ET. You can also email info@brightfarms.com with the subject line "Recall."