When you shop through retailer links on our site, we may earn affiliate commissions. 100% of the fees we collect are used to support our nonprofit mission.
Learn more.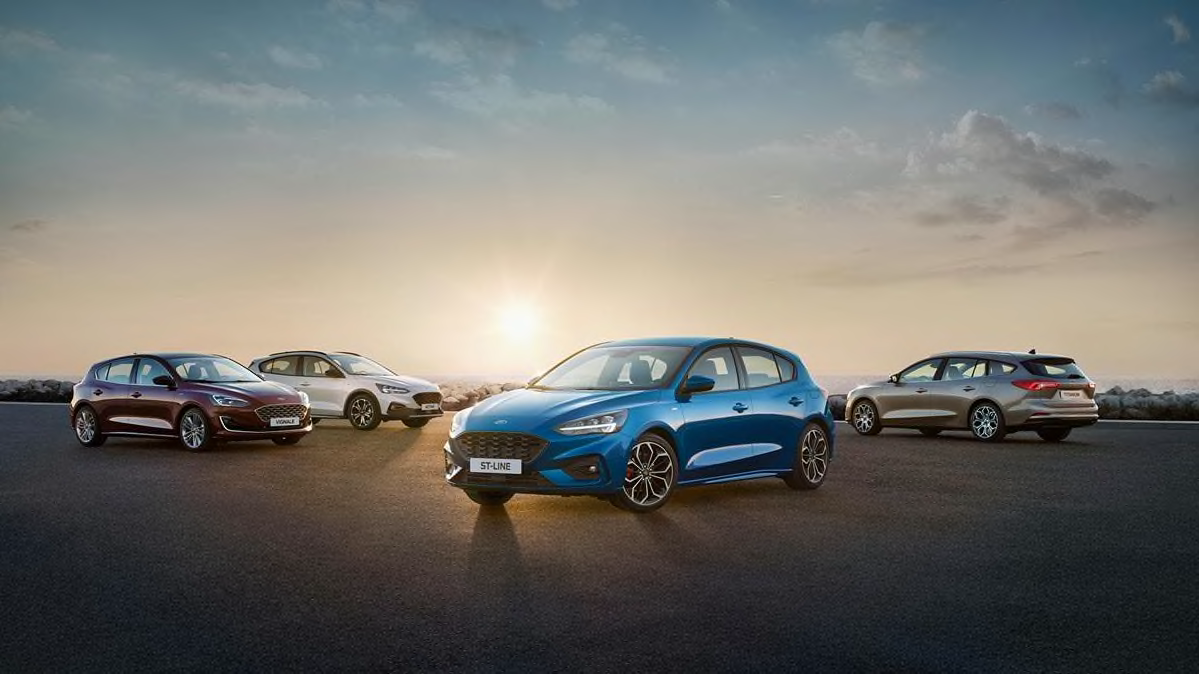 Ford has completely redesigned its Focus compact sedan for the 2020 model year, a welcome move because this car resides near the bottom of CR ratings in the compact segment.
The current model is sporty to drive, but it suffers from a jerky transmission, a confining interior, and reliability woes.
Ford says the new Focus will have a new engine and transmission, more high-tech features, and increased rear-seat passenger space.
The automaker unveiled photos and information about the new vehicle during a joint launch that took place in England and China on Tuesday.
Details on the U.S.-bound version were skimpy, but it appears that Ford has tried to address many of the current car's shortcomings with the redesign.
2020 Ford Focus
What it competes with: Chevrolet Cruze, Honda Civic, Hyundai Elantra, Kia Forte, Mazda3, Nissan Sentra, Subaru Impreza, Toyota Corolla, Volkswagen Golf and Jetta.
What it looks like: The new body has sharp angles, bulging fenders, and an aggressively sloping roofline.
Powertrains: 1.5-liter, turbocharged three-cylinder or four-cylinder; eight-speed automatic transmission.
Expected on-sale date: Summer 2019.
Outside
Ford isn't revealing much in the way of concrete plans for the U.S. market, but it's expected that the new Focus will be launched in both four-door sedan and five-door hatchback body styles, as the current car is. Other markets will also get a wagon version.
Ford says the overall dimensions of the new Focus are unchanged, but the wheelbase has been lengthened by 2 inches, adding rear-seat passenger room.
Inside
The new infotainment screen is perched high up on the dashboard for easier viewing. The standard screen will measure 6.5 inches, with an optional 8-inch color touch screen. Drivers and passengers can manipulate the bigger screen with pinch and swipe gestures, and it's compatible with Android Auto and Apple CarPlay. A wireless smartphone charging pad will be available.
The new Focus will come with embedded modem technology, turning the vehicle into a mobile WiFi hotspot. It also allows drivers to remotely lock and unlock the car, or remote-start it.
Ford says the center console has been made narrower—addressing the narrow driving position we've complained about on the current car—by relocating some switches and controls from the console to the touch screen. In addition, Ford says soft knee pads have been added to the center console in case the driver's right knee still rubs against it.
The Focus also gets a rotary shift dial just like the ones we've seen in the Fusion sedan and Expedition SUV.

In addition to the longer wheelbase adding rear-seat room, Ford says shoulder room has increased by 2.4 inches, along with almost 3 more inches of legroom. Still, the front-seat room remains roughly the same as in the outgoing model. Ford also says the climate-control system heats and cools the cabin faster and more quietly.
What Drives It
Full information regarding U.S. drivetrains will be announced closer to the car's launch in summer 2019, but two new 1.5-liter EcoBoost turbocharged engines will be available in other markets, one as a three-cylinder and the other as a four-cylinder; it's unclear which engine will make it to the U.S., or whether both will.
Regardless, these new engines look to replace the woefully underpowered 1.0-liter, three-cylinder turbo that's available in the current Focus.
Shoppers should also count on an all-new eight-speed automatic transmission, replacing the unloved six-speed dual-clutch automatic. The new transmission is a traditional torque-converter automatic, so we hope it won't suffer from the same low-speed foibles as the dual-clutch system.
The current Focus delivers one of the best ride and handling mixes among compact cars, but Ford says it isn't resting on its laurels. The 2020 model will have an all-new suspension design and a stiffer chassis, along with a reworked steering system, in the interest of making the car more fun to drive. It will also come standard with a drive mode selector that will let the driver adjust engine and transmission response, and steering effort.
Safety & Driver-Assist Systems
Ford's new suite of advanced safety features, called Co-Pilot 360, will come standard on all trims of the 2020 Focus in the U.S. Features will include forward-collision warning, automatic emergency braking with pedestrian detection, blind-spot warning, lane-keeping assist, and automatic high beams.
CR's Take
It's a reasonable assumption that the new Focus will give consumers a relatively comfy ride along with its sharp handling.
We're hopeful that the new eight-speed automatic will do away with the current car's abruptness during low-speed stop-and-go driving, and it would seem likely that the larger 1.5-liter EcoBoost engine will be an improvement in terms of drivability over the gutless 1.0-liter.
One of our other complaints with the current Focus is its narrow driving position compared with that of many of its competitors. To that end, the claimed narrower center console should help.
It's great to see Ford stepping up to make advanced safety systems such as forward-collision warning and automatic emergency braking standard across trim lines with the 2020 Focus.
We like what we see in these improvements, but the one big question mark will be the car's predicted reliability, which currently is much below average, according to CR's survey data.