When you shop through retailer links on our site, we may earn affiliate commissions. 100% of the fees we collect are used to support our nonprofit mission.
Learn more.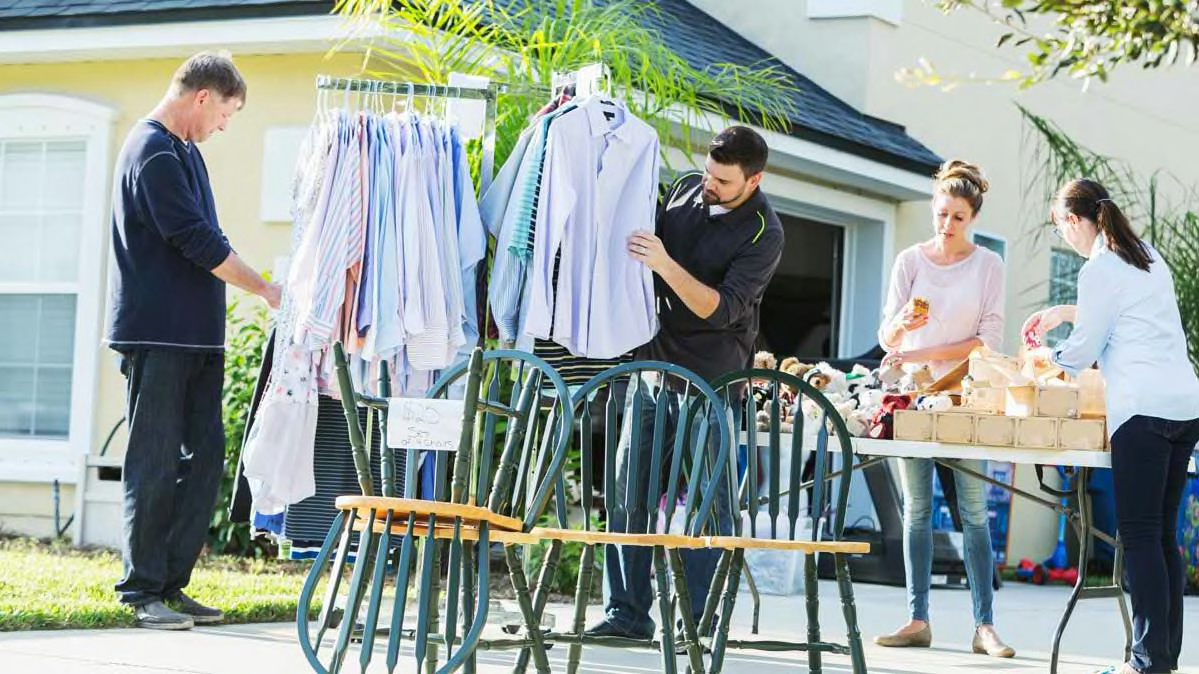 For some, an ideal summer weekend might be spent sunbathing on the beach or taking in a ballgame. For others, there's nothing better than browsing neighborhood garage sales in search of great deals.

As summer gets underway, homeowners anxious to declutter their homes often decide to sell items they no longer need. If you're looking for great deals on everything from cookware to children's toys, going to garage sales, or yard sales as they are also known, can be a very rewarding experience.

Snagging the best bargains, however, takes some planning.

Tips From Garage Sale Experts
1. Plan your route ahead of time. Use an app like Yard Sale Treasure Map, which pulls in sale listings from Craigslist. Once you choose the yard sales that interest you, the app will help you plan a schedule so that you can get to each of them in the most efficient way. If you're on the hunt for a specific item that's not listed in an ad, many online ads will let you send an email inquiry the night before the yard sale. By doing this, you can prioritize sales that you know have the merchandise you want.

Depending on what you are looking for, you may want to narrow down the garage sales you visit. So if you're looking for higher-end items, consider looking in pricier neighborhoods. If you are after vintage finds such as antique furniture and period jewelry, you may want to search in neighborhoods where families have lived for generations and often have older residents.

Once you start the day, be sure to keep your eyes peeled for signs advertising sales elsewhere. If they interest you, make it a priority to visit them. "Heavily advertised sales get picked over quickly," says Chris Heiska, who runs YardSaleQueen.com. "There's less competition at unadvertised sales."

2. Time your visit right. You'll find the best selections within the first half hour of a sale, when you may find yourself competing with professional secondhand dealers scouting for great products they can resell. This can be particularly true for higher-end furniture and works of art, for example.
But if you're willing to make a purchase only if you get a great deal, go later in the day, when sellers may be more prepared to lower their prices to increase sales. "When you get close to closing time, sellers are often ready to practically give things away in order to get rid of them," says Aaron LaPedis, author of "The Garage Sale Millionaire."
3. Take your own packing supplies. Put some boxes, bags, bungee cords, and newspaper into your car so that you're prepared to safely pack and transport any fragile items you buy. Clear out your car's trunk to make sure there's plenty of space for larger items.
4. Inspect items closely. Take batteries to test battery-operated electronics to ensure that they work. If a product requires electricity, ask the seller to let you use an outlet. Check clothes for stains and missing buttons, count any items that come together to make sure the set is complete, and run your finger around the edges of glasses and dishes to check for nicks. Measure large items such as furniture to see whether they'll fit in your home. Feel free to ask the seller questions about the age and condition of the products being sold.
5. Use the eBay test. Download the eBay app and use it to look up items you're interested in purchasing. That will give you a reference point on how much you should pay. "If it's priced for less than it's selling for on eBay, that's a good deal," LaPedis says. "If it's marked at more than the eBay price, that's a negotiating point."
6. Negotiate everything. Half the fun of garage sale shopping is haggling with the hosts. "Sellers expect to negotiate, so you should always ask for a lower price, even if it makes you uncomfortable," says Chrystie Vachon of YardSaleSearch.com.
Just keep in mind that if you offer less than half an item's asking price, you may insult the seller. If you're buying several things, gathering them and offering a bulk price could get you a greater discount.
Also, be sure to have plenty of cash on you. While some savvier sellers may take credit cards or accept payments via a cash app such as Venmo, cash is still king at yard sales. Stock up on small bills because sellers may have trouble making change.
7. Steer clear of certain items. You should never buy used cribs, car seats, or bicycle helmets, because older models may not meet current safety regulations. Upholstered furniture can be risky—it may contain bed bugs. For other items, it's a good idea to check Recalls.gov to make sure you're not buying something unsafe or defective.
Garage Sale Tips
There's serious money to be made when it comes to a garage sale—if you do it right. 'Consumer 101' TV show host, Jack Rico, gets the low down from Consumer Reports' expert, Margot Gilman.