When you shop through retailer links on our site, we may earn affiliate commissions. 100% of the fees we collect are used to support our nonprofit mission.
Learn more.
Mother's Day is near, and if you're like a lot of people, flowers are your go-to gift. More money is spent on bouquets around mom's special day (about $2.4 billion last year, according to a National Retail Federation survey) than on Valentine's Day ($2.1 billion).
And more and more of us are ordering our Mother's Day flowers online. Low prices and convenience are the lure: Virtual flower shops can keep prices down because their website is their storefront, and their flowers are often delivered from central warehouses. (Many of them also keep a portion of the sales placed through their websites that they pass on to local florists.) As a result, revenue for online florists has been growing 2.5 percent annually in the past five years as revenue for walk-in flower shops has dropped by 1.2 percent each year during the same time period, according to market research by IBISWorld.
Ordering flowers online also makes it easy to see a wide variety of bouquet choices. The photos on these sites are lovely: Lush arrangements of fresh flowers in full bloom, expertly styled. The only thing you can't do is take a deep sniff. But how can you know how the photo compares with the arrangement that actually shows up at mom's door?
To find out, we ordered similarly composed and priced multicolor long-stem roses as well as mixed-flower bouquets from three popular online sites: 1-800-Flowers, FTD, and ProFlowers. We selected arrangements that were supposed to be delivered in boxes (which usually means they're sent from a central warehouse), representing what many consumers might receive during one of the industry's busiest times of year. Flowers that arrive in a vase are usually arranged by a local florist.
All six bouquets were delivered on Feb. 11, close to Valentine's Day, to match the high-demand Mother's Day moment as much as possible.
When the mixed-flower arrangements arrived, we were surprised to find the ones from ProFlowers and FTD were in a vase. As a result, we didn't include the mixed flowers in our survey because the arrangements represented only what people near our office in Yonkers, N.Y., might receive.
We took pictures of the three bunches of roses in our photo studio. Then we asked 77 staff volunteers to inspect the arrangements and choose which ones they thought represented the best and worst quality, all under the supervision of our lab experts. We followed with an online survey of 162 staffers who were shown the flowers online pictures (we didn't identify the websites) next to photos of the roses that were delivered, and asked how similar they were on a scale of one (not at all similar) to five (extremely alike). FTD roses got the best scores; staffers liked the ProFlowers bunch the least.
ProFlowers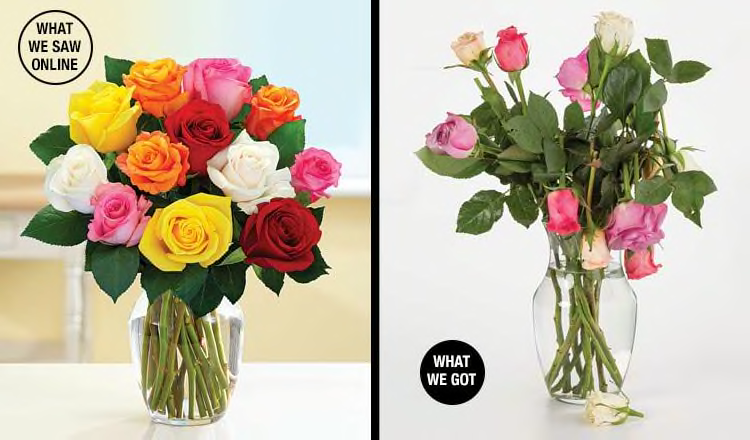 On the left is the photo of the roses we ordered from the ProFlowers website; on the right are the flowers we received. ProFlowers (which was acquired by FTD in December 2014) says on its website that its flowers are hand-picked in fields and sent directly to your door. In our sample of a dozen roses, however, only five were intact. Almost all of our panelists who rated them in person (97 percent) said they represented the lowest-quality bunch. When we asked in our survey how similar the arrangement was to its online photo, 96 percent gave it a 1 out of 5, or a poor rating. When we called ProFlowers to complain, a customer-service rep apologized and sent us another bunch of roses the next day at no additional charge. The replacement roses were full and intact.
Subsequently, after learning about our experience, ProFlowers wrote to us with this explanation: "In this particular instance, we believe the damage occurred somewhere in transit between the farms from where we source directly and your doorstep. We deliver millions of these beautiful, delicate perishable products to our customers delight every year but understand occasionally that even with the best, freshest product and planning, damage can occur." The spokesperson added that if a customer is not satisfied with a purchase, ProFlowers hopes to be given the opportunity to make it right.*

Total price: $56.48
($34.97, plus $12.99 for shipping, $5.53 for tax, and $2.99 for "care and handling")
FTD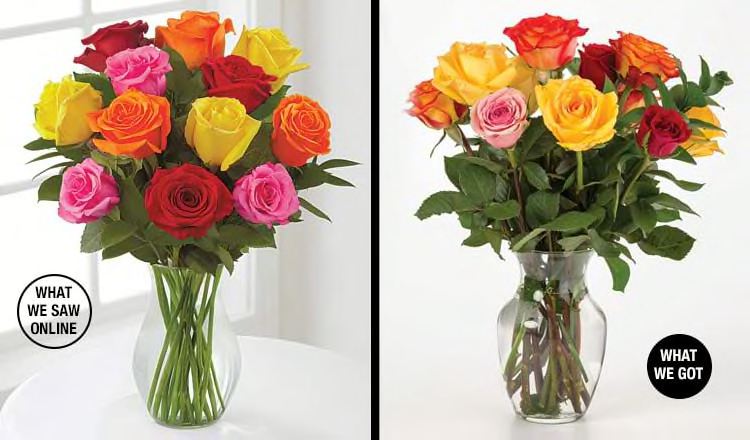 The FTD roses received the best scores from our survey panelists: 95 percent of those who rated them in person said they represented the best quality of the three rose bouquets we ordered. Sixteen percent of the folks who took our online survey said they were extremely similar to the online picture (on the left); another 36 percent gave them a 4 out of 5.
Total price: $76.01
($49.99, plus $18.99 for shipping and $7.03 for tax)
1-800-FLOWERS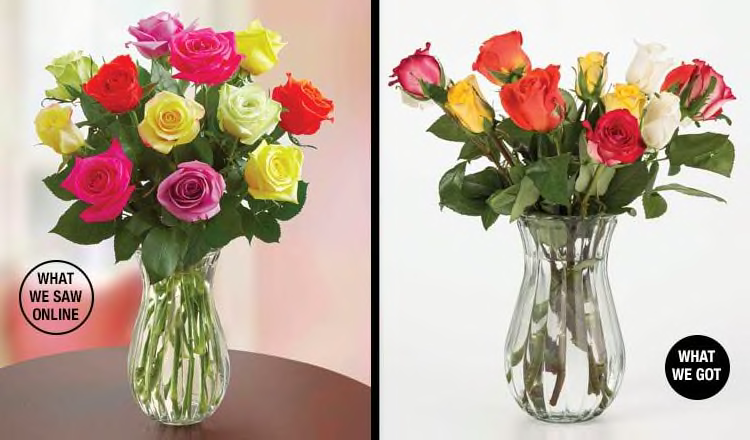 The roses from 1-800-Flowers arrived in fine shape, but our survey panelists were less wowed by them than the FTD roses. When judging how similar our delivery (on the right) was to the flowers online photo (on the left), 37 percent of our staffers gave them a good rating (3); 37 percent rated them fair (2). Only three of the 77 people who looked them over in person thought they represented the best quality among our rose bouquets. Only two said they were the lowest quality.
Total price: $65.01
($44.99, plus $14.99 for shipping and $5.03 for tax)
Smart Shopping Tips
If you'll be ordering a bouquet for mom online, keep this advice in mind:
Go to online flower-delivery websites a few times before you order. We were offered additional price cuts and coupons the more we clicked on the sites.
Don't forget to factor shipping and taxes into your total cost. Our shipping fees ranged from $12.99 to $18.99 for a dozen roses.
Consider having your arrangement arrive a few days before a major holiday. You could save some additional money. Delivery costs escalate in the days leading up to Valentine's Day, as they probably will around Mother's Day.
Ask your mom about the flowers sent. (She may not want to complain to you, or she may just be glad you thought of her.) But if you suspect there was a problem with the bouquet, ask for a photo. Call the company you ordered them from to complain if you or your mother is dissatisfied with a delivery. All three companies we ordered from will replace your flowers or refund your money if you're not satisfied. All three also provide the same options if their flowers don't last for seven days.