When you shop through retailer links on our site, we may earn affiliate commissions. 100% of the fees we collect are used to support our nonprofit mission.
Learn more.
The 2017 Honda Civic Si has arrived, but instead of the powerful punch of pepper we'd hoped for, it's a little on the tame side. Sure, it looks good, and there's power when you need it, but the car seems to have lost some of its edge.
Reinforced for sportier handling and injected with more horsepower, the Civic Si has been Honda's entry in the often spicy arena of sporty compact cars for generations. Honda's approach has traditionally been to outfit its efficient Civic with a high-revving engine, slick manual shifter, and tauter suspension. Now that the automaker is moving to a turbocharged engines, the formula changes. Does a turbo make the latest Si a mild, medium, or hot dish? We just bought Honda's revamped 2017 Civic Si to find out.
The Si comes as either a four-door sedan or a two-door coupe. The only transmission is a six-speed manual. The sedan starts at $23,900. The 1.5-liter turbo is boosted to 205 horsepower. Our red four-door sedan stickered at $24,775. Exterior identification marks include a not-so-subtle rear spoiler, Si badges, and 18-inch wheels. Inside, you'll find bolstered seats with red Si embroidery and a few extra instruments, such as a stopwatch and a G-meter. Gimmicks? Perhaps.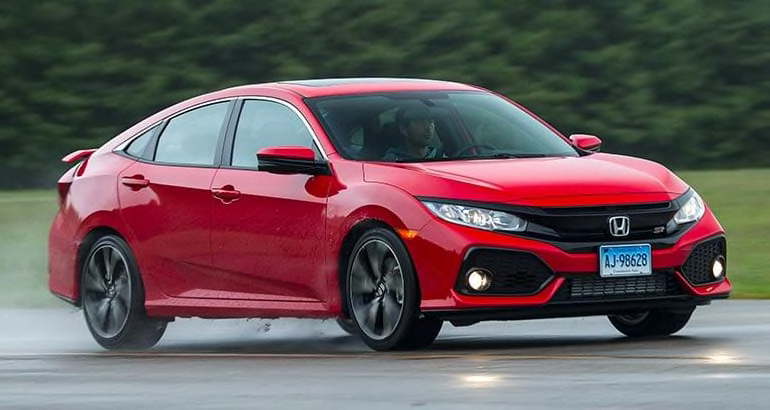 On the road the Si's little turbo supplies readily available power while turbo lag is hardly noticeable. In sharp contrast to the previous Si, which only came to life at the upper reaches of the rev range with an invigorating song, this Si's thrust is much more accessible, but some might say its delivery is less exciting. The manual shifter is a delight with crisp, precise action. There's a Sport button that first paints the instrument panel red, but it actually sharpens throttle response, tightens the dampers, and firms up the steering.
Handling is ratcheted up with a lowered and stiffened suspension, making the Si corner with less roll than a normal Civic and with a quicker turn-in response. While the steering effort is on the firm side, that doesn't mean it communicates a whole lot of feedback. Clearly nimbler than an ordinary Civic, the Si is not going to challenge the Volkswagen GTi or Ford Focus ST in the fun-to-drive arena.
As you might expect, ride comfort is compromised in the Si compared with the regular Civic. While the suspension offers some layer of comfort and absorption, the Si is stiff and choppy, even when Sport mode is off, particularly on corrugated pavement. Noise is inoffensive, but we think the exhaust sound could be a little more interesting, to better contribute to the sporty experience. Still, compared with the last Si, which was extremely loud and had an even stiffer ride, the new Si is less high-strung and doesn't beat you up as much.
You spelunk into the low-slung Civic to be embraced by the bolstered seat. Be aware that there's no lumbar support adjustment. The chrome-tipped shifter falls right into your palm. The Sport button also activates a row of lights that vary in color that change with the revs, à la a race car. And if you can figure out Honda's convoluted multi-information display in the instrument cluster, you can use a stopwatch to time your zero-to-60 acceleration, or your lap times on the track.
Other than the Si sporty tidbits, it's the same Civic that benefits from a relatively roomy rear seat but suffers from a clunky infotainment system. The touchscreen isn't always intuitive or quick to respond. Instead of a blind-spot monitoring system that covers both sides, you get Honda's LaneWatch, which monopolizes the screen with an image of what's on your right flank every time you have your right turn signal on.
Advanced electronic safety features aren't available on the Si as they are on the Civic, and that's too bad.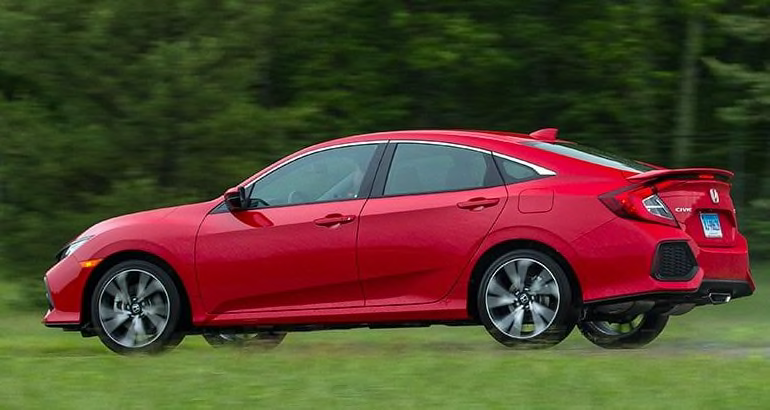 The Si comes across as mildly sporty, an incremental step on the sporty spectrum from a regular Civic, and can be the right car for someone looking for a sports sedan on a budget. Think of it as mild salsa as opposed to the upcoming Civic R, which might be the superhot stuff.
The Si battles the Ford Focus ST, Subaru WRX, and Volkswagen GTI—well-credentialed, enthusiast-targeting cars that take different tacks to meld sporty performance, practicality, and affordability. Check back with us to see how the Civic Si ranks among its peers when we finish testing it.
Until then, read the complete Honda Civic road test.