When you shop through retailer links on our site, we may earn affiliate commissions. 100% of the fees we collect are used to support our nonprofit mission.
Learn more.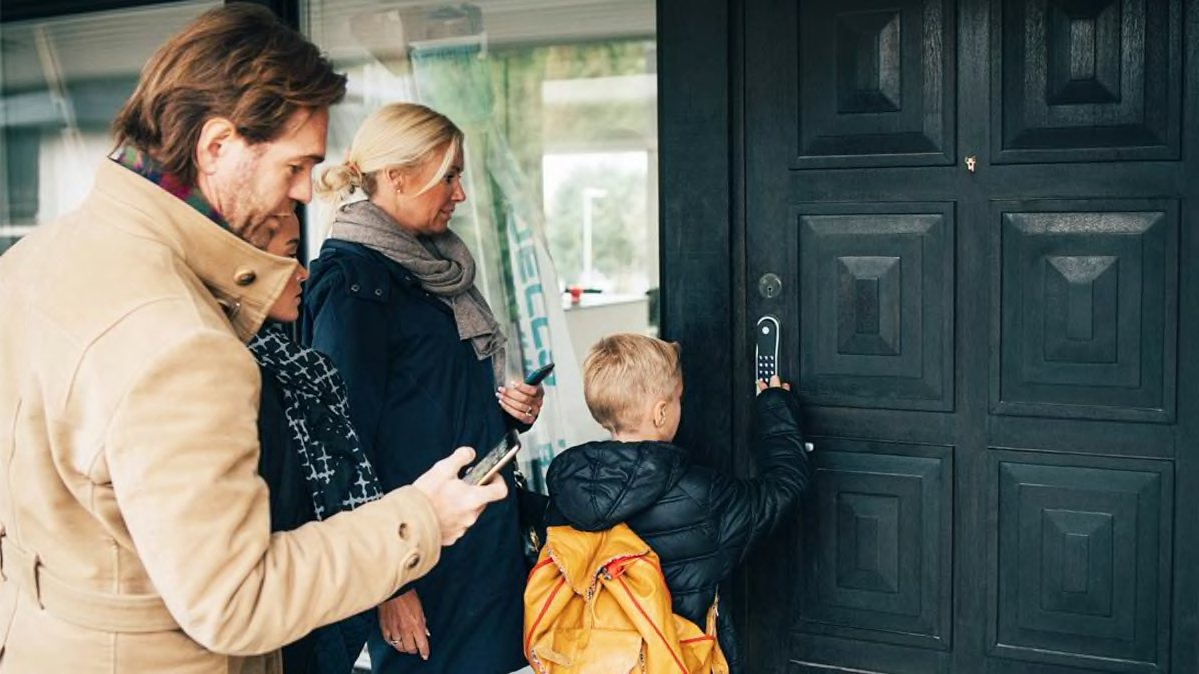 If you own a short-term rental property, you know how inconvenient it can be to meet up with guests to hand off keys.
That's why many rental companies and online booking services, such as Airbnb and VRBO, are embracing smart locks. (VRBO stands for "Vacation Rentals by Owner," and is owned by HomeAway.)
Internet-connected smart locks replace or augment your property's existing deadbolt and give you the ability to create access codes (for use with a keypad that's connected to the lock) and electronic keys (where a smartphone app acts as the key).
"We've tested a few smart locks that don't even have physical keyholes," says Dave Trezza, CR's door lock test engineer. "The only way to open them is with a keypad or an electronic key."
Having a smart lock on your rental means you don't have to be around to give guests a key, and you can see when they come and go. You'll know that they made it inside successfully, whether they're having trouble with the lock, and when they've vacated on checkout day, so you can get in to clean.
Some locks even integrate with online booking services to issue access codes or electronic keys automatically to guests with reservations; at checkout time, access automatically expires. Both Airbnb and HomeAway offer this capability for specific smart locks, which we'll cover below.
"Typically, we see that people overwhelmingly prefer the security and convenience of our fully automated solution," says Eric Moore, HomeAway's vice president of product management.
If you're interested in using a smart lock to give guests access to your rental, you have a choice to make. You can go with the automated method available on select smart locks that work with Airbnb and HomeAway, or you can do it yourself.
Below we walk you through both methods.
Whichever smart lock you go with, make sure it includes all the hardware you need to connect it directly to the internet. It might seem surprising, but many smart locks don't come with a built-in ability to connect to the internet. Instead, they connect to your smartphone via Bluetooth when you're nearby.
Most standalone smart locks, such as the CR-rated August Smart Lock Pro, need an extra device called a WiFi bridge to connect directly to the internet. These bridges can range in price from about $60 to $100, depending on the brand, though some brands bundle bridge and lock in one package (August Smart Lock Pro + Connect).
And if you're still a little fuzzy on smart locks, check out CR's smart-lock buying guide as well as our complete smart-lock ratings.
Option 1: The Hands-Off Method
First, you'll need a smart lock that works with your booking service.
For Airbnb, different locks are compatible in different regions and countries. The best way for you to find a compatible lock is to go to the Airbnb Host Assist portal. An Airbnb spokesperson did call out August smart locks and LockState smart locks as examples.
HomeAway confirmed compatibility with multiple smart-lock brands, specifically August, LockState, and ResortLock.
For smart locks that aren't directly compatible with Airbnb or HomeAway, there's a service called VirtualKey that acts as a bridge between these booking services and certain smart locks. VirtualKey works with a few CR-tested smart locks: the Schlage Connect and Yale touch-screen deadbolts.
How to get your smart lock connected to a booking service will differ by service as well as lock brand. We recommend starting with the lock provider's app to see whether there are prompts for Airbnb or HomeAway integrations in one of the menus. If not, check the Airbnb Host Assist website or your HomeAway Owner Dashboard. If you're using VirtualKey, you'll want to sign up and follow the prompts.
Here's one example:
With an August smart lock, you connect to Airbnb from the app by going to Account, then August Access, then August Works With. For HomeAway, you would start from the HomeAway Owner Dashboard on HomeAway's website. Once there, navigate to Hospitality, then Add-Ons, then Door Locks. At that menu level, select August. You'll be redirected to August's website and asked to log in with your credentials to authenticate the account.
With the direct integrations for Airbnb and HomeAway, guests will automatically receive their access codes or electronic keys ahead of their stay, though the timing varies. According to Airbnb, it varies by smart lock brand. As for HomeAway, a spokesperson says the host can choose a delivery time, so long as it's at least three days prior to check-in.
If you're concerned about giving these services this kind of control, CR's program manager for privacy and security, Robert Richter, says you should be—or at least be thinking carefully about it.
"You should always be wary of giving a company this level of control over your property, as there's always a chance their system can be compromised," Richter says. "But that's not unique to this situation. Typically, large companies with a long history with technology, like Airbnb, put a lot of effort into engineering a secure experience. But always make sure to read the information they give you."

Option 2: The Do-It-Yourself Method
If you're nervous about outsourcing access to your property, you can opt for the do-it-yourself method. It requires more work on your part but gives you total control over who receives access and when that access is granted and revoked.
The process is similar across lock brands, though not identical. Open your smart lock's mobile app and look for a menu button that says Guests, People, Access Codes, Electronic Keys, or some variation of those terms. From there, follow the prompts to choose whether to create an access code or electronic key.
Some smart locks, such as the Schlage Sense, give you both options, while other locks only give you one option. (The Kwikset Kevo, for instance, offers only electronic keys.) For access codes, you'll be able to create a PIN of your choosing that's four to eight digits long.
To create the code or key, you'll be prompted to name a recipient and possibly add his or her email address or phone number. You might also have the option of choosing a length of time for the code or key to remain active, handy for programming the access to automatically expire at checkout.
If your lock doesn't have that option, you'll need to go back into the app and delete the guest's code/key after checkout. Once it's set up, some smart lock apps will offer to send the code or key to your guest. Of course, you can also do that yourself.
Protect Your Home When You're Away
You want to keep what you have safe from burglars, right? On the 'Consumer 101' TV show, Consumer Reports shows you how to protect your property when you're not home.