The Apple HomePod is the latest in a new generation of smart speakers that are meant to offer instant information and home control, as well as premium sound quality.
The prices are premium, too. The HomePod retails for $350; its close competitors include the Sonos One, which goes for $200, and the $400 Google Home Max. (In contrast, some smart speakers retail for under $100.)
When we testeds Apple's speaker in our labs, we found it does deliver very good audio performance, though it's not the best-sounding wireless speaker in our ratings—or even the best-sounding smart speaker. (More about that in a moment.)
More on Wireless Speakers
When the HomePod was unveiled by Apple last summer, the smart speakers on the market—several iterations of the Amazon Echo and the original Google Home—weren't very impressive when playing music. The Echo received a Good rating for sound quality from our testers. The Google Home? Only a Fair rating.
But while the world was waiting for Apple's speaker to go on sale, Sonos and Google raised the stakes with the Sonos One and the Google Home Max, which launched last fall. By the time Apple's smart speaker was introduced in early 2018, it was just one of several options for discriminating music lovers.
How Does It Sound?
The Apple HomePod's Very Good sound quality rating puts it well ahead of the early generation of smart speakers. But the Sonos One and the Google Home Max also received Very Good ratings—and their sound quality scores were slightly higher.
Consumer Reports evaluates sound quality for speakers, smart or otherwise, in a dedicated listening room in which our experienced testers compare each model with high-quality reference speakers. Each test unit that allows for user controls is tuned for optimum sound quality—we want the speakers to sound their best.
The HomePod will serve many music fans well, but CR testers did hear some flaws. The HomePod's bass was a bit boomy and overemphasized. And the midrange tones were somewhat hazy, meaning that some of the nuance in vocals, guitars, and horns was lost: These elements of the music couldn't be heard as distinctly as in more highly rated speakers. Treble sounds, like cymbals, were underemphasized. But the HomePod played reasonably loudly in a midsized room.
The bottom line? Overall the sound of the HomePod was a bit muddy compared with what the Sonos One and Google Home Max delivered.
All three of these speakers were impressive compared with other smart speakers we've tested, but they fall significantly short of our highest-rated wireless speakers, such as the Edifier S1000DB, $350, which earned an Excellent sound-quality rating.

Upon its initial release, the HomePod didn't offer stereo pairing or multi-room capability like the Home Max or Sonos One, but a few months later a free software update enabled these two features. Our testers confirmed that the features worked as promised, though they didn't affect the HomePod's sound quality scores.
While sound quality is the most important criteria in our smart speaker testing, our testers also evaluated the HomePod for versatility and ease of use. After the software update, the HomePod was rated Good in both of those categories, and earned an overall Recommended rating.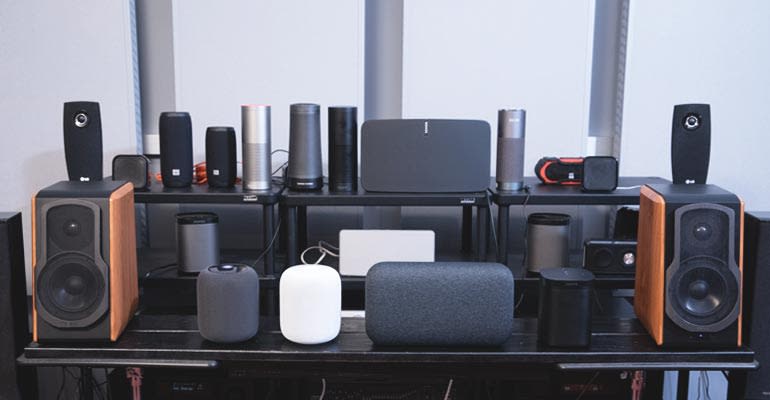 Form and Function
The HomePod is small and sleek in a typically Apple sort of way. It's cylindrical in shape and slightly less than 7 inches tall, making it about the same size as a Sonos One but considerably smaller than the Home Max.
It's covered in a soft grill material that comes in Space Gray or White. The cloth grill can't be removed or replaced, but it can be cleaned gingerly with a wet or dry cloth.
There's a single large touch-sensitive button on the top of the device that allows you to play, pause, skip a song, adjust the volume, or talk to Siri. You can also wake the speaker up from across the room by saying "Hey, Siri." To hear your commands, the HomePod contains six built-in far-field microphones.
The speaker also includes seven tweeters to play higher-pitched sound and a single 4-inch woofer to handle the bass.
Apple says that every time you move the speaker, it senses the motion, then automatically adjusts itself to its placement in the room using a series of test tones and complex algorithms to minimize reflections from nearby walls or other objects. That's not a feature we evaluated.
Finally, the HomePod is yet another major brick in Apple's walled garden. You'll need an Apple iOS device to set up the speaker, and you get the fullest range of voice commands with the Apple Music streaming service. To use a competing service such as Spotify with the HomePod, you have to control it through your phone.
Editor's Note: This article has been updated to reflect new test results for the Apple HomePod following a software update.
Consumer Reports is an independent, non-profit organization dedicated to helping consumers. We make it easy to buy the right product from a variety of retailers. Clicking a retailer link will take you to that retailer's website to shop. When you shop through retailer links on our site, we may earn an affiliate commission – 100% of the fees we collect are used to support our mission.
Learn more.
Our service is unbiased: retailers can't influence placement. All prices are subject to change.