When you shop through retailer links on our site, we may earn affiliate commissions. 100% of the fees we collect are used to support our nonprofit mission.
Learn more.
When you shop through retailer links on our site, we may earn affiliate commissions. 100% of the fees we collect are used to support our nonprofit mission. Learn more.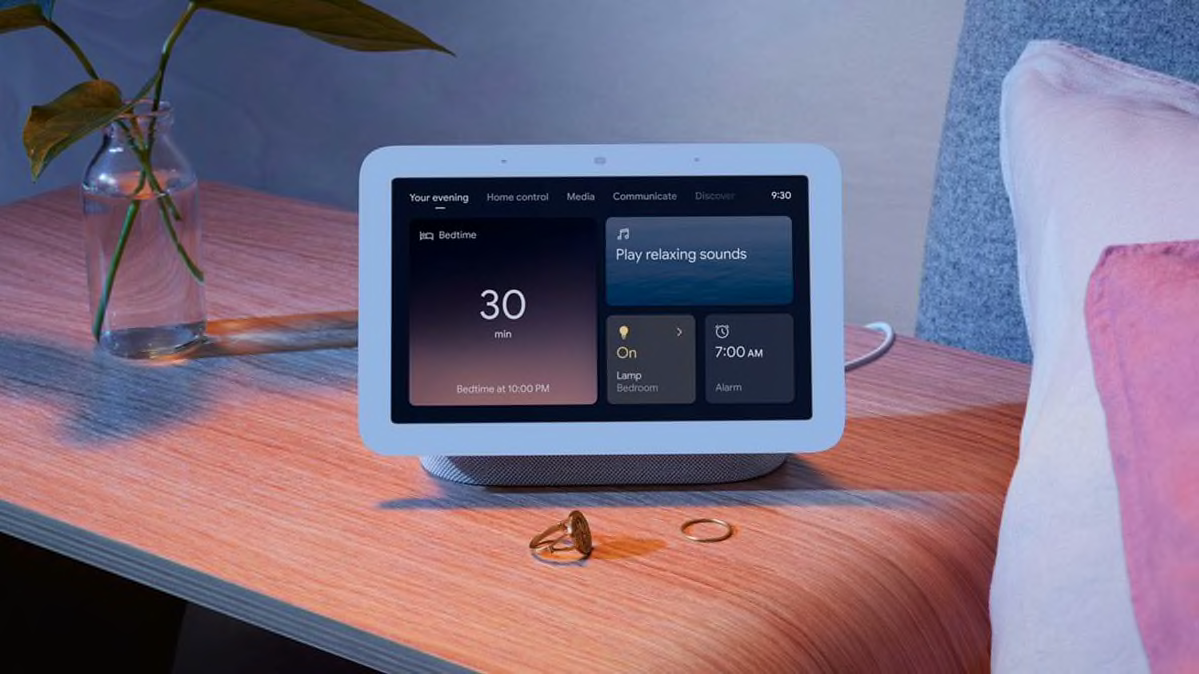 "So how did you sleep last night?"
When that question came up in our bedroom, it was always between my wife, Sally, and me. But over the past week we made it a threesome, thanks to the newest Google Nest Hub smart speaker.

The Google Nest Hub, which goes on sale today, is a $99 smart speaker with a 7-inch touch screen.
It doesn't look much different from its predecessor, also called the Google Nest Hub. But this second-generation model includes a new feature—touch-free sleep tracking—that all but demands that you put it in the bedroom instead of on the kitchen counter, where most smart speakers with screens have resided.
I borrowed a prelaunch sample from Google to try out that sleep-tracking function. We'll be putting another Nest Hub through a full laboratory evaluation, and like all our test models, it will be purchased by Consumer Reports at full price through a retail outlet, just like you would do.
In the meantime, I wanted to take the new Nest for a trial run to see how easy it is to set up and use, especially compared with devices such as the Apple Watch and the Oura Ring that you wear to bed for sleep tracking.
At the heart of the Nest Hub's sleep tracking is a proprietary Soli sensor that Google describes as "miniature radar." Originally designed for gesture recognition in Pixel smartphones, wearables, and other devices, this motion sensor is sophisticated enough to record the nighttime activity of a single person, excluding movements from a partner. The Nest uses other sensors as well.
"Sleep Sensing uses Motion Sense to track the sleep of the person closest to the display," according to the company's website. It combines "low-energy radar to detect movement and breathing," with sensors that "detect sounds, like snoring and coughing, and environmental factors, like light and temperature in the room."
It's important to recognize that sleep trackers don't actually measure sleep directly. That requires a gold standard test called polysomnography, which is administered by a technician in a sleep lab and uses a variety of sensors, including one to measure EEG brain waves.
Instead, consumer-grade sleep trackers measure parameters that are typical of sleep, notably movement (or lack thereof). The devices you wear on your wrist, finger, or forehead often add measurements like pulse rate and blood-oxygen-level readings to help refine their findings.

But the Nest Hub is supposed to allow you to track your sleep unencumbered by straps and bands. The sleep data it collects, which includes everything from your total sleep time to the number of times you coughed, can be seen on the device itself and, in greater detail, on the Google Fit app. The Nest Hub also graphs your sleep time by the week or the month to help reveal trends.
Google adds the blanket disclaimer that the Nest Hub is not a medical device for diagnosis of sleep disorders. That's true of the consumer-grade wearables as well.
(The new Nest Hub is currently available for $99 at Bed Bath & Beyond, Best Buy, Google, and Target.)
Features and Setup
At first glance, the Nest Hub is a pretty conventional smart speaker with a screen. The smallish touch screen can be set to display a smart speaker menu, clock, or gallery of images, acting as a digital picture frame.
Like most smart screens, it can also play video, and it's especially adept at serving up content from Google-owned YouTube. It's not like watching on a 65-inch OLED but more gratifying than your phone.
The Nest Hub can also control smart home devices like a Nest thermostat or smart bulbs, although I didn't try those functions.
The speaker features a smart-alarm function that can be set with a weekly schedule and a wake function, called Sunrise Alarm, that gradually increases the brightness of the display when it's almost time to get up. It offers a wide variety of wake sounds, many with a spalike vibe designed to rouse you gently.
Before you use it, the Nest Hub needs to be set up on your nightstand or another mattress-level surface near the head of your bed. The relatively quick process requires you to lie still in bed for a few minutes while the Soli sensor does its thing.
For the best results, Google suggests you remove any objects between you and the speaker. And once it's positioned, the Nest Hub shouldn't be moved.
Having a smart speaker in your bedroom prompts some privacy concerns. The Nest Hub doesn't have a camera, which addresses one issue (though you can't make video calls). The mic can also be turned off with a switch on the back.
With a notice on the screen, the device does make it clear to you—or a partner or guest—when it's in Sleep Sensing mode. However, once you turn on Sleep Sensing and log in to the Google Fit smartphone app, the Nest Hub will keep recording your sleep data and sending it to Google.
The raw sound data—breathing, coughing, etc.—as well as movement information from the Soli sensor is, according to Google, processed within the device and not sent to Google's cloud servers, where most Google Assistant requests are processed.
"Devices that sense your activity in the background raise many privacy concerns," says David Choffnes, a smart speaker researcher and associate professor at Northeastern University's Khoury College of Computer Science.
"If what Google is saying is correct, it is good for privacy that they are not transmitting audio of breathing or coughing to their cloud," he adds. "However, even the inferred data about sleep and health is highly sensitive, and the privacy implications of collecting this data are not addressed by simply not transmitting audio."
Choffnes adds that his lab would need to run experiments on the Nest Hub to determine the validity of Google's privacy claim.
I found it can take more than an hour in the morning for the Nest Hub to process the results from the night before, which eliminates the instant gratification factor that wearable sleep trackers can provide.
What We Learned
I used the sleep tracker on the Nest Hub for five consecutive nights and got mixed results.
The first night was fine, with the device recording around 7 hours of sleep, which basically agreed with both my subjective evaluation—I woke up without my alarm and felt generally well-rested—as well as the results from the sleep tracking function on my Oura Ring.
On some subsequent nights, the Nest Hub seemed to either over- or underreport my sleep. On the second morning, when I brought my laptop back to bed and started working on a news article while still in my pj's, it added an hour to my sleep duration.
The following night, when I was watching the Tom Hanks movie "News of the World" with my wife, the Nest Hub again seemed to think I was sleeping.
In the morning, the Nest Hub reported that I had slept 11 hours and 17 minutes, although when I later checked the "processed data" on the Google Fit app, my sleep time was revised downward to a more plausible 7 hours and 48 minutes.
Another night, the Nest Hub logged more than 2 hours less sleep time than my Oura ring.
In its product literature, Google warns that "device placement and nearby people, pets, or noises can cause inaccurate readings." So it's entirely possible that my golden retriever Rugby is to blame for some of the odd results. (She sometimes snores.)
"Minor differences between sleep trackers are common and don't reflect any accuracy problem with either device," says Ashton Udall, senior product manager for Google Nest. "The most important thing about sleep tracking ... is monitoring changes over time and how those relate to how you're feeling."
And the variations come as no surprise to sleep experts who explain that all consumer-grade sleep trackers have limitations when it comes to accuracy.
"All of these devices have constraints, and weaknesses. None of them are perfect," says Michael Grandner, director of the Sleep & Health Research Program at the University of Arizona School of Medicine. "The question isn't whether it's accurate, the question is 'How is it inaccurate, and how do you interpret that information?' "
With new devices using new technology, like the Nest Hub, consumers should be careful not to take the results too literally, he says.
My experience with the Nest Hub was admittedly limited; five nights is a small sample. Going forward, I could change certain practices to reduce discrepancies—watching TV downstairs or working in my office—or just treat those unusual results as outliers.
A month's worth of information from the Nest Hub, which can be found both on the device and in more granular form on the Google Fit app, would likely allow me to draw inferences about how much sleep I'm getting and what factors affect that.
In short, it seems that the Nest Hub's sleep tracking information isn't perfect, but it's probably useful if your goal is simply to understand and improve your sleep.
Should You Buy a Google Nest Hub?
Does the new Google Nest Hub deserve a spot on your bedside table? The device offers an impressive amount of technology for less than $100, only $10 more than the first-gen model. It pairs the do-what-I-say functionality of a smart speaker with some cool tricks from a tablet or smart frame. And in that way, the model should merit serious consideration for a spot on your kitchen island or even your desk.
Our testers found the first-gen model to be versatile and easy to use, though the below-average sound quality left it near the bottom of our smart speaker rankings, well below the similarly sized and priced Amazon Echo Show 8. Google says the sound quality has improved, but I can't vouch for that until we put the new Nest Hub through its paces in our labs.

Sharing your bedroom with the Nest Hub? That's a more personal question. The sleep tracking functionality is pretty impressive even if its conclusions don't completely jibe with a wearable unit. But in order to pull off the sleep tracking feature, the Nest Hub essentially listens to every breath you take as if it's a "Hey, Google" wake word, and records you all night long.

As my wife, Sally, said when I explained how the Nest Hub works, "That's kind of creepy." But, of course, your feelings may vary.
So while I'll probably miss the Nest Hub's retro-cool flip clock display, I think I'll go back to answering the question "So how'd you sleep?" with words instead of data, and make my bedroom a smart-speaker-free zone again.