When you shop through retailer links on our site, we may earn affiliate commissions. 100% of the fees we collect are used to support our nonprofit mission.
Learn more.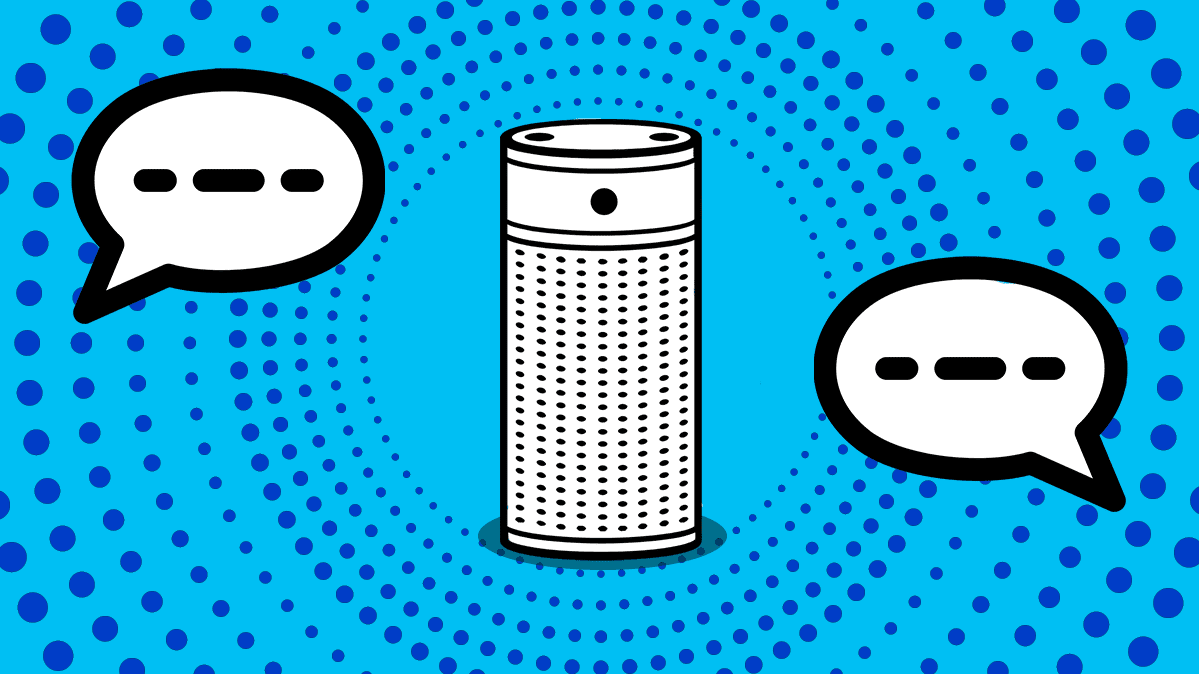 If you own a smart speaker, you should be mindful about the internet-connected microphone that lives inside it, according to David Choffnes, Ph.D., an associate professor of computer science at Northeastern University in Boston. How does he know? Well, he and Daniel Dubois, Ph.D., are conducting a privacy study on smart speakers in consultation with Consumer Reports, and they've come up with some interesting early results.
The team started with the leading brand, setting up four identical Amazon Echo speakers, each programmed to respond to a different wake word: Alexa, Amazon, Computer, or Echo. Then they exposed the devices to lots of conversation by playing three audiobooks and nine episodes of the super-talky TV show "Gilmore Girls."
More on Speakers and Privacy
The results? During the "Gilmore Girls" marathon, the speakers started recording snippets of dialog 10 times without hearing the correct wake word.
During the audiobook test, the team recorded 63 false positives in 21 hours.
Some of the false positives sounded a lot like an official wake word. (See examples below.) Others? Not so much. There was some good news: When a speaker was fooled into responding to a false wake word, it stopped recording within seconds, Choffnes reports.
We called Amazon for an explanation. "In rare cases," a spokeswoman said, "Echo devices will wake up due to a word in background conversation sounding like Alexa or one of the other available wake words." The company continues to work hard to improve the speaker's performance, she said.
The simplest way to control what your smart speaker hears is to mute it when you're not using it. Of course, the unit won't respond to voice commands until you turn it back on.
To mute an Amazon Echo, press the microphone on/off button on top of the device. When the button turns red, the mic is off. To reactivate it, press the button again.
If you have a third-party smart speaker that uses the Alexa digital assistant, consult your manufacturer's instructions to find out how to mute your unit.

Bits of Dialog That Appeared to Trigger the Speakers in Choffnes' Lab
Mistaken for Alexa
• I need medical assistance
• It's actually
• I like [plus any word that begins with "S"]
• A later [plus another word]
Mistaken for Amazon
• This is on
• It was
• There were none
• As soon as
• Last night
• There was also
• Eyes were wide
Mistaken for Computer
• Confident
• Kiro
Mistaken for Echo
• Marco
• Echoing
• That's also
More Accidental Wake Words
These examples came from Consumer Reports staffers and members of our Facebook groups.
Mistaken for Alexa
• Election
• I like some
Mistaken for Echo
• Petco
• Pickles
Mistaken for Google
• Good girl
• Goofball
Mistaken for Siri
• Seriously
• Hey, sir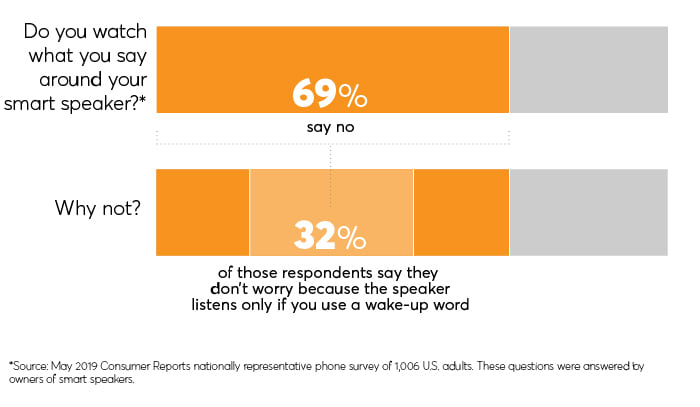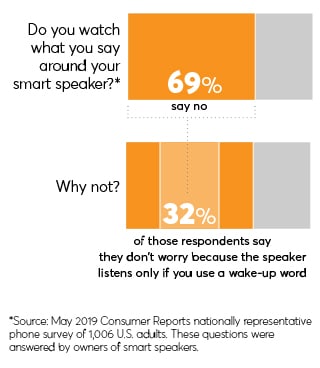 How to Delete Alexa Recordings
Amazon, Apple, and Google have at times had humans review bits of dialog recorded by their smart speakers to improve their voice computing technology. To delete select recordings and place limits on the use of such data, you have to dip into the settings on the device's mobile app. But Amazon recently made things slightly easier with two new voice commands: "Alexa, delete what I just said" and "Alexa, delete everything I said today." Before you can use the feature, you have to activate it.
On the Alexa App:
Tap the three bars in the upper left and choose Settings > Alexa Privacy > Review Voice History > and flip the toggle switch to enable deletion by voice.
Concerned about who's watching you? CR shares easy and effective ways to take more control of your digital privacy.
Protecting Your Privacy From Smart Speakers
How much is your smart speaker listening to you? On the "Consumer 101" TV show, Consumer Reports expert Bree Fowler explains to host Jack Rico how you can protect your digital privacy.
Editor's Note: This article also appeared in the October 2019 issue of Consumer Reports magazine.