When you shop through retailer links on our site, we may earn affiliate commissions. 100% of the fees we collect are used to support our nonprofit mission.
Learn more.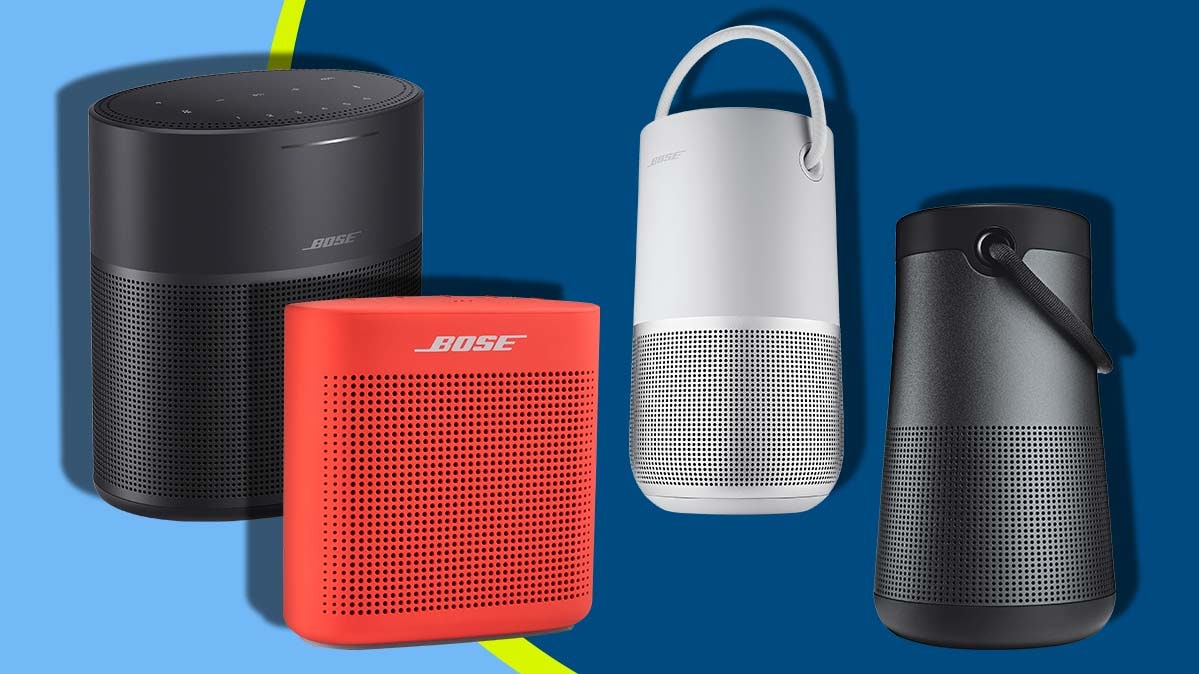 Generations of music lovers have attempted to simplify the complex task of shopping for speakers by following a three-word mantra: Buy a Bose.
And with good reason. For decades the company has made innovative, high-quality products that have generally performed well in our tests.
But even if you've narrowed your choice to this single brand, it doesn't mean that your decision making is over. Bose, based in Massachusetts, offers a complex product line with smart and wireless Bluetooth speakers at a wide variety of prices. Some of the speakers are compatible with each other, and some are not.
More on Smart and Wireless Speakers
Consumer Reports put the models below through our rigorous independent testing program, which begins with purchasing speakers through normal retail channels—no freebies for us—and rating them for sound quality, ease of use, and versatility.
In the roundup below, models are separated into smart speakersand wireless Bluetooth speakers, and ranked in descending order of our overall test score. Please note that smart speakers and wireless speakers are ranked on a different scale, so scores can't be compared across categories.
Bose Smart Speakers
Bose Home Speaker 500
What's to like: The Home Speaker 500 is one of the few smart speakers that allows the consumer to choose between Amazon's Alexa and Google Assistant. It fares quite well in our sound quality tests, featuring strong bass and detailed highs that can reproduce both the thrwock of a kick drum and the shimmer of cymbals with lifelike realism.
What's not to like: It's hard to know what to make of the small LCD screen that shows the title and album artwork from your playlist. Some users may like it, while others will find it to be kind of an awkward half measure, sitting between an audio-only device and a smart speaker with a full-blown screen like the Amazon Echo Show.
The Home Speaker 300 can't be synced with Bose's SoundTouch wireless models, which can be a drawback if you're a longtime fan deeply entrenched in the Bose ecosysem.
Who should buy it: Someone looking for a speaker that delivers smart feature versatility and a little added visual information about the tracks on their Remember the 2000s playlist.
Bose Home Speaker 300
What's to like: Like its larger sibling, the Home Speaker 300 is one of the few smart speakers that allows the consumer to choose between Amazon's Alexa and Google Assistant. The sound quality is also a plus; it doesn't give away much to its larger sibling, despite a significantly lower price. The main difference is that it plays somewhat louder and it can reproduce lower bass notes more accurately.
What's not to like: Unlike its larger sibling, the Home Speaker 300 doesn't feature an LCD screen—which some users may consider a benefit. Also note that the Home 300 lacks multiroom compatibility with Bose's older SoundTouch wireless models.

Who should buy it: A music lover looking for a good-sounding, versatile smart speaker that's simpler and cheaper than the Home Speaker 500.

Bose Portable Home
What's to like: The Portable Home is sleek and compact, and our testers report that its sound quality is more than respectable for its size. There are few portable models that can match its combination of sound quality and smart speaker functionality.

What's not to like: You're paying a significant premium for portability. If you're planning on using the speaker only in the house, you can buy better-sounding and higher-rated models, such as the Google Home Max. If you've got your heart set on a portable smart speaker, you might consider the Sonos Move, which is somewhat more expensive but fared even better in our tests.

Who should buy it: A music lover who's short on space and wants a good-looking, good-sounding, go-anywhere speaker with a small footprint.
Bose Wireless Bluetooth Speakers
Bose SoundLink Color II
What's to like: While it lacks the fancy features, such as LED lighting and sound effects, found on some inexpensive wireless speakers, the SoundLink Color II performs where it really matters. It's cool and colorful and easy to use, and our testers report that it provides sound quality that compares favorably with that of much larger and more expensive speakers.

What's not to like: The IPX-4 certification makes the speaker splashproof rather than fully waterproof like, say, the similarly priced but dunk-safe JBL Flip 4, so the Bose isn't the first choice for Beach Blanket Bingo. (Consumer Reports doesn't test speaker manufacturers' waterproofness claims.)

Who should buy it: An active music lover who's looking for a speaker to take outdoors but not to the shore or the pool.

Bose SoundTouch 20 Series III WiFi
What's to like: Borrowing a page from the world of vintage-inspired sneakers by Adidas, Nike, and others, the SoundTouch 20 sports a retro-chic aesthetic that really looks like an update of a classic Bose radio from the 1990s or 2000s. Our testers also find the SoundTouch 20 easy to use, with prominent buttons for frequently used controls.
What's not to like: The SoundTouch 20 is rather expensive considering its sound quality, and you can't stereo-pair two SoundTouch 20s. More importantly, Bose seems to be phasing out its line of SoundTouch speakers, which can't be synced with Bose's smart speakers as part of a multiroom system. Its horizontal design can also eat up space on a table or counter.

Who should buy it: A Bose traditionalist who's not on a budget or considering expanding to a whole home audio system.

Bose SoundLink Revolve+
What's to like: With its steely, cylindrical styling, the Bose SoundLink Revolve+ hits an aesthetic sweet spot, and the result is an attractive speaker that can blend with either home or office décor while providing enjoyable but not stellar sound. Our testers also give high marks to the large and intuitive controls that are easily accessible on the top of the speaker.
What's not to like: Our testers report that the Revolve+ doesn't sound much better than its smaller sibling, the Revolve—the larger model's edge lies primarily in volume and bass—while it costs about one-third more.

Who should buy it: A consumer with a big room, a sense of style, and not much price sensitivity.
Bose SoundLink Revolve
Bose SoundLink Revolve
What's to like: Like its larger sibling, the Revolve+, the Revolve features distinctive styling that should appeal to a wide variety of consumers, along with sound that's basically satisfying but somewhat flawed. The large and intuitive controls on the top of the speaker are another plus, and the Revolve uses the same optional charging cradle as the Revolve+.

What's not to like: While the SoundLink Revolve is a moderately small portable speaker with a handle, it lacks waterproofing and dustproofing, so it's not so great for the outdoors.

Who should buy it: A style-conscious, value-conscious consumer looking for a speaker that can move easily from room to room.
Bose SoundLink Micro
What's to like: Sometimes smaller is better. The tiny SoundLink Micro is cute and hyper-portable, and comes with a strap that allows you to lash it to a bicycle, backpack, or stroller and listen to "This American Life." Bose claims that it's waterproof, so it's a good choice for wet and wild action.

What's not to like: If the Micro's small size isn't super-important to you, the Bose SoundLink Color II offers much better sound quality for not much more money, albeit in a less waterproof package.

Who should buy it: A podcast-loving fan of tiny speakers.