When you shop through retailer links on our site, we may earn affiliate commissions. 100% of the fees we collect are used to support our nonprofit mission.
Learn more.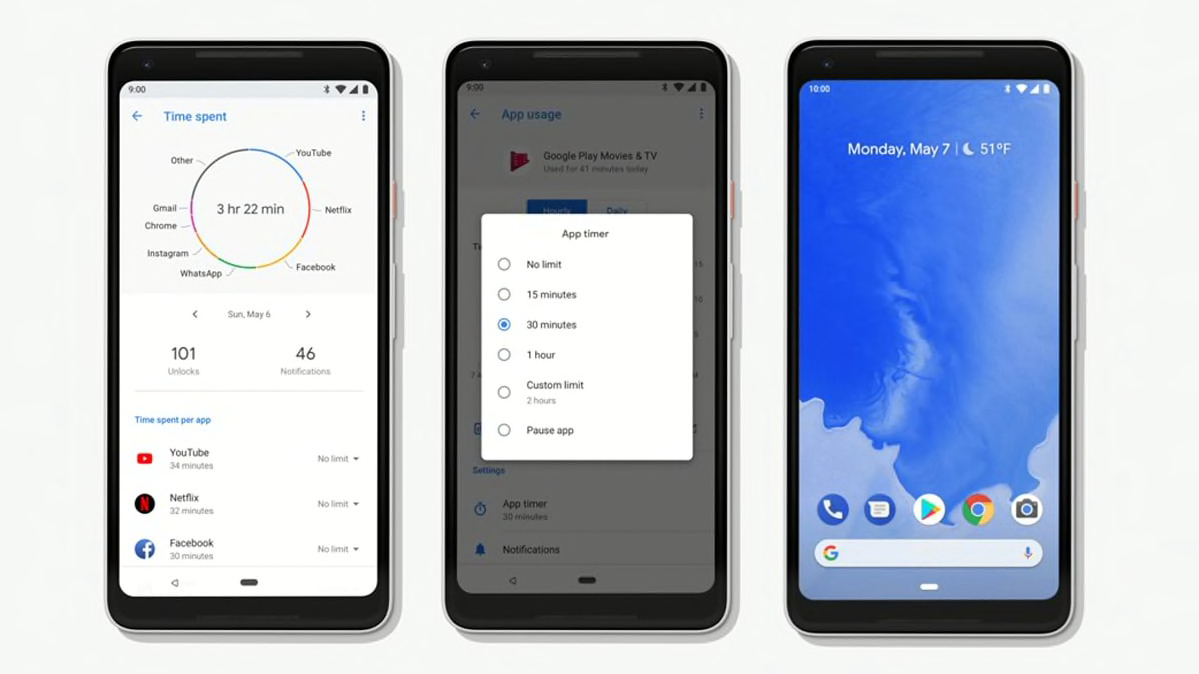 Google, the company that makes the world's most widely used smartphone operating system, thinks you probably spend too much time with your phone. So it's building tools into the next version of Android to encourage you to take more breaks.
These changes, being introduced in Android P, come as part of a focus on "digital well-being" designed to answer worries about the addictive aspects of smartphone use.
Android P is the working name for the upcoming 9.0 release of Android. Google hasn't announced its final name for the OS, which it plans to launch in the third quarter, but industry watchers are speculating that the P will stand for Popsicle, in keeping with Google's pattern of dessert-themed monikers.
In the keynote that opened this year's edition of Google's annual I/O conference in Mountain View, Calif., company executives also talked up how Android P will employ more of Google's machine-learning prowess to ease your digital life, but in a way that preserves user privacy.
Additionally, Google is emphasizing simplicity throughout Android P. For instance, there's a single large button at the bottom of the screen that responds to swipes and gestures to ease multitasking—evoking the gesture controls of the iPhone X.
But as with earlier Android iterations, such as the Oreo edition launched at last year's I/O, this update may not reach your own Android phone any time soon after its release.
Cutting Down on Screen Time
The part of Android P that may be the most instructive—and potentially shocking—for phone addicts is a new dashboard showing exactly how much the computer in your pocket or purse monopolizes your attention. This dashboard will break down how much time you're spending in each app, how often you unlock your phone each day, and how many notifications you receive.
You'll also be able to set time limits on apps. When you hit your limit, Android will nudge you to take a break, then turn the app's icon gray. If you want to give the entire phone a rest, simply turning it over and leaving it face-down will put it into do-not-disturb mode to prevent you from getting drawn in by notifications. (You'll still get calls from contacts you've marked as most important, such as your spouse or a child's school).
At the end of the day, a Wind Down option will fade the entire screen to grayscale at your designated bedtime. Google says it got the idea from Tristan Harris, an ex-Googler who runs a Silicon Valley nonprofit called the Center for Humane Technology. The organization encourages tech companies to focus on "time well spent" as a measure of user engagement, instead of continually pushing for longer and more frequent user sessions.
Machine Learning, With a Privacy Twist
Android P will employ even more artificial intelligence than previous versions of the operating system—but in a shift from past practice, the racks of processors in Google's data centers won't be doing this work for you. Instead, Google is moving the processing to individual phones. There's a big implication here for anyone concerned about privacy: It means Google gets to see less of the data on your phone.
"Because it runs on-device, the data is kept private to your phone," Dave Burke, Google's vice president for Android engineering, said during the conference's keynote address. Also enhancing privacy, cloud backups will be encrypted with a key unique to your phone, and apps will be prevented from accessing a phone's mic or camera while running in the background.

So how will the new machine learning be used? For one thing, it will enhance battery life. Android P will note which apps you use less often and limit their battery consumption accordingly, Burke said, cutting the number of times apps wake a phone's processor by as much as 30 percent.
Like previous versions of the OS, Android P will show the apps you use most often at the top of its full-screen list of all the apps on your phone—but then it will go a step further. It will also show what it thinks will be the most relevant actions in each app.

Will Your Phone Get Android P?
Google executives didn't mention when this update will reach existing Android phones—because Google can't really say. It doesn't control Android updates in the way Apple rules iOS updates. Instead, it has to wait for phone manufacturers and wireless carriers to customize, test, and ship each major update.
That has yielded lamentably slow adoption of past updates. Samsung's Galaxy S8, for example, didn't get Android Oreo until March, seven months after that update debuted. And a dashboard Google maintains for developers shows that Oreo ran on only 4.6 percent of devices that went to its Play Store in the seven days ending April 16 of this year.
A preview version of Android P is already available for Google's Pixel and Pixel 2 series of smartphones, as well as seven other phones from smaller Android vendors such as Essential, Nokia, and One Plus.
However, some innovations in Android Oreo last year should make the process faster for newer phones, such as the Samsung Galaxy S9. If phone vendors can deliver on the promise of faster operating system upgrades, it could represent a welcome shift for Android users.