The iPhone X is an innovative device with a fantastic camera and beautiful display, but other phones are tougher and can operate longer on a charge.
Those are among the conclusions we've reached after completing testing on Apple's new flagship model, which starts at $1,000 for the 64-gigabyte version.
Overall, the iPhone X—as in 10, not the letter that follows W—easily made Consumer Reports' recommended list and broke into the extremely tight list of top 10 rated phones, where all the devices are separated by only two points on our 100-point scale.
It was edged out by Apple's less-expensive iPhone 8, starting at $700, and 8 Plus, starting at $800, which both proved hardier in a test designed to reproduce the drops and fumbles that can cause cracked screens and other damage.
"If not for the damage in that durability test, the iPhone X would have come in ahead of the iPhone 8 and 8 Plus," says Richard Fisco, head of smartphone testing at CR.
Given how close the scores of all the phones in our top 10 are, it's not really a question of which phone is best but which is the best fit for you.
If you're choosing among the new crop of iPhones, one of the most obvious differences is the lack of a Home button on the iPhone X and the advent of Face ID for unlocking the phone (more on that below).
Additionally, the iPhone X has the biggest screen of the three—5.8 inches, measured diagonally, compared with 5.5 inches for the iPhone 8 Plus and 4.7 inches for the 8. But that expansive display comes in a tight package: The iPhone X is just a smidge taller than the iPhone 8 at 5.6 inches, and more than a half-inch shorter than the iPhone 8 Plus.
Here's a closer look at our test results and how the iPhone X compares with other top-rated phones on the market.
The iPhone X's Strengths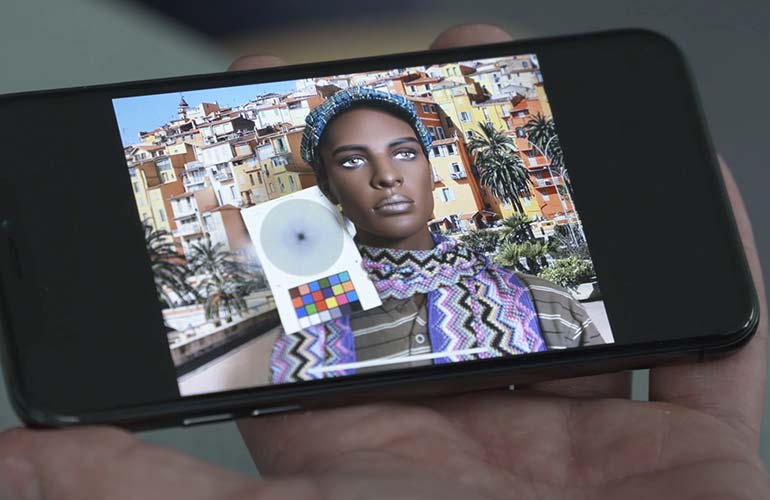 Beautiful Display
The iPhone X features Apple's first OLED phone screen. The technology, already used by smartphone manufacturers such as LG and Samsung and found in some high-end TVs, can produce very deep black tones and unlimited viewing angles. (That means the image doesn't noticeably degrade when you view the screen from the side.)
Our testers gave the phone's display excellent marks, pointing to its overall brightness and vibrant colors, along with the deep black levels.
We think that Apple shoppers who put the iPhone X side by side with the iPhone 8 and 8 Plus will notice a significant difference, although these phones have very good screens as well.
Outstanding Cameras
The rear camera on the iPhone X is among the best we've ever seen. In fact, if you combine the performance scores for stills and video, this is the highest-rated smartphone camera Consumer Reports has tested.
Like the 7 Plus and 8 Plus, the iPhone X has a second, 2X zoom camera on the back of the phone. But unlike those other iPhones, both of the iPhone X's backside cameras have optical image stabilization, which steadies the lenses to offset the effects of shaky hands. (The 7 Plus and 8 Plus have that feature on only one camera lens.)
This setup produced impressive results when testers compared photos using the zoom to those shot using the zoom lenses of earlier iPhone Plus models. Stills taken with the iPhone X were sharp, with excellent color reproduction, and video was very sharp as well.
Convenient Face ID
Much has been made of Apple's decision to do away with the Home button on the iPhone X. That opened up screen real estate, but when the Home button disappeared, the embedded fingerprint sensor went with it, and Apple now relies upon a new biometric feature for authenticating users. Called Face ID, the technology maps your features and lets you unlock the phone simply by taking a look at the screen. (You can also type in a PIN.)
We found the setup and unlocking process to be both quick and easy. The technology worked when we held the phone at all but the most severe angles and did not falter when used by testers with a wide range of skin tones, even when they put on reading glasses. You need to look directly at the screen to prompt it to unlock, making it less likely that you'll unlock the device inadvertently.
The removal of the Home button requires you to learn a series of new swipe and button commands to operate the phone. This takes a little getting used to. But our testers picked up on the new gestures quickly and were satisfied with the phone's overall usability.
The iPhone X's Shortcomings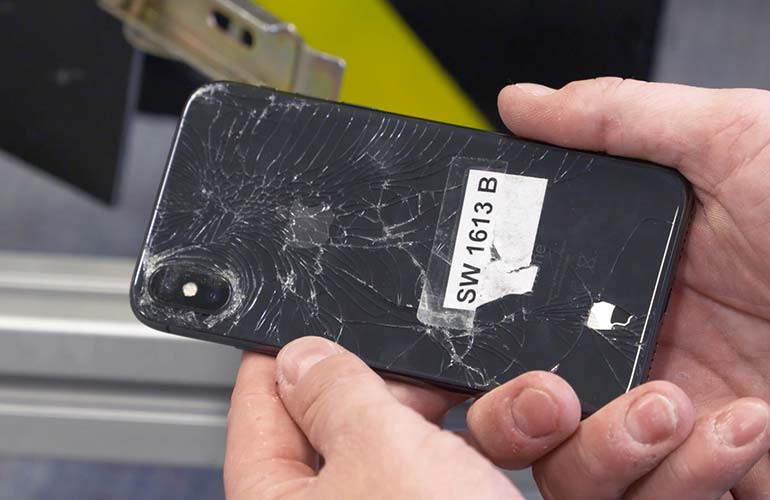 Broken Glass
In our initial drop test, the iPhone X performed just fine. It survived four falls onto a concrete surface from a height of 5 feet. For that quick test, we used our custom-designed Drop Tower and let the phone fall on its front, back, and two different corners.
However, iPhone X phones didn't fare nearly as well when subjected to a more intensive lab test in a tumbling machine. The tumbler is a rotating chamber that repeatedly drops a phone from a height of about 2.5 feet. The phones are checked for damage after 50 drops and then again after 100.
The goal of all that repetition is to expose the phone to impacts from a wide variety of angles.
We tumbled three samples of the iPhone X. The first was fine after 50 drops, but the glass on the back was significantly cracked after 100. The other two phones ended up with malfunctioning displays after 50 drops. Though the front glass didn't crack, several bright green bars stretched across the screens from top to bottom.
The iPhone X isn't the first phone to fail our tumble test. For example, our testers also reported broken displays and back panels when they tumbled Samsung's nearly all-glass Galaxy S8 and S8+ phones.
In light of those results, we recommend that you protect any of these phones in a case.
Responding to our findings, Apple affirmed the iPhone X's durability based on the company's "rigorous real world testing" and said that the phone "is made from the most durable glass ever in a smartphone."
Durability is something to think about if you're considering a purchase of the iPhone X. The phone isn't just expensive to buy; it's also unusually pricey to repair. For example, the Apple Store will charge you $279 to fix the display and $549 to fix any other part of the phone, including its glass back. (This could make it worthwhile for some consumers to shell out for AppleCare+ coverage, which costs $199.)
Tumble tests don't get a lot of weight when we calculate a phone's Overall Score. However, these results combined with the iPhone X's comparatively low battery-life showing (see below) did knock the phone down a few spots in our rankings, says Fisco, who leads CR's phone testing program.
On the flip side, the iPhone X aced our water-resistance testing, surviving for 30 minutes at a depth of about 3 feet, just as Apple promises in its specs. The phone was examined right afterward, as well as one, two, and three days later, and continued to work.
This is consistent with the results for other recent Apple phones, including the 7- and 8-series iPhones, which also did well in our water-immersion tests.
Short Battery Life
The iPhone X's battery life hurt the phone's Overall Score in Consumer Reports testing.
To find out exactly how long a phone's battery can go, Consumer Reports uses a robotic finger programmed to put the phone through a range of tasks designed to simulate a consumer's average day.
The robot browses the internet, takes pictures, uses GPS navigation, and, of course, makes phone calls. We run all smartphone battery tests with the display set to 100 percent brightness. If you use any phone's auto, or adaptive, brightness, the battery should last longer.
In our testing, the iPhone X's battery lasted 19.5 hours. That's just ahead of the 19 hours logged by the iPhone 8 and the considerably smaller iPhone SE but below the 21 hours recorded by the 8 Plus—and it's far less than the 26 hours that Samsung's S8 and S8+ delivered. (Some other smartphones in our ratings run even longer on a charge.)
While for many people 19.5 hours is enough to get them through the day, it's still shorter than the majority of the 38 smartphones we recommend.
According to Apple, the iPhone X's A11 Bionic chip is designed to manage the device's power supply intelligently, balancing the demands for speed and energy in a way that permits you to complete the tasks you perform most often—think texting or web browsing—with optimal efficiency.
When you combine that with the model's custom battery design, the company says, the iPhone X should last "up to 2 hours longer between charges than the iPhone 7." In our tests, the iPhone 7's battery lasted 18.5 hours.
Which iPhone to Buy?
If you're looking for a new iPhone, is the X worth the $1,000 and up that Apple is charging? That depends on your preferences.
A lot of people would argue that the iPhone X represents the future of smartphones. It boasts the best overall camera results in CR's testing and one of the best displays we've ever seen on a phone. And while you don't get the familiar Home button, you pick up a decent amount of screen space in a phone that's significantly smaller than the 7 Plus and 8 Plus. It's easier to hold and use, not to mention lighter to carry.
And Face ID works very effectively. The phone seems to unlock as soon as you pick it up and even think about making a call. Its gesture system takes some getting used to, but it's not overly cumbersome or difficult to use.
Taken as a complete package, this phone ranked a bit lower than Samsung's S8, S8+, and Note8, mainly because of their superior battery life. But many longtime iPhone users aren't interested in switching to Android, so the real question for them is whether to save a few bucks—or, actually, a couple hundred—and go with an iPhone 8 or 8 Plus instead.
These iPhones are more resistant to breaking, and they have the familiar Home button, which means you don't have to spend time learning a new system of swipes and button clicks. Because all these phones are top performers, the choice is ultimately a matter of personal priorities.
Here's another idea: If you want to save even more money, the iPhone 7 and 7 Plus remain viable options. They look pretty much the same as the 8 and 8 Plus and offer many of the same features. And they'll cost you just $550 and $670, respectively.
If you're still on the fence, this is one of those times where it pays to try before you buy. Play with all of these phones in the store, paying attention to how much the gorgeous iPhone X display means to you and how you feel about learning new gestures—and then considering how often you've dropped previous gadgets on the sidewalk.
Smartphone Stress Test
Do smartphones generally live up to manufacturers' claims when it comes to durability? 'Consumer 101' TV show host, Jack Rico, goes inside Consumer Reports' labs to find out how CR tests products for resistance to drops and tumbles.
Consumer Reports is an independent, non-profit organization dedicated to helping consumers. We make it easy to buy the right product from a variety of retailers. Clicking a retailer link will take you to that retailer's website to shop. When you shop through retailer links on our site, we may earn an affiliate commission – 100% of the fees we collect are used to support our mission.
Learn more.
Our service is unbiased: retailers can't influence placement. All prices are subject to change.