When you shop through retailer links on our site, we may earn affiliate commissions. 100% of the fees we collect are used to support our nonprofit mission.
Learn more.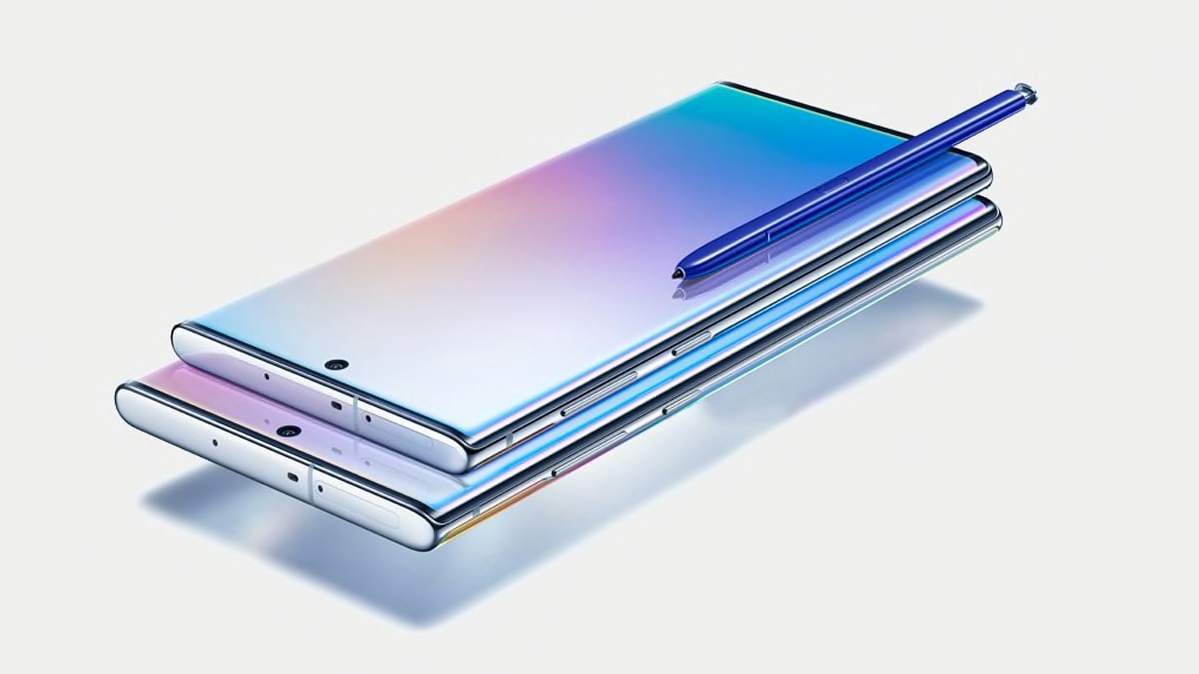 Samsung's Galaxy Note10 phones have now reached store shelves. And, if you know where to look, there are deals to be had. Good thing, too, because like Note phones of the past, these new versions of the popular phablet require some serious money.
The Note10—which comes with 256GB of storage—costs $950. The Note10+, which is available with either 256GB or 512GB of storage, starts at $1,100. And the 5G version starts at $1,300.
That's right. For the first time, the South Korean tech giant is rolling out three versions of the phone: the Note10 (which is a tiny bit smaller than last year's Note9), the supersized Galaxy Note10+, and the Note10+ 5G.
The three Notes are siblings to the Samsung Galaxy S10, S10+, and S10 5G phones launched this past spring. As with previous generations of the Note, the new phones are likely to appeal to fans who appreciate large screens and the ability to doodle or take notes with a stylus.
Samsung says that compared with the Note9, the Note10 phones offer better battery life and quicker charging, along with speedier processors, smaller bezels, a redesigned S-Pen, and new camera tricks. Our labs are in the process of testing those claims and will have results to share soon.
Whether you purchase directly from Samsung or from a cellular carrier, make sure you read the fine print before you fork over the cash. Many offers come with a catch or two. They often require good credit. And they won't be around forever, so be prepared to move fast. And remember, if a company is offering money or discounts in exchange for trading in your old phone, that phone needs to be in good working order.
Samsung
In the age of unlocked phones, there's little reason to buy from your carrier unless you're getting a discount or other incentives. Purchasing directly from the manufacturer can save you money in some cases, and unlocked models give you the freedom to switch to a new wireless provider without switching phones.
Samsung is selling unlocked Note10 phones, as well as models tied to carriers, directly through its website. Both the Note10 and Note10+ are available. You also can get a Note10+ 5G, but it will still be exclusive to the Verizon network.
With the purchase of any of those phones, Samsung will throw in a four-month trial of YouTube Premium and a six-month Spotify Premium subscription. But the Spotify Premium offer is only good for new customers.
The company is also offering up to $600 off your new Note10 if you trade in your old phone. To get the full amount, you need to hand over one of the Galaxy S10 phones, a Note9, any iPhone dating back to the X, or one of this year's Pixel 3 phones. Other phones are worth less money.
The Carriers
AT&T. This carrier is offering what's essentially a buy one, get one deal. Purchases of both the Note10 and Note10+ are eligible; the "free" phone comes in the form of $950 in bill credits spread over the 30 months you'll finance the phones.
You have to establish at least one new line of service, and both phones have to be set up for an unlimited plan. If you cancel your service early, you lose any remaining discounts and have to pay off both phones immediately.
If you order online, AT&T will throw in a $300 Visa reward card, which you can spend like cash anywhere Visa cards are accepted. To get your card, you'll need to redeem a promotional card online within 75 days of your purchase. The card will come by mail within three to four weeks and expire six months after it's issued.
AT&T is offering up to $400 in credits with the trade in of a qualifying phone. Complete your trade in at an AT&T store and you'll receive the credits immediately. If you do it online, the credits will come in the form of a payment card that can be used to purchase goods in an AT&T store or to pay your monthly AT&T bill.
Sprint. Buy through this carrier and you can get 50 percent off an 18-month lease of a Note10 or Note10+. That takes your monthly payments to about $20 or $26, respectively.
After the 18 months is up, you can pay off the phone in one lump sum or over a period of six months. You'll also have the option of turning in the phone and leasing something new.
This deal requires at least one new line of service. Cancel early and your balance is due.
T-Mobile. This carrier also has a buy one, get one deal. The free phone will come in the form of $950 in credits spread over 24 months. At least one new line is required, as are unlimited plans, and you lose your discounts if you cancel early.
Verizon. At least for now, Verizon is the only carrier to offer the Galaxy Note10 5G. And the company is offering a buy one, get one deal for all three Note10 phones.
Buy any of the models and you get up to $950 off the cost of a second phone—if it's a Note10, it's basically free. With the more expensive models, you pay the difference. Smaller credits are also available for less expensive models, such as the Galaxy S10e.
The "free" phone comes in the form of a monthly credit that's spread over 24 months. Buy a Note10+ 5G and you also have the option of financing the phones for 36 months.
In either case, if you discontinue your Verizon service before the phones are paid off, you lose any remaining discounts and the balances become due. And the deal requires you to set up a new line of service on an unlimited data plan for at least one of the phones.
Don't need a second phone? Verizon also says it will give you $450 for your trade-in, provided you set up a new line of service. If you have a line eligible for upgrade, you can get up to $300. The offer is good for iPhones dating back to the 7 and Samsung Galaxy phones as old as the S8, along with others. Even older phones, such as the Samsung Galaxy S4, can get you $300 if you set up a new line, or $200 if you have one eligible for upgrade.
And, on top of both of those offers, Verizon is offering a $200 Mastercard gift card for those who switch to the carrier and set up at least one line of unlimited service. Once you make the purchase, you'll get a promotional code that you have to enter online; the card will ship in about eight weeks.