When you shop through retailer links on our site, we may earn affiliate commissions. 100% of the fees we collect are used to support our nonprofit mission.
Learn more.
Consumers got their hands on the new iPhone 8 and 8 Plus on Friday, and Consumer Reports' secret shoppers were in line early to buy a range of phones that we could test on all the major cell-phone networks.
Full testing will take a couple of weeks (in-depth battery testing, in particular, takes time), but we do have some early results. And they support the notion that, when it comes to processing power, camera technology, and convenience, these phones may prove to be a meaningful upgrade over the iPhone 7 and iPhone 7 Plus introduced last year.
How much of an improvement? Let's call it incremental-plus.
The phones are similar in size to last year's models and share almost the same design: big bezel, physical home button, no 3.5-mm headphone jack. Under the hood the specs are much better, and there is one big addition: wireless charging using the Qi charging standard. That's a highly valued feature for many consumers—albeit one that has been built into some Android phones for years. (For instance, the Samsung Galaxy S6 launched with Qi charging in 2015.)
These improvements should be enough to place the iPhone 8 and 8 Plus atop Apple's smartphone pecking order (our final testing results will tell us more), but they may not be top dogs for long.
The iPhone X is due in stores Nov. 3, with a barely-there bezel that will bring the Apple flagship's design into line with the look of top phones from its Android competitors. And the phone will introduce technology that includes facial recognition for unlocking the screen and authorizing Apple Pay transactions.
With that model on its way, who are the iPhone 8 phones for? Primarily, they should appeal to people willing to spend a lot for an iPhone, but not the $999 and up Apple is demanding for the iPhone X. The iPhone 8 starts at $699, and the iPhone 8 Plus has a base cost of $799.
You might also prefer the iPhone 8 if you're attached to the classic iPhone look (which has remained pretty consistent since the iPhone 6 launched in 2014), the physical home button, and Touch ID fingerprint scanning instead of Face ID.
Here's what our labs found out about the iPhone 8 and iPhone 8 Plus on day one:
Wireless Charging and the Glass Back
From the front, the new iPhone 8 and 8 Plus look just like Apple's iPhone 7 models, but flip them over and you'll see an all-glass back rather than the aluminum of the older phones.
The new glass structure was necessary to incorporate wireless charging. It also adds some elegance, along with just a bit of weight. (According to Apple's official specs, the iPhone 8 is 10 grams, or less than half an ounce, heavier than its predecessor.)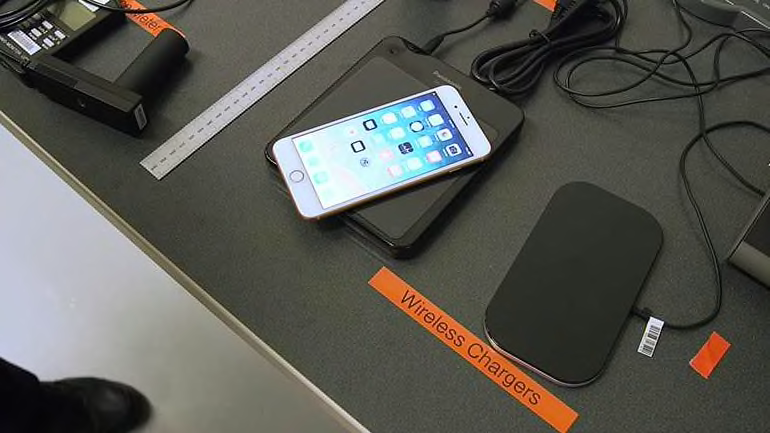 As for the wireless charging capability, Apple says its own charging mat won't be available until next year, but there are plenty of Qi chargers on the market already. We confirmed that both iPhone 8 models started charging when placed on a Qi-compatible mat.
One thing about glass: It tends to be less impact-resistant than metal, and this could be a concern for the many consumers who have sad memories of previous phones that shattered when they were dropped.
In the lab we are investigating how Apple's new iPhone models stand up to accidental drops relative to other smartphones. We haven't completed our full evaluation yet, but we performed limited testing with three models: the iPhone 7 Plus, the iPhone 8 Plus, and the Samsung Galaxy S8+. Like the new Apple phone, the Samsung phone has a glass back.
We tested the phones using our Drop Tower, a device in our labs that was custom designed and built by one of CR's lab technicians. The Drop Tower has a vertical rail system with a fixture that holds test phones at a precise angle, then lets each phone drop from exactly the same height onto a variety of surfaces. We configured the fixture to drop our test phones onto their faces, their backs, and multiple corners.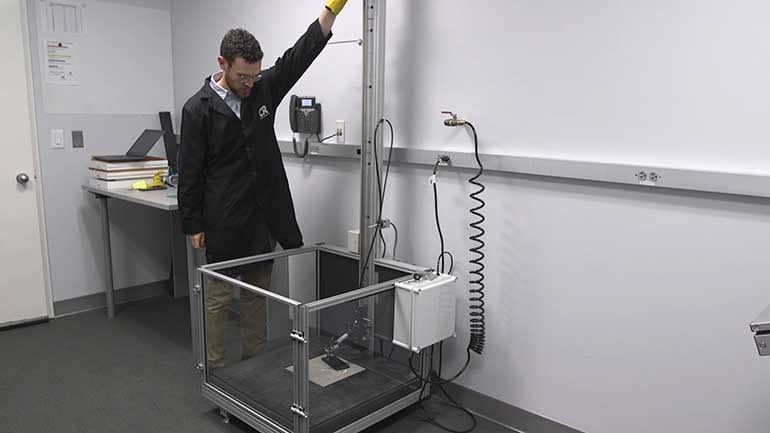 All three phone models survived when dropped from 3 feet onto concrete. That's a good representation of what might happen if a phone fell from your pocket or purse onto a sidewalk.
When we raised the height to 5 feet, the iPhone 7 Plus continued to fare well. However, the display of the iPhone 8 Plus suffered minor scratches when the phone was dropped onto its face, and the camera glass shattered when the phone was dropped onto its back. The 8 Plus was fine when dropped onto corners.
The Samsung Galaxy S8+ was undamaged when dropped onto its front and back, but the display cracked when the phone was dropped onto one corner.
A 5-foot drop onto concrete is a tough test, and it's just the first exercise we're planning to evaluate how well the new phones will stand up to the hard knocks of the mobile life.
More Processing Power
Apple has been talking up the power of the new six-core A11 Bionic processor built into both iPhone 8 models as well as the iPhone X. The company says the chip is 70 percent faster than the A10 processor in its iPhone 7 models. One of the new chip's tasks will be to power the facial recognition system in the iPhone X, which will rely on machine learning.
We pitted the iPhone 8 against the iPhone 7 using our performance benchmarking test and found that the new phone outperformed the previous one by a wide margin. "It's a pretty big boost," says Rich Fisco, who oversees our phone testing. The performance was also faster than what we observed with the Samsung Galaxy Note8.
For iPhone 8 customers, all that juice will help drive the phone's new video-rendering features and improve the performance of augmented-reality apps that may soon do for AR shopping and stargazing what Pokémon Go did for AR gameplay.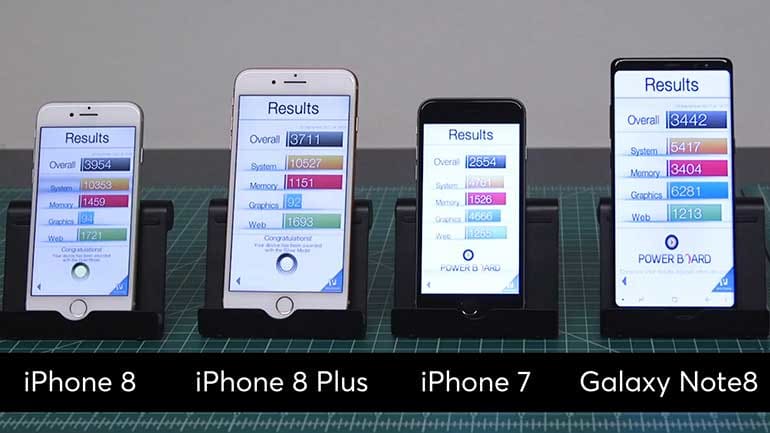 The Video Camera
The new phones are the first smartphones from any company to record 4K video at 60 frames per second. That's a big step up from the 30 frames per second in the iPhone 7, and in theory it should help the camera do a better job of capturing fast-moving action. Want to capture your buddy in the half-pipe this winter? You might prefer the higher frame rate.
What does the difference look like to the average viewer? To find out, our lab experts shot test footage with an iPhone 7 and an iPhone 8, panning across a trio of mannequins seated on stools in our photo lab.
When viewed side-by-side on large monitors, the footage shot with the iPhone 8 was noticeably smoother. In contrast, the iPhone 7 footage seemed to stutter a bit. Although this matters a lot in action photography, for other types of video it's a matter of taste. Hollywood films have traditionally been shot at 24 fps, and some people find that videos shot at that frame rate feel more cinematic.
Apple also increased the frame rate from 120 fps to 240 fps in the camera's slo-mo mode. To evaluate this effect, our testers shot footage with an iPhone 7 Plus and an iPhone 8 Plus, this time recording pebbles dropped into a birdbath on the Consumer Reports campus.
In this case, doubling the number of frames produced subtle improvements. To truly appreciate the differences in the slow-motion footage of splashing water, we had to look closely at the side-by-side monitors.