When you shop through retailer links on our site, we may earn affiliate commissions. 100% of the fees we collect are used to support our nonprofit mission.
Learn more.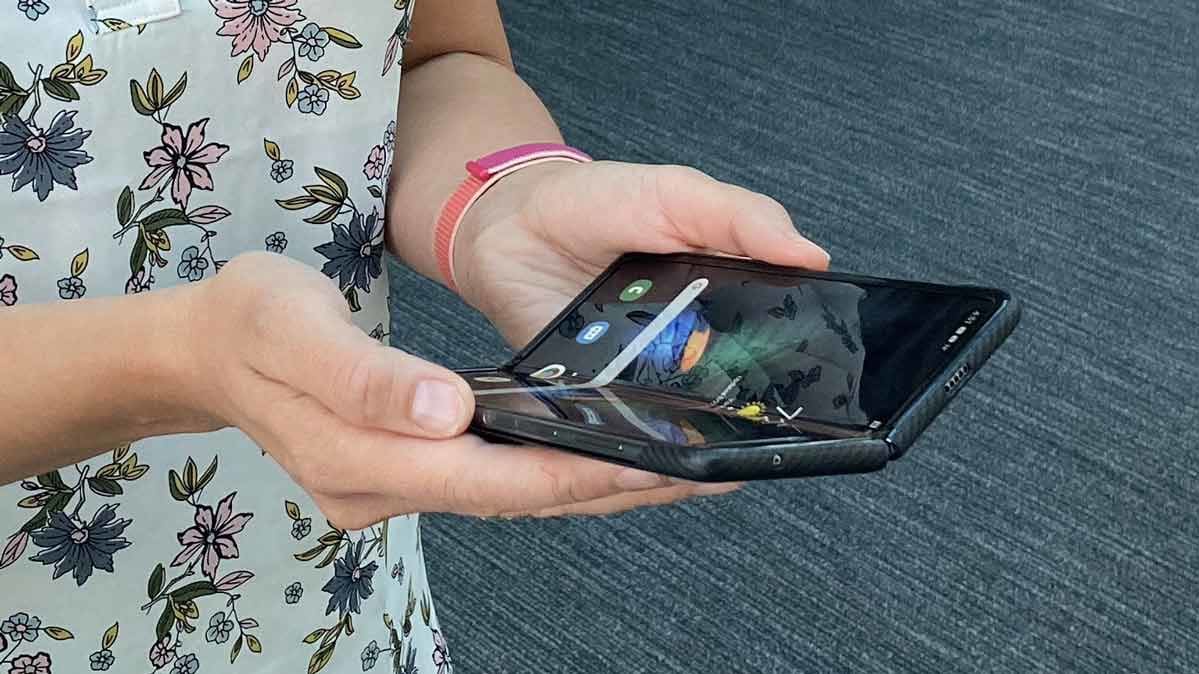 Note: This article has been updated to include Consumer Reports' final test results for the Samsung Galaxy Fold.
When it comes to the Samsung Galaxy Fold, the $2,000 folding phone with a history of hype and durability problems, the question for most folks isn't whether to buy it. You need to be the earliest of wealthy early adopters to do that.
The real question is whether this is the start of a big shift in phone design or just one of those quirky detours that arrive to much fanfare, then fade away—like, say, 3D TVs. In other words, is it cool?
In addition to playing with the phone's new features, we've completed our lab testing, using robotic fingers, scratch picks, and tumbling machines, and we now have a better idea about the experience of using the folding screen, plus how the Fold measures up to other smartphones on the market.
So what's the final verdict? The Fold did very well, but it still has its shortcomings. It's not a bad device, it's just that amid a very tight field of top-flight phones, it doesn't rise to the levels of other super-premium models.
So, if you're waivering about whether to spend $2,000 on a phone, it's probably not what you're looking for—at least not yet.
Look and Feel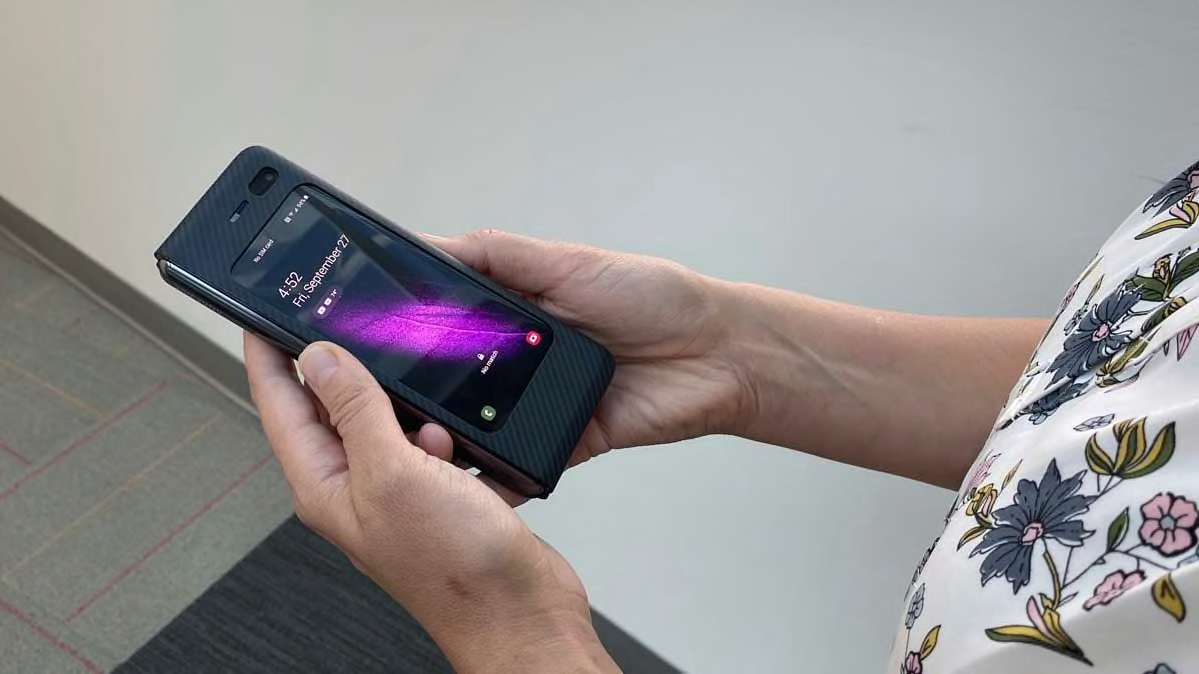 In recent years, I've gotten used to carrying big phones with big screens. They can get heavy and bulky, but the trade-off is an expansive display that's great for watching video, scrolling through social media posts, or surfing the internet.
The Fold takes that trade-off to a new level. When closed, it has a bricklike look and feel that takes me back to the early days of analog cell phones. Its thickness makes the Fold tough to shove in the front pocket of blue jeans, though when tossed in my purse it doesn't take up much more space than a Galaxy Note10+ or iPhone 11 Pro Max.
When closed, the phone is about the size of a large candy bar—6.3 inches long and 2.5 inches wide. On the front, there's a 4.6-inch AMOLED display. Open the phone up like a book and you reveal a 7.3-inch main display, also an AMOLED. But instead of glass like the AMOLEDs on other high-end phones, this one's made of a soft, flexible plastic.
When you touch it, it doesn't quite have the same feel as smartphone glass. Given the fact it has to bend, that's not surprising.
In terms of quality, our testers rate the Fold's displays as Very Good. But the score falls on the low end of that range, well short of those of just about every other premium model in our ratings.
The inside display also lagged when it came to durability, scratching much easier than other models. Though given that it's made from a flexible plastic, that's not surprising.
While the Fold doesn't look much bigger than other large-screen models, it is a touch heavier. Without the case, it weighs about 9.7 ounces. By comparison, a Note10+ weighs about 7 ounces and an iPhone 11 Pro Max comes in at just under 8 ounces.
The outside display is of limited use. Like the phone itself, it's tall and skinny. You can use it to read your notifications, dial calls, and fire up your favorite music streaming service. It can house apps and games, too, but there just isn't enough real estate for most apps to display properly. It's really tough to type on, and I even had a hard time finding a family picture narrow enough to use as wallpaper.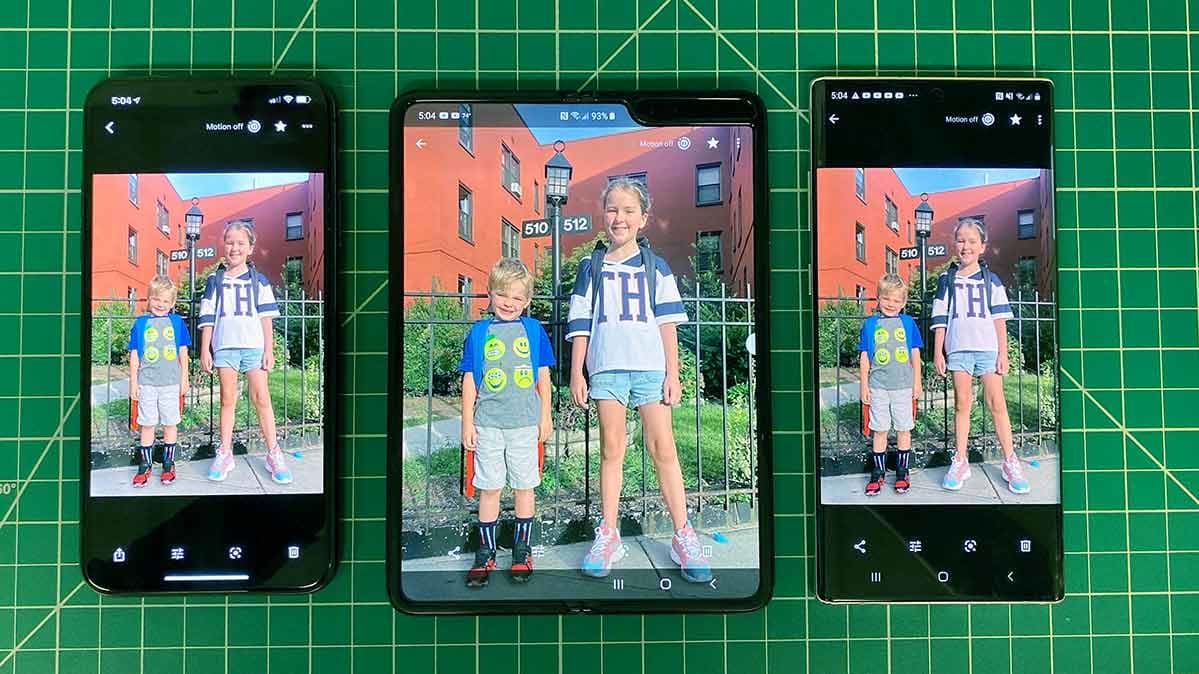 But the front screen is not really the point of the device. When you open it up, something slightly magical happens. What once was a brick is now thin and elegant. Videos stretch from one side to the other in a sweeping span that easily eclipses the full-screen modes of even the largest traditional smartphones.
Your photo gallery is big and beautiful, too. Text is bigger—a simple benefit that could appeal to many people who've grown tired of pulling out their reading glasses every time they use their phones.
That big screen can be split into multiple sections, letting you perform multiple tasks at once, such as checking your calendar and Googling nearby restaurants, while messaging your friends about an upcoming date night.
That's all helpful, but splitting up the space too much can make it tough to actually use those apps. In some cases, toggling back and forth between screens, as you would on a traditional smartphone, is a better idea.
And the big screen demands a trade-off: Most people will need both hands to do almost anything. Until now, many of us have become accustomed to holding and operating even the largest phones with one hand.
I tried to play a simple game of Subway Surfers, which involves swiping the screen in various directions to get a character to run through an obstacle course, but I found it tough to both hold the opened Fold in my right hand and swipe at the same time. This is something I can usually do easily on my Galaxy Note10+.
There is a noticeable crease in the screen where the two sides of the phone are joined. Straight out of the box, it was more of a slight indent. You really see it only when the opened screen is completely black, though you also can feel the crease when you run your finger over it. We'll have to wait and see whether it gets more noticeable as the phone ages.
Battery Life, Camera, Durability
In the end, the Fold's test results were just fine—that is to say, nothing exceptional.
The battery lasted 31 hours on a single charge, for example. That's better than average, but far less than the 39.5 hours the Samsung Galaxy S10+ logged.
The Fold's cameras also scored fairly well, but not better than those on Samsung's most recent S-Series and Note models.
And then there are the durability issues. Questions have been swirling for months about how well the phone can handle repeated openings and closings, as well as how much abuse the flexible inner display can take.
To get a better idea about the latter, we tumble tested the Fold—dropping it 100 times from the equivalent of 2.5 feet—in both the open- and closed-screen positions. And we got mixed results.
The back glass on the closed-screen phones broke during the first 50 drops, while those with the open, tablet-sized screens made it through all 100 drops with just minor scratches.
When you buy a Fold, it comes with a very thin case. We can't say for sure how much protection, if any, that provides. But given the stakes, we recommend using it or something similar.

Using Apps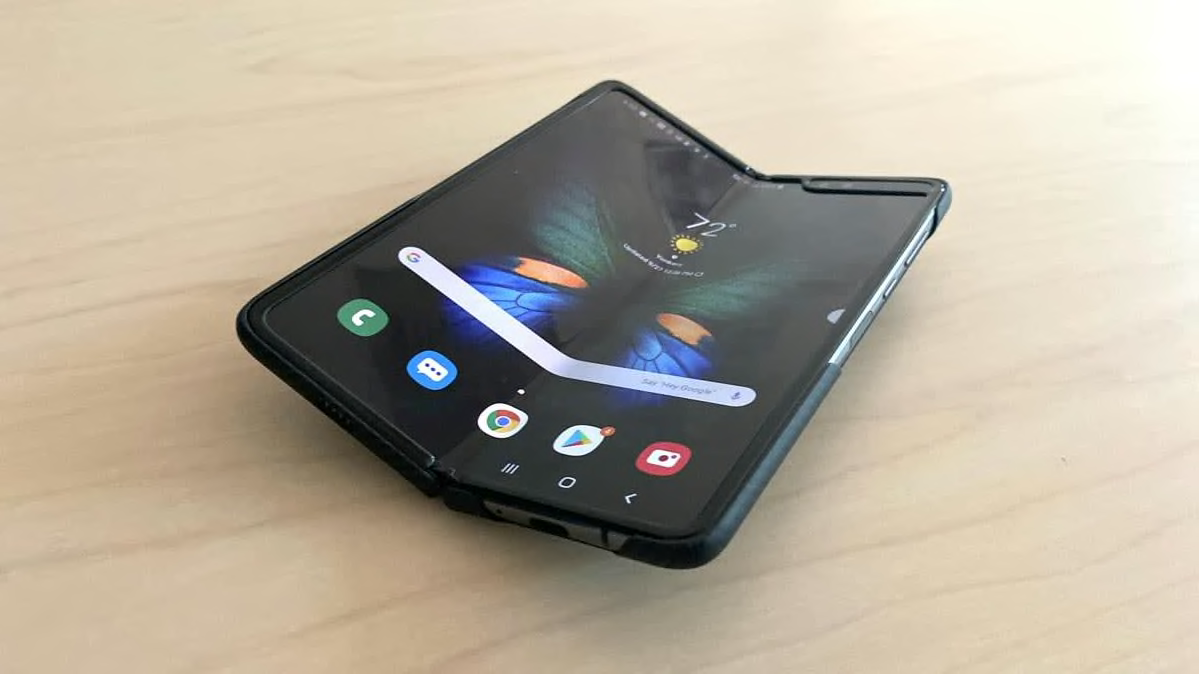 A significant factor in whether the Fold will fly or flop is the software experience—how well apps adapt to the brand-new, folding design. Google introduced some critical changes in Android 10 to support folding phones, allowing for resizable apps and the ability to open and run two apps at the same time.
App in the Air, a popular air travel assistant optimized for the Fold, shows how developers are thinking about capitalizing on the folding screen. "There are two basic use-cases: 'on the go' and 'resting,'" Timur Akhmetgareev, lead Android developer for the app, told CR.
When folded, App in the Air provides basic information on the Fold's smaller, front screen: your ticket, flight boarding time, and departure gate. But once you unfold the phone, the app expands to take advantage of that extra space. You get dynamic information, like where your flight is on the map or the layout of the airport you'll be landing in, to help you chart a course to your connecting flight.
The full list of apps optimized for the Fold includes Google Maps, Gmail, YouTube, Facebook, Facebook Messenger, Instagram, WhatsApp, Microsoft Office 365, Spotify, Twitter, Amazon Prime Video, and the Kindle app. And there are many, many more.
I did a spot check on several of these and found them easy to use. But they weren't all perfect. On Instagram, for example, the edges on certain photos were cut off. Some of the text got clipped, too.

But many popular apps haven't been optimized for the Fold at all. Games like Clash of Clans, Subway Surfers, and Candy Crush Saga are among the most widely installed apps in the Android world, but they don't all display quite right on Fold.
Should You Buy It?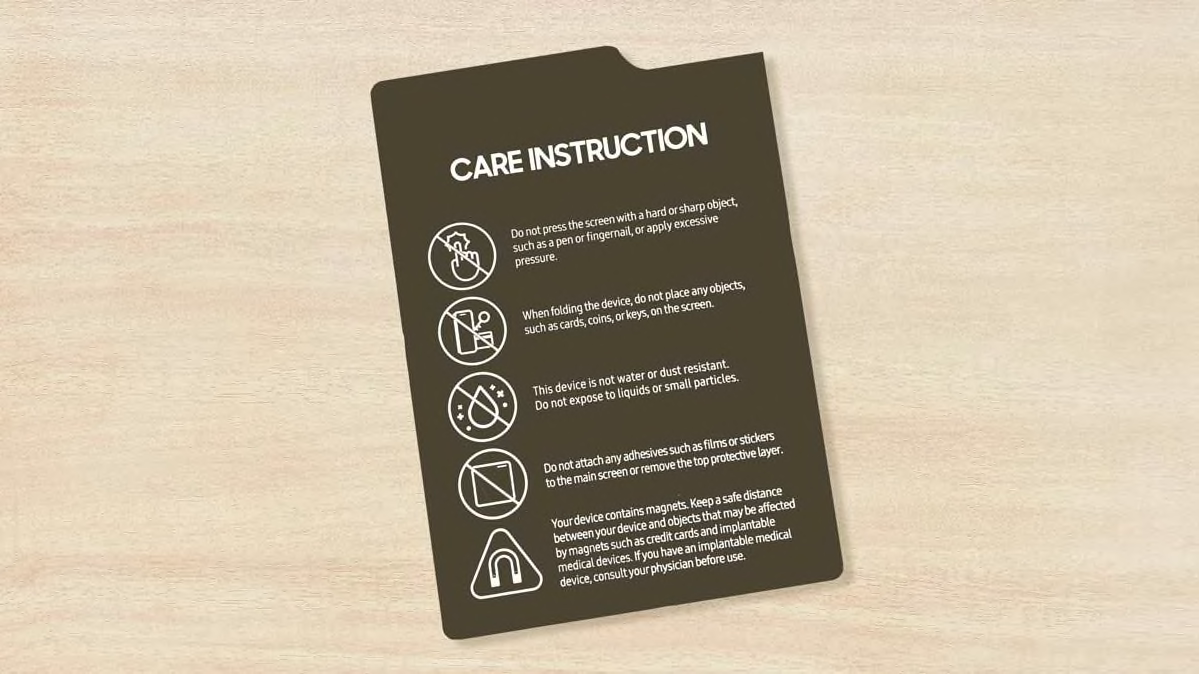 With the Fold, Samsung brings something truly new and exciting to the mainstream marketplace. And it's been awhile since a smartphone maker has done that.
But there's no denying that the phone is going to have limited appeal, even among Samsung fans who can afford it. It's a novelty. And our take is that the hardware and software design remain a work in progress. A year or two of refinements could go a long way toward working out the bugs.
So while I like the concept, and the fact that Samsung has managed to make this phone a lot less bulky than it could be, I would wait.
As Richard Fisco, CR's head of electronics testing, says, "This seems like a proof-of-concept, not a phone for consumers."
Given the budget-busting price, the Fold can't quite close the sale. I'd be worried about the beautiful display getting scratched or the hinge breaking under repeated use. I'd also worry that someone could spill a drink on the thing and leave me with a $2,000 paperweight. Unlike a lot of cheaper phones on the market, the Fold isn't dust- or water-resistant.
And what about 5G? Samsung isn't releasing a version of the Fold that works with the next generation cellular networks in the U.S., at least not right away. Yes, the new super-fast technology has yet to roll out nationwide, but all the major carriers say they plan to have some kind of coast-to-coast network in place in 2020.
Why spend $2,000 on a futuristic phone that could be outdated as soon as next year? And that's assuming it lasts that long.